Sagittarius and Pisces Compatibility
---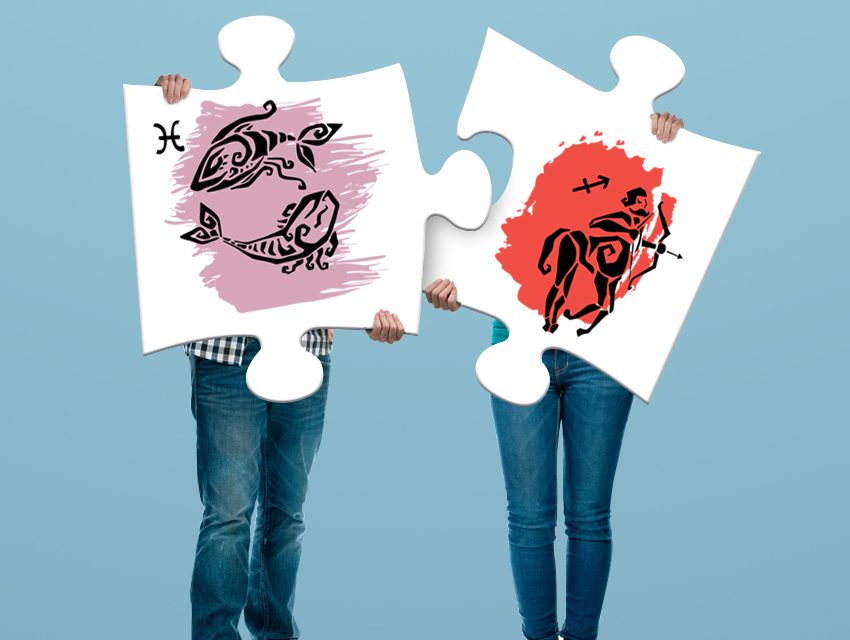 A couple formed by Sagittarius and Pisces has high levels of compatibility. However, before checking the compatibility, learn a bit more about each of these signs.
Pisces is a dreamy sign and its ruler is Neptune, which gives it an aura of constant mysticism. Sagittarius is adventurous to the maximum and loves to know new lands. This combination of Sagittarius and Pisces makes them very compatible.
Sagittarius is a sign that likes to know new worlds and communicate with many people. Pisces has to give itself completely to humankind. The philosophy of the ruler of Sagittarius, Jupiter, makes him live his spirituality to the fullest.
Receive all our tips by email!
Love Astrology? Subscribe Now and Receive Exclusive Content!
Sagittarius and Pisces: how will the relationship work?
---
Sagittarius is a sign of passions that lives intensely and with deep sensations. Pisces reflects an inner peace that is able to calm the excesses of any flame. The couple formed by natives of Sagittarius and Pisces complements each other.
Sagittarius and Pisces are changeable signs and easily adapt to changes. Pisces has a fascination with his spirituality marked to his Sagittarius partner. The great philosophical ideals of Sagittarius join the deep spirituality of Pisces.
There is a great understanding and companionship between these two zodiac signs. Sagittarius needs to be free to express his nature, which always leads him to new experiences. Pisces is adaptable and lets his adventurous Sagittarius partner, live his passion for adventure relying fully on their relationship.
How do they communicate?
Pisces constantly helps everyone around him, becoming the spiritual guide that he feels he should be. Sagittarius is in search of a profound philosophy that leads him to give some meaning to his existence, full of great mystical ideals.
This loving relationship can be very long lasting, because both signs seek to give meaning to their existence through the constant search for a religious sense. Pisces expresses it in his innate spirituality and Sagittarius does that in a philosophical ideal. The same context is expressed in the two personalities with different natures.
What about sex?
Sagittarius seeks to live intimate experiences full of passion. The emotional Pisces surrenders entirely to passion, in the arms of Sagittarius. This is a relationship full of emotions. Sagittarius and Pisces aim be in union, despite having different views.
The way Pisces delivers himself to express his faith and love strongly attracts Sagittarius, promoting a relationship based on similar thoughts and expressions. Both signs can live a relationship full of stability and love for a long time.
---
You may also like:

98.1% (1312)
---