The High Priestess: discover the meaning of this Tarot card
---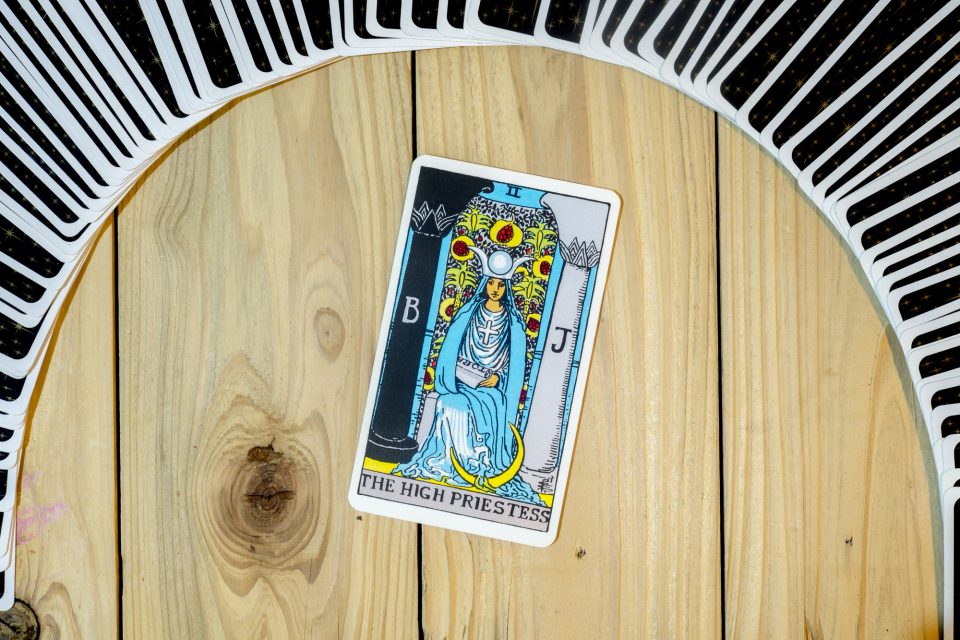 The High Priestess is the Arcana tarot card of Wisdom and Receptive Principle. It is the Mother, celestial wife, lady of esoteric knowledge, the Priestess or the Popess. It occupies the place of the door in the structure of the Tarot: the passage between the exterior and the interior, the steady and common point between the house and the street.
The High Priestess: origins and history
---
The exact translation of the name that the Tarot de Marseille gives to this arcana tarot card (La Papesse) is the Popess. Other versions, like the Priestess or the High Priestess, come from the name that is attributed modernly in English.
Many authors believe that the figure of the High Priestess alludes to a historical fact, or rather, legendary, that occupies a notable place in the middle Ages literature: the alleged existence of a female pope. Popular tradition says that a woman occupied the chair of San Pedro under the name of Juan VIII.
Embellished with time passing by, one of its versions is combined with the maternal symbolism that is attributed to the card; according to that version, the High Priestess (Juana) would have been pregnant by one of her relatives; the delivery would have been in the middle of the street, during a parade between the Church of San Clemente and the Lateran Palace.
As this deception was dramatically discovered, the enraged papal entourage would have killed Juana and her newborn. According to Roman stories, in the area of homicide, a tomb adorned by six letters P remained for centuries, which could be read in different ways (playing with the common initial of Pope, Peter, papa and pregnancy).
As for this legend, a remarkable fact must be pointed out: in the famous German illustrated Bible of the year 1533, the great prostitute of the Apocalypse is represented with a crown on her head. Tradition states that it was drawn in this way by the express wish and suggestion of Martin Luther.
In any case, for the traditional and iconographic study of the Tarot, it is important to distinguish clearly between the symbolic meaning and the record of historical events.
The High Priestess: meanings and interpretations
---
The High Priestess symbolizes
Wisdom, the House of God and man, the sanctuary, the law, the Cabala, the hidden church, and reflection.
Mystery, intuition, piety, patience, and passive saturnine influence.
Reserve, discretion, silence, meditation, faith, attentive trust, patience, religious feeling, resignation, and hidden things.
It also speaks of the binary, of the feminine principle, receptive, and maternal.
Meanings of The High Priestess
Mentally, the High priestess means great wealth of ideas. It responds to concrete problems better than vague questions.
Emotionally, it is friendly and receives well, but it is not affectionate.
Physically, it symbolizes a guaranteed situation; one has power over events. It also means revelation of hidden things.
As far as challenges are concerned, this card means dissimulation, hypocrisy, and secret intentions. It could also indicate inaction, laziness, modesty, grudge, hostile disposition or indifference.
---
You may also like:
---