The Fool: discover the meaning of this Tarot card
---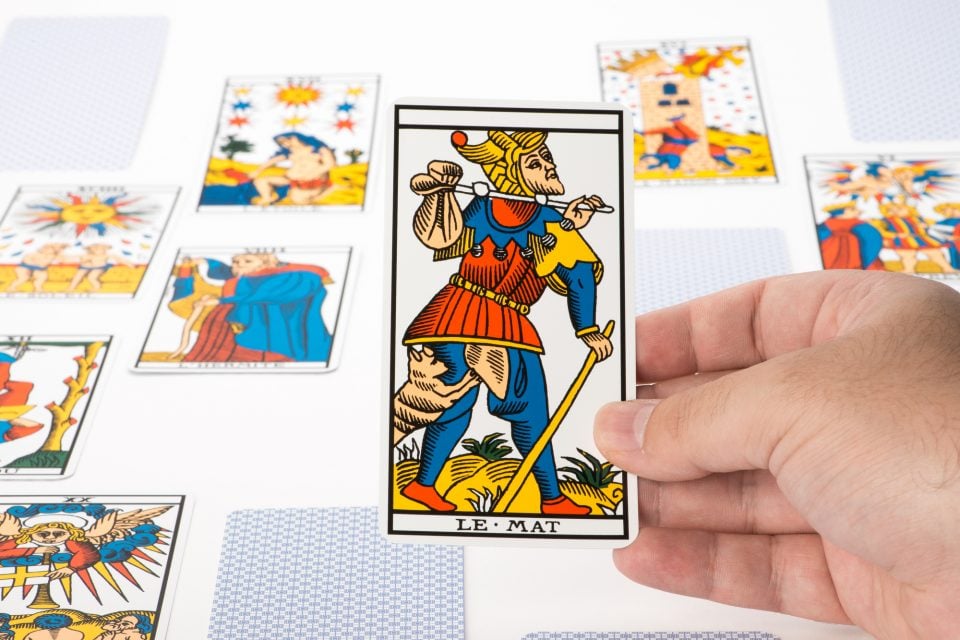 The Fool has a name, but he has no number. It is the only major arcana card that is not defined numerically. The Fool represents the eternal traveler who travels the world without ties or nationality. It may also be a pilgrim who goes to a holy place. This card is also, in the strict meaning that many readers give it, a fool who walks without purpose towards their destruction.
Receive all our tips by email!
Love Astrology? Subscribe Now and Receive Exclusive Content!
The Fool: origins and history
---
Kings and lords, from remote times, had fools in their palaces, characters that entertained the court. The stories about them, as well as the graphic representations of those characters, are very numerous.
More than one author sees in these insatiable and unscrupulous travelers the first agents – perhaps ignorant of their mission, but of great real effectiveness – of the religious Reformation. In the drawing made by Wirth, the term "Le Fou" (The Fool) is printed for the first time to designate the arcane without number, although traditionally it was known with this name a long time before it.
The original Marseilles deck, as well as its many french contemporaries (and the copies of the Spanish copyists) call this card "Le Mat". Tarot experts suggest two etymological variants: the name would come literally from Arabic (mat, which means dead), or it would be an apocopate of the Italian word "matto" (the Fool), name with which it appears in the tarocchino of Bologna.

98.1% (1312)
The Fool: meanings and interpretations
---
The Fool has no number, which is why we usually attribute the value 0 or 22 of the Arcane, according to what's needed. A man walks with a cane in his right hand. On his right shoulder he carries a rod at the end of which there is a small sack.
The character is dressed in the style of the court jester: the torn pants show part of the right thigh. An animal that could be a feline seems to scratch this exposed part or have caused the tear. From an arid, rugged soil, five plants sprout.
The Fool symbolizes
The search for something and the Prodigal Son
The experience of overcoming limits
Spontaneity, nonchalance, admiration, and nostalgia
Impulsivity, unconsciousness, and alienation
Meanings of the Fool
Mentally it means indetermination due to the multiple concerns that arise and of which there is only a vague awareness.
Emotionally it means sentimental setbacks, uncertainty with commitments, and vulgar feelings.
Physically it card means unconsciousness, disorder, lack of the given word, insecurity, and displeasure.
As far as challenges are concerned, it means a fall, a forced abandonment of material goods, and decay without much possibility of recovery.
---
You may also like: 

98.1% (1312)
---