The Empress: discover the meaning of this Tarot card
---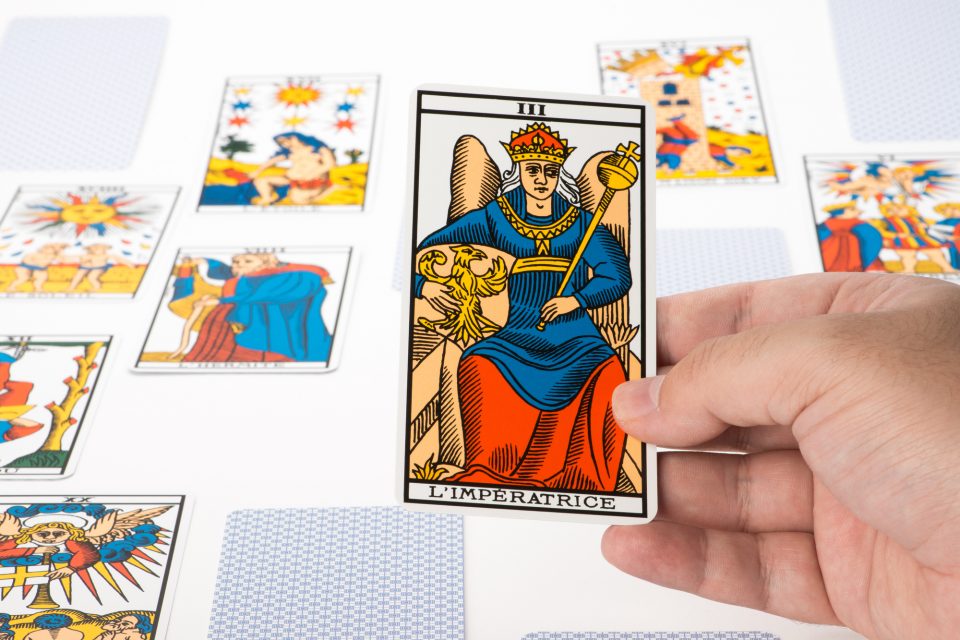 The arcane of The Empress, adorned with symbols attributed to triumphant femininity, is related to a wide repertoire. She is the Christian Madonna, the wife of the king or mother of the hero, and the primordial goddess of all matriarchal rites.
Receive all our tips by email!
Love Astrology? Subscribe Now and Receive Exclusive Content!
The Empress: origins and history
---
The location of the Empress in the Tarot (as the third of the series) and its relationship with other figures seems to be more important than its individual symbolism.
Thus, it will be interesting to recapitulate everything that was written about the symbolism of the Three and the order of the ternary, as well as the various meanings attributed to the ladies of the Minor Arcana.
In the Wirth's version, the Empress appears with an aureole of twelve stars, of which only nine are visible: the double allegorical sense of this representation is evident in its simultaneous reference to the Zodiac signs and the pregnancy period.
Since 9 (3 × 3) is also a representation of intelligence, at the moment of its maturity, it is possible to associate the central attributes of Arcane III: femininity – experience – wisdom.
From the matriarchal point of view, the Empress is not yet the protagonist of the fall of Adam and Eve, but that which appears in certain Talmudic traditions: the foundress, who reunites them after three hundred years of separation. It's the one that annihilates Lilith – the sterile and lustful rival – to organize the family of men together with the first father.
The Empress, finally, is a symbol of the word and represents the material wrapping of the body, its organs and its functions. Ouspensky imagines her resting on a throne of light, beautiful and fertile, in the middle of an endless spring.

98.1% (1312)
The Empress: meanings and interpretations
---
The Empress of tarot cards symbolizes the ternary, plenitude, nature, fecundity, and the generation in the three worlds. It is also a symbol of wisdom, discernment, idealism, and intellectual solar influence. It is the Arcanum of Sacred Magic, instrument of divine power.
The Empress card is also about pregnancy, creativity, success, comprehension, instruction, charm, kindness, elegance, distinction, courtesy, abundance, mastery of the spirit, and wealth.
Meanings of the Empress
Mentally, the Empress means handling matters through knowledge of practical things; the problems come to the surface and can be recognized.
Emotionally, it means the ability to penetrate the soul of beings.
Physically, it means hope and balance. Problems are solved and situations are improved. There is a continuous and irresistible power in actions.
As far as challenges are concerned, the Empress Tarot card means disagreements and discussions. Things are shuffled and confused. There will be delay in events, which however, will occur.
---
You may also like:

98.1% (1312)
---