Ladybug symbolism: do you know what it means?
---
Many animals have always had a reputation for having unsuspected magical powers. Cats, for example, have always been revered in Egypt because they are considered gods. In India, the cow is a sacred animal. Ladybugs are also known to be highly sacred insects in many cultures. Discover with WeMystic the ladybug symbolism.
2024 predictions are out
Discover the stars predictions for new year!
Ladybug symbolism: a good luck or bad luck insect?
---
We know that animals have powers that we do not have: they sense danger or natural disasters long before humans. Their animal instinct guides them and never deceives them. Some of them are also very symbolic, notably an insect well known to all: the ladybug.
The ladybug symbolism
The ladybug is a sacred animal, like the beetle in ancient Egypt. Thus, it has several symbols. It has always been a lucky charm. If you are lucky enough to have one that lands on your finger: do not chase it, let it walk on it and when you take off, make a wish.
Also, it is advisable to count the number of peas on its back: the more there are the more chance you will have that your wish will come true.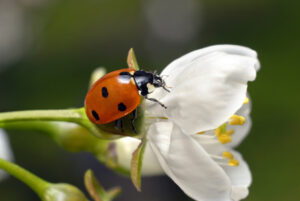 Expect an avalanche of love
One possible meaning of a ladybug invasion is primarily the avalanche of love, especially if it happens in your bedroom. Indeed, this is a good omen.
If you are in a relationship, this may mean that you are going to take a new step like buying an apartment or a house for two, a marriage proposal or even the arrival of a baby in your home.
If you are single, the significance of a ladybug invasion bodes well. Perhaps you have a hidden transient lover who will soon reveal themselves to you and declare his/her love to you. Or it means that the galley years and the solo evenings are over and that a beautiful love story will begin or even be reborn from the ashes.
Bad luck: a possible meaning of an invasion of ladybugs
Conversely, a ladybug invasion, if it takes place in your kitchen, means that you will soon be going through a period of bad luck. Impossible to predict with certainty how long it will last, but you will have to arm yourself with patience to get through this crisis which can take place on a professional, personal or financial level.
The room in which this invasion occurs is therefore decisive on its meaning.
---
You may also like:
---