The Markings in Palm Reading
---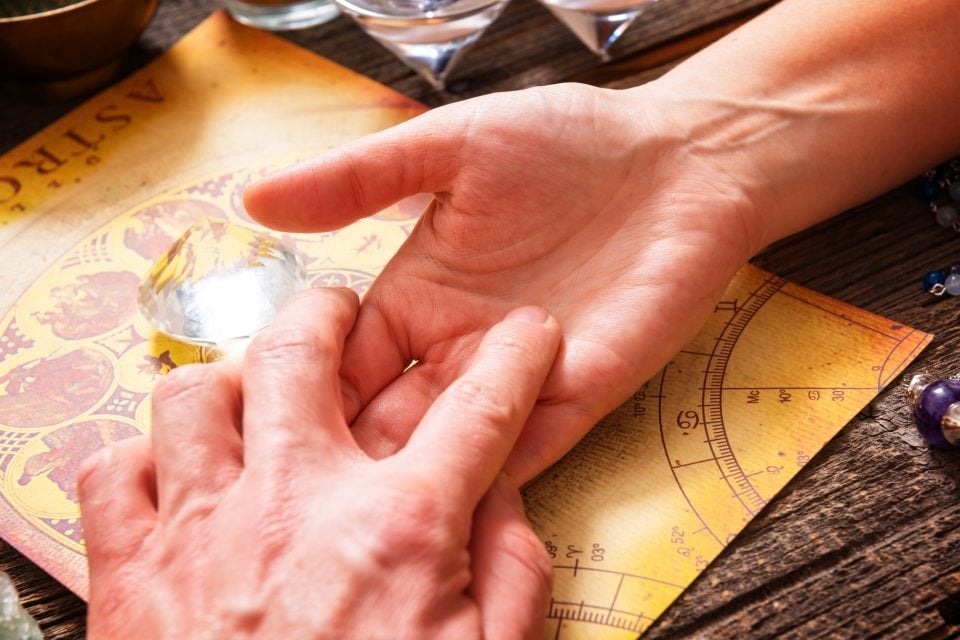 The Markings of the palm are one of the most fascinating and revealing aspects of Palmistry – think of them as the final tweak to a given characteristic. The meaning of a Marking is dependent on where it is located on the palm, and therefore the possible variations of meaning within each Marking is crucial to understand when reading your palm!
Receive all our tips by email!
Love Astrology? Subscribe Now and Receive Exclusive Content!
Markings in Palmistry
---
Markings can be a strong indicator of a lot of things, allowing more detail to be revealed about certain areas of our lives. They may serve as a pre warning for traumatic events, challenges, and health problems. They can also aid us in finding areas of opportunity to problem solve, heal emotionally, and recover from situations that hinder us. The meaning of each Marking is dependent on a few things. Not only will they inevitably vary from person to person, but other components to consider are:
Where is the Marking located?
Is the Marking on a Major Line or Minor Line?
Is the Marking on a Mount?
What is the actual Marking? (break, cross, etc)

98.1% (1312)
Types of Markings
---
In this article we will cover the most common Markings, and briefly give a synopsis of what it means if you have one on your palm. You must always consider the above components when interpreting the meaning of any Markings further, but you can find the Markings we will discuss in this article, listed below!
Crosses
Cross Markings represent hardships, shocking events, outside influences of stress, and struggle in our lives. If they are located near the Life Line or on the fleshier parts of the palm, they indicate disappointment. However, if the Cross Marking (or an X) is found between the Head and Heart Lines, it is a telltale sign that the individual is a natural healer and possesses an intuition of extreme potential. The more Crosses within this area, the stronger the indication of "clair" abilities, such as clairvoyance, clairaudience, claircognizance, and clairsentience.
Breaks
Breaks can also be indicative of both positive and negative concepts, all depending on where they are located. They are strongly reflective of a break in your life path, where redirection is inevitable, and the only option. Breaks that direct toward the thumb may denote changes in career, while Breaks moving to the outer edges of the hand may denote a new path in life you weren't expecting to take at all.
Islands
Islands, which resemble tiny little bubbles within lines, unfortunately never indicate positive energy and may even mean poor health. The key word to Islands is "stress" – whether it be about a specific stressful time period or represents someone else causing you stress. If located on the Heart Line it can represent trouble in some sort of relationship, be it with a loved one or regarding romantic love.
Chains
Chain Markings may reflect a difficult childhood or earlier stages of younger life. They can represent being indecisive, problems with health, or negative issues regarding romantic love. You can also figure out the duration of how long these issues will last (or may have lasted in the past) by the length of the Chains on the line.
Grills
Grills can be thought of as similar to the "#" symbol, and this is reflective of the energy they reflect. It is a dispersing type of scattered energy, and indicates setbacks and having to make adjustments in order to advance along life's path. They are a more common Marking, and typically are found most often on the Mounts.
Markings – Squares
Square Markings usually hold a positive energy of protection, good luck, and being guarded by divine forces. Squares can even act as a healer to other negative Markings around them (especially if the Marking is inside the Square).
Stars
Star Markings that appear on top of the Life Line may not be a good sign, however if Star Markings appear at the end of any Major Line, they represent adding luck to the meaning and potential that Line represents. They can also indicate opportunity for accomplishment, and foretell a successful relationship. Star Markings on the Mounts, however, can either enhance or destroy, so be mindful to keep an eye on it and where it is located.
Markings – Tridents
The Trident Marking is one of the most lucky Markings to find on a palm. It not only intensifies the characteristics of the Mount or Line it is on, but it also can bring luck to the Mounts nearby. It is an indicator of a joyful, abundant, and healthy life!
Reading your own palms enables you to recognize and discern the being of your true "self," including habits, passions and traits. Check out our other articles on Palm Reading, including The Major Lines, The Minor Lines and The Mounts. Happy Palm Reading, everyone!
---
You may also like:

98.1% (1312)
---