The basics of Palm Reading
---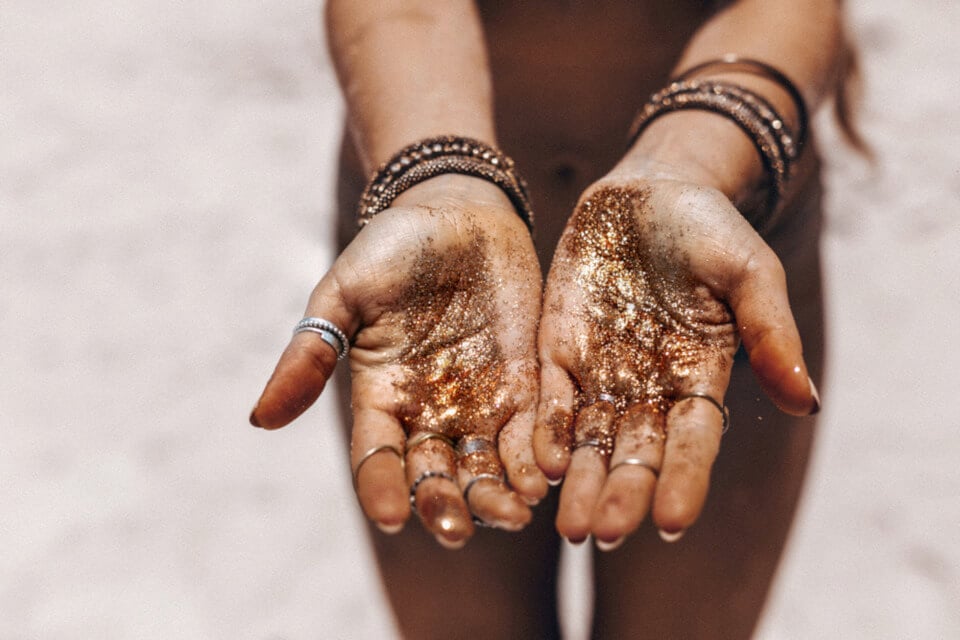 Some people believe that palm reading as a method of "fortune telling" or a "parlour trick" that is used by mystics to create an illusion that inevitably, makes them money. However, the art of palmistry is an ancient science and form of divination that is more personal than performing tarot or even analysing one's natal birth chart.
Spiritually, palmistry can actually be defined as the practice of interpreting someone's personality and character traits via translating the many features of the hand – specifically from the fingers and the palm.
Aspects of astrology are also intertwined within palm reading. Just as with your natal birth chart, the planets were in a certain spot when you were born, and these energies shape who you are and become. This significant part of the physical realm we are in plays a part in what your palm looks like, too!
In this article, we will give you a brief description of the Major Lines and quickly mention the other important factors that are interpreted by palmistry experts, (such as Minor Lines, Mounts, and Markings).
By becoming familiar with palmistry and reading your own palm, you can begin to recognise your unique traits and be better prepared to plan your life out accordingly.
Receive all our tips by email!
Love Astrology? Subscribe Now and Receive Exclusive Content!
Palm Reading: The major lines
There are three Major Lines analysed in palm reading: the Life Line, the Heart Line, and the Head Line.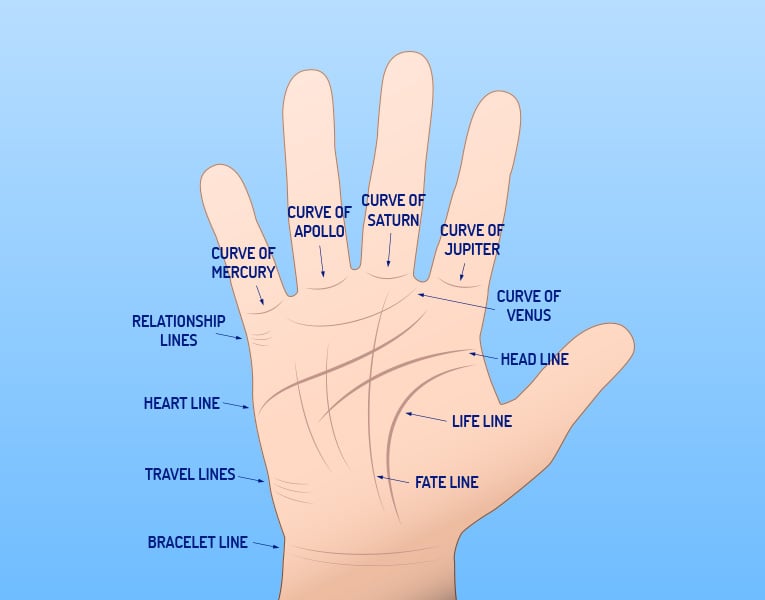 Life line
This is the line that people are most intrigued by or interested in learning about. This line is located between your index finger and thumb, continuing down the base of your thumb toward your wrist. This line represents many facets in your life, however it should be noted this line does not simply determine how long you will live.
What it does reflect is your relationships with others, and your well being; physically, emotionally and mentally. This line can even change shape, depending on how you are currently living your life here on Earth.
Some variations of the Life Line include:
Long and deep
Short and deep
Broken, chained, or forked
Very faint or absent
Double or Triple lines
Branched
Other markings with in the line (see Markings list below)
Heart line
Also known as your Love Line, this line is located at the top of your palm, typically starting somewhere around the base of your index finger or middle finger, and extends out to the side of your hand. The shape varies for everyone, as do all of the lines.
This line reflects your physical and emotional relationships with others around you, as well as reflecting your emotional state in general. Aspects of your life regarding love and relationships can be decoded here, simply by where the line is located on your hand. Some variations of the Heart Line include:
Long, very long, or short
Deep, straight, or deep and straight
Straight, straight and short, or straight and parallel to the Head Line
Wavy or curved
Clear and deep
Red and darker or lighter
Faint or absent
Broken
Chained
Double or triple forked
Without branches
Branched upward or downward
Head Line
Also known as your Wisdom Line, this is the major line you can see somewhere between your Life Line and your Heart Line. In fact, Chinese palmistry considers this line to be the most significant! This line will uncover all traits related to your mental, including psychological aspects of your being, your intuitive capabilities and your intellectual talents.
It also reflects personal willpower, and how you absorb and react when absorbing information. Your level of creativity, curiosity, practicality, and idealism can be interpreted in this line, as well.  Some variations of the Head Line include:
Long, very long, long and straight, or straight
Short
Deep
Wavy
Curved or sloped
Faint or absent
Broken
Crossed
Chained, forked or hooked
With branches, branched upward or branched downward
Double

98.1% (1312)
Other important factors examined in Palm Reading
---
The minor or secondary lines
Apollo (or Sun) Line
Neptune Line
Bracelet (or Rascette) Lines
Children Lines
Fate Line
Girdle of Venus
Health Line
Intuition Line
Marriage Line
Money Line
Simian Line
Ring of Solomon (or Jupiter)
Ring of Saturn
Ring of Apollo
Mounts in Palm Reading
Mount of Venus
Mount of Jupiter
Mount of Saturn
Mount of Apollo (Sun)
Mount of Moon (Luna)
Mount of Mercury
Mount of Mars
Markings in Palm Reading
Chains
Breaks
Crosses
Dots
Grills
Islands
---
You may also like: 

98.1% (1312)
---