Major Lines in Palm Reading: variations and their meanings
---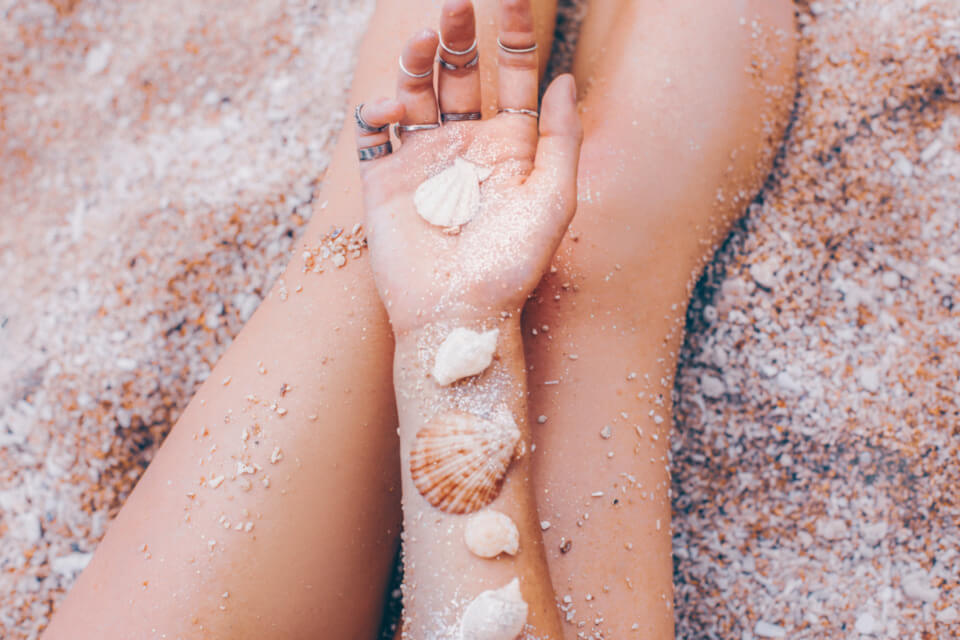 As we discussed in our previous article on the Basics of Palm Reading, there are three major lines of the hand that are analyzed in Palmistry: the Life Line, the Heart Line, and the Head Line. These three lines are most emphasized in palmistry due to their naturally occurring and tell-tale signs of powerful insight – they're called the Major Lines.
Receive all our tips by email!
Love Astrology? Subscribe Now and Receive Exclusive Content!
All you need to know about the Major Lines in Palm Reading
---
Each of the 3 Major Lines contains what we call "variations" in the science of Palmistry. The characteristics of each type of variation contained within, denotes a different quality of what that specific Major Line represents in your life.
For example, having a "long and deep" Life Line represents a much different meaning than if you have a "short and faint" Life Line. We dive into this here, and will attempt to include as many of the variations of each of the three Major Lines as we can! So, below you will find an outline of variations for these 3 major lines, and their interpretations.
Remember, if you have any additional variations, creases or markings on any of these lines (or in between) that aren't listed, be sure to check out our articles on palmistry markings and palm mount meaning and how they affect each and every line in their own way.
It is important to also keep in mind that you may have a combination of variations in each line – these different combinations can then be interpreted to understand the complete meaning of your line.
Major lines – Significant Variations of the Life Line
As much as this is one of the most asked about lines in Palmistry from those seeking guidance, it must be noted that this does not simply denote how long your life will be. It reflects health and energy, any major life changes, and how well you recover from the hardships endured in life.
There are many other important factors to your personal characteristics and lifetime that can be uncovered here – most of them have to do with your general well-being. Concurrently, this line even changes shape from time to time, depending on how you're currently living your life. This includes how you deal with the unexpected nature of existence and how it affects your level of vitality.
Long and deep: Shows someone with generally good health, energy, vitality, and stamina overall. It also signifies balance within.
Short and deep: Indicates a strong capability to withstand and overcome physical ailments and illness within the body
Short and shallow: Can reflect a tendency to allow others to easily control or influence you.
Faint: Represents personal traits of leading a non-adventurous or non-risky existence, but may couple with lower energy and vitality
Absent: Indicates someone who possesses nervousness, stress, anxiety or lives a very high-strung lifestyle.
Double/triple lines: May denote qualities of leading a double life. But this may be in addition to confirmation of having found a soulmate. Energy of being surrounded by positive people and energies, including someone who watches over you.
More variations of the Life Line
Broken: Represents interruptions or sudden change, losses and struggles, sickness or accidents. If present on both hands, you may undergo a serious disease or illness. If present on only one hand, you may suffer a disease or illness but will be able to recover rapidly.
Forked: Location of the fork formation determines its meaning, but always involves major life changes and some sort of redirection. Can reflect being around scattered energy of some sort. If it goes toward the Mount of Moon, it represents foreign travel, and if it goes toward the Mount of Jupiter represents achievement, recognition, and success.
Branched: The direction of the branches all have different interpretations: if directed upward they denote success, while if directed downward they indicate financial issues, sorrow and loss, and less than ideal health (both physically and emotionally). If the branched lines go above the Life Line, they indicate a strong capability to bounce back from situations, while branched lines going below the Life Line indicate a tendency to waste physical, mental and/or emotional energy.
Chained: Denotes the possibility that life will lead the person in many different directions, and also a weakness toward issues of either emotional or physical health.
Significant Variations of the Heart Line
Commonly known as your "Love Line," of course it represents the energy and status of your romantic relationships, partnerships, and marital status. But it also reflects your current emotional state and sense of personal stability. Look here to reveal other romantic perspectives as well, along with both your physical and emotional relationship with everyone around you.
Short: Reflects a possibly introverted person and/or a selfish and self-concerned attitude.
Long: Represents an energy of extreme warmth, but possibly one with an innocent and overly trusting belief in the idea of "perfect" partnerships.
Very long: This is when the Heart Line extends and touches both sides of the palm, which shows a tendency to be extremely dependent on significant others. Also can represent promiscuity.
Deep: Reflects a life full of stress and/or anxiousness.
Straight: Shows an attitude of passivity in romantic relationships, and/or reflects someone who handles emotions in a cold and more logical way, as opposed to following the heart.
Straight and parallel to Head Line: Represents a level-headed, grounded and stable person.
Major lines – More variations of the Heart Line
Wavy: Indicates a lack of emotionally serious partnerships or an excess of romantic partnerships.
Curved: Reflects the energy of someone very in tune with all physical talents, emotional expressions, and intuitive capabilities.
Clear and deep: Represents someone who is comfortable with themselves and their emotions. They are also respectful of others and sincere in their actions.
Red and light: Indicates a cold state of emotions. This person may seem distant and removed from others on a consistent basis.
Red and dark: Shows a person with a strong sense of passion, which manifests in either a very easy-going nature or having a very quick temper.
Faint: Indicates little desire to place importance on emotions in life, possibly even resulting in repression of emotions to lead a simpler life.
Absent: Reflects a person who is ruled mostly by logic, as opposed to emotions or intuition. This person possibly has no interest in the feelings of others, and appears cold-hearted because of this.
Broken: This represents a being who is suffering or has experienced emotional trauma, causing them to be emotional, stressed often, and have mood swings.
Chained: Shows someone with signs of current depression, and/or someone who is consistently indecisive, easily hurt, or unhappy.
Double forked: Indicates an energy of being that can combine both practicality and romance, while staying grounded here on Earth.
Triple forked: Represents a person who has the capability to equally balance emotions, logic, and physical life.
Without branches: Reflects a weakness or challenge with intention or talent for emotional growth.
Branched upward: Represents someone who has strong interest, enjoys the company of, and has positively energized relationships with people of the opposite gender.
Branched downward: This is indicative of someone who has a tendency to be heartbroken and has unhappiness, bad luck with, or bad quality of romantic relationships.
Significant Variations of the Head Line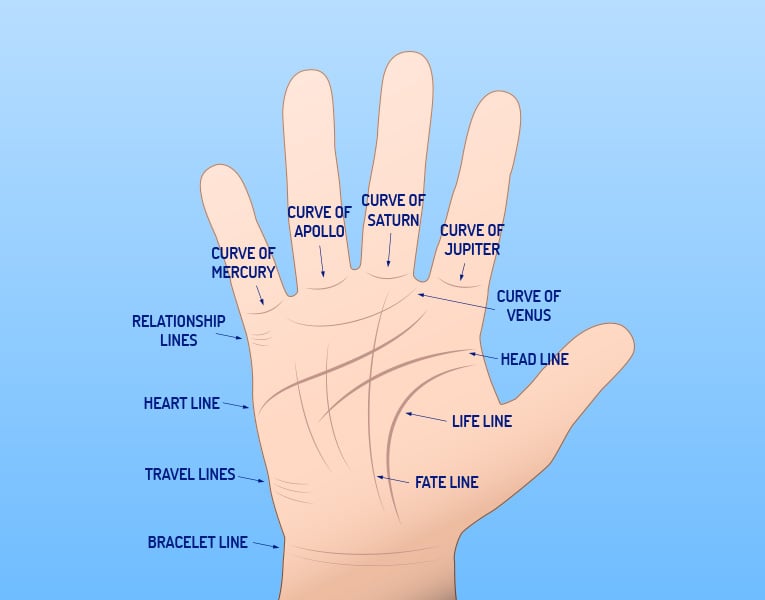 The most significant line in Chinese Palmistry, this is oftentimes also called your "Wisdom Line." This major line reveals characteristics related to mental processes, such as the psychological workings, intellectual talents, and intuitive abilities you possess.
It indicates traits of willpower, as well as the way you obtain and react to the daily intake of information. It will also indicate strengths and challenges regarding natural curiosity and creativity, alongside your level of practicality.
Long: Reflects someone with an incredible memory and a strong intellect. Shows evidence of one who is thorough about weighing options and considering the long term when making decisions. They also have less of a tendency to overreact about events.
Very long: When the Head Line goes across the entire length of the palm, it denotes someone who may display selfishness, but also at the same time possesses courage and strong likelihood of success.
Long and straight: Though this represents someone who holds complexity in their being, it also represents versatility and adaptability at the same time.
Straight: Indicates a grounded energy of detail oriented realism, logic, and organization. Ironically, it also can indicate materialistic tendencies here in the physical world.
Short: Denotes a simple and practical person, who keeps things blunt, straightforward, and to the point.
Deep: Reflects a talent of concentration, sensibility, memorizing and/or conscious memory.
Wavy: This can be interpreted as some type of inner conflict or imbalance of the sensible and emotional sides of the individual. It may also reveal qualities of restlessness, instability, short attention span, or being untrustworthy.
Sloped or curved: Represents the characteristics of creativity, idealism and romanticism. Open to innovation and new ways of doing things, learning about belief systems outside of their norm, and analyzing new concepts because they are intuitive and trust their gut feeling.
Faint: Indicates a daydreamer who may have trouble with concentration, and struggles with a grounded perception or common sense in the physical.
Absent: May be a sign of someone who is detached, lazy, or dull when it comes to reality, such as with the people and world around them.
More variations of the Head Line
Broken: Reflective of being mentally or emotionally tired; this causes erratic thinking patterns, nervousness, and anxiousness.
Crossed: Signifies past decisions made in life that directly and crucially impact both the direction and destiny of the person's life.
Chained: Represents confusion, inner conflict, and inability to set and motivate toward goals of a positive nature.
Forked: This person has a strong imagination and can use psychic, speaking, and writing capabilities with ease. They are respected debating partners, because they're able to see and comprehend all sides of any issue with clarity.
Hooked: Indicates a sense of selfishness and an energy that is unable to be trusted. This goes along with the possibility of being frugal, and giving off an energy to others of self-pity.
With branches: Reflects events that are yet to come in life, and/or events and other distractions that may lead the individual intellectually astray on their life purpose.
Branched upward: As upward always means positive, this signifies positivity in regard to creative ventures, education, and career. Keep in mind that all of these ambitions can also signify a tendency to have lofty dreams and goals, without a focus on being grounded.
Branched downward: These lines represent moments in life that resulted in stress, disappointment, struggle, sadness and depression.
Double: A strong indicator of intellect and enhanced power of the brain, while coupled with one of two ends of the personality spectrum – either being very cold hearted or very warm hearted in nature.
Other considerations about Palm Reading
One important factor to remember is a frequently asked question about which palm you should read. The answer is always: both!
In most Palmistry practices, it is widely accepted that the left palm reflects the potential you were given naturally, and the right reflects what you have done with that potential in your current life.
There are other cultures that believe in a separate set of beliefs. One includes the idea that the man's left hand holds the future, while the right reflects the past. In these traditions, women are the opposite.
All you need to know is this. Whatever your intuition tells you when deciphering the intrinsic wisdom on your palms, just follow it – because no one can interpret the meaning behind our life story, better than our Higher Self!
---
You may also like: 

98.1% (1312)
---