The Justice: discover the meaning of this Tarot card
---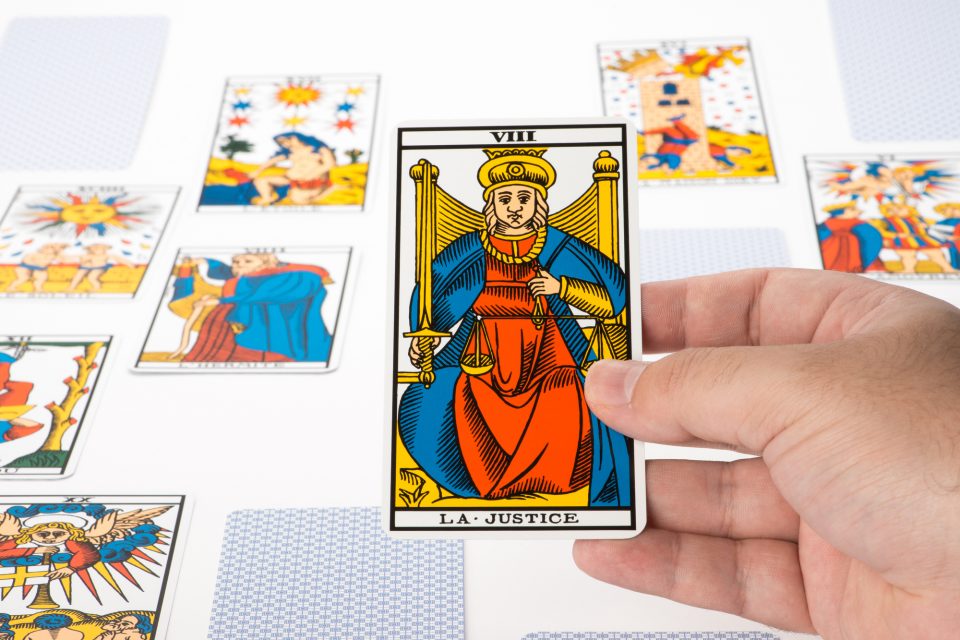 The tarot deck is a set of 78 divine cards we can use to measure outcomes, receive insight, and analyze influences in our lives regarding people, events, and/or situations. They allow us to connect with Source and unveil answers about our lives. The Justice Card is labeled card "11" in the deck, and therefore holds an extremely significant meaning when it appears during a tarot reading.
Receive all our tips by email!
Love Astrology? Subscribe Now and Receive Exclusive Content!
The Justice Card: Meaning
---
The Justice Card ​is a card in the Major Arcana of the tarot deck. The Major Arcana is composed of the first 21 cards of the deck, (the "trump" cards"), which are numbered from 0 to 22.
The Justice Card is labeled number "11," and therefore also contains the vibrational energy and traits of the Number Eleven.
Some of the associations we will analyze to interpret the meaning of this card include its illustration, the Numerology of the Number Eleven, and the relationship it has with the zodiac sign Libra.
Visual Interpretation of The Justice Card
The illustration of The Justice Card displays what many people assume to be a man, however, it is a female! She sits upon a throne chair, wearing a red cloak with gold details. Red is depictive of a grounded energy, such as with our Root Chakra.
The object that holds the cloak together has a square with a circle within; the circle represents the oneness and circle of life, while the square represents foundational order and stability around it.
She holds a sword in her right hand. The sword is double-edged, which means it cuts both ways. This is symbolic of impartiality, or being completely unbiased in rationalization and decision-making. Since the sword is pointing upward, it indicates a victory of some sort. And since the sword is in her right hand, (the significance of the right hand is represented in many different cultures), it demonstrates a mindset that is logical, fair, and organized.
She holds scales in her left hand, (which indicates intuition), reflecting the need to keep the balance of her intuition equal to that of her logic.
She wears a crown with a square on it – this represents stability and thoughts that are strong in order and foundation. You can also see a single white shoe coming out from underneath the cloak; this is a subliminal reminder of the spiritual consequences of our actions.
Numerology Association of The Justice Card
Number Eleven is the most intuitive number of all.
In Numerology, 11 is a Master Number, which means it holds a spiritually significant meaning and energy within. Any repeating digit number, (such as 11), increases the vibrational frequency of the number within. In this case, the energetic power of the Number One is doubled.
The 11 is instinctual and dynamic, yet humble with the unending attainment of all things related to psychic abilities, faith, belief systems, and spirituality in general.
Number Eleven represents a vibrational frequency of the very epic energies of illumination: humanitarianism, idealism, lightworking, intuition, revelation, enlightenment and spiritual awakening.​ It holds vibrational frequency of how to connect with our Higher Self, and serves as a reminder to always strive to find, and consciously embody, our life purpose and soul mission here in this
lifetime on Earth.
Zodiac Association of The Justice Card
The astrological zodiac sign of Libra is ruled by the Justice Card. ​This makes complete and obvious sense, as the glyph of Libra is The Scales (of justice and balance). The Scales are obviously the epitome of justice and balance.
Libra craves diplomacy and fairness, and also find an impossibly perfect balance between intellect and passion. Librans finds a perfect and charismatic balance between charm and wit, and enjoys all kinds of partnerships. As an air ​sign, they are intellectual and deep thinkers with strong analytical and communication skills. As a cardinal sign, they are all about action and initiation – for them this comes across in creating balance, seeking justice, and creating lasting relationships.
What The Justice Card Means In a Reading
Justice is an obvious offshoot of searching for truth. Basically, this card represents exactly that: justice, truth, fairness, and the law. When this card appears, it indicates that in your specific situation, the decision that is most fair and just will be the decision made.
You may be receiving a message that your actions will be accounted for and you will be judged accordingly. Events will always work out the way they are meant to, as the Universe is completely balanced in cause/effect, action/reaction, and within the Law of Karma.
Every thought and action we partake in has both short and long term consequences, creating a ripple out into the Universe. Remember that your present and future life circumstances are all a result of actions, thoughts, and decisions you have made thus far. ​Your future can be adjusted if you learn your lesson within the present situation.
It can also refer to literal legal matters that are currently happening in your life. ​This is an obvious sign that the situation you are experiencing will have an end result that is the most fair and just, based on the Universe and what you have put out.
For example, if you have lied or have been deceptive during this situation, know that justice will always prevail. If you have been honest and are in the right, you have nothing to worry about.
The Justice Card means that your life and everything in it serving your life purpose is being spiritually judged. If you are currently faced with an indecision, you should follow the path that will reap the best spiritual karma for you, because inevitably, you cannot avoid the consequences, good or bad.
---
You may also like:

98.1% (1312)
---