The Hermit: discover the meaning of this Tarot card
---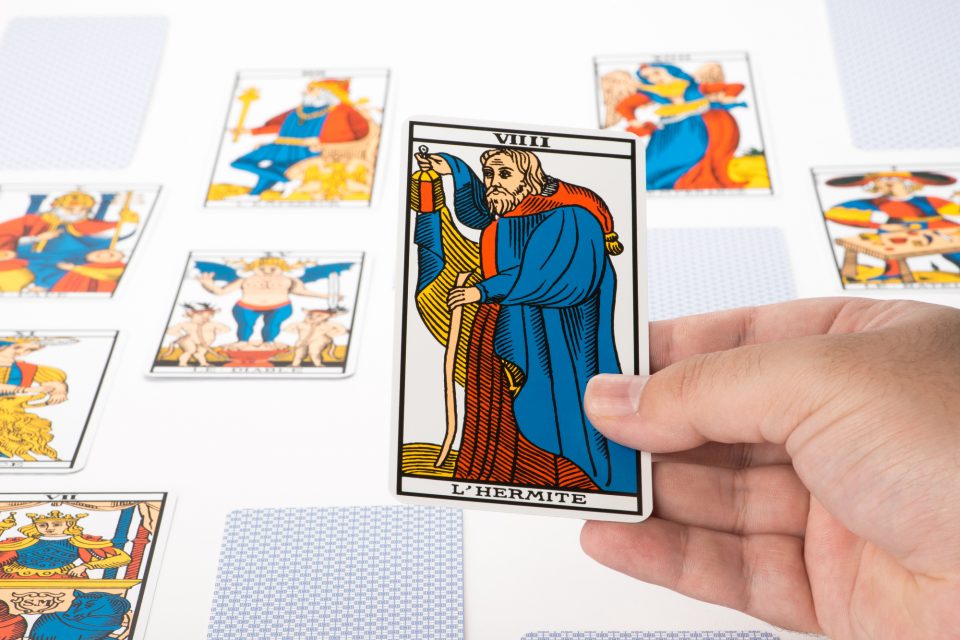 The Tarot deck is an ancient set of divination cards that we can utilize to better understand our soul purpose and life path. They connect our consciousness to the sacred Source, allowing us to gain insight and assist us in making choices and predicting events. The Hermit Card is labeled card "9" in the Major Arcana, and possesses a deep meaning for interpretation when it appears in a reading.
Receive all our tips by email!
Love Astrology? Subscribe Now and Receive Exclusive Content!
The Hermit Card: Meaning
---
The Hermit Card​ is a part of the Major Arcana, or trump cards, in the tarot deck. These Major Arcana cards are numbered from 0 to 22. The Hermit Card is labeled number 9, and thus the energy and attributes of the Number Nine are held within.
There are many associations we can examine to help us interpret the meaning of The Hermit card. Some of them include the illustration on the card, the Number Nine and its meaning in Numerology, and the zodiac relationship it represents with Virgo.
Visual Interpretation of The Hermit Card
The illustration on The Hermit​ card displays a solitary man on a mountain, holding a staff in one hand, and a lantern in the other (his only tool to light his path). He is also shown wearing a gray cloak of invisibility.
The mountains are symbolic of growth, and the staff is symbolic of a difficult and narrow path taken, becoming a figure of authority. The lantern is symbolic of light, and with its 6-pointed star, indicates wisdom. And his gray cloak of invisibility represents that his newfound wisdom is not for everyone – but is rather esoteric and secretive in nature, available only to those who are worthy.
The Hermit can be considered an introverted loner in the broader sense – however, he doesn't intend on offending anyone with his seclusion. Rather, he stands as a solitary piece of consciousness to, access his natural inner capabilities and spirituality. He is attempting to to understand the world around him, and he knows the only way to do so is by going within.
The Hermit is the ultimate humanitarian​, who has finally achieved a spiritual pinnacle. He is now ready to share his wisdom, higher awareness, spiritual knowledge, and enlightenment with the world as he is meant to. This is part of his soul purpose.
Numerology Association of The Hermit Card
Number Nine​ possesses the most spiritual and enlightened energetic vibration of all of the single digit cardinal numbers. ​Nine represents the Universal laws, eternity, service to humanity, spiritual awakening, karma, and a final ending. Number Nine is also the number reflective of "lightworkers," which brings a message of leading by example, intuition, positive self-sacrifice, and embracing inner strength.
Number Nine carries a feminine vibration of humanitarianism on a divine level.
The mathematical properties that the Number Nine possesses are even more intriguing. When Number Nine is added to any number, the final product will reduce back to the original number added to 9. Furthermore, the Number Nine multiplied by any number will always reduce back to 9. There is no other cardinal number that contains this energetic frequency to remain so constant.
Even the physical and visual shape of a "9" represents its internal meaning. The Number Nine is displayed as a symbol of offering on a grander and global level. Think of it as a reservoir with a downward spout, that is always refilled and can never be emptied.
Zodiac Association of The Hermit Card
The zodiac sign of Virgo is ruled by The Hermit card in astrology. Ruled by the communication planet Mercury, Virgo is powered by the mind, mental processes, and "head," (as opposed to emotions).
Virgo is known for being extremely analytical and intelligent. They tend to be introverted, and also a bit critical as well. However, this sign is representative of reflection, wisdom, and a search for perfection. Virgo is shown as the glyph of The Virgin, which is symbolic of celibacy and many other traits that tend to foster spirituality and growth.
Virgo is also associated with solitude and service (like The Hermit), all which point to the idea of humanitarianism (like Number Nine).
What The Hermit Card Means In a Reading
When The Hermit card appears in a tarot reading, it is reflective of heightened inner knowing, soul-searching, and strong spiritual guidance ​while being alone. It also represents a responsibility to share this wisdom with humanity.
If The Hermit card appears for you, consider the fact that you may be in a phase of looking within, connecting with spirit, and going through a phase of higher consciousness. If you are not, it may indicate that now is the time.
You should take the message of this card as performing some soul-searching, and finding a new direction in life – one that involves contemplation, self-discovery, and truth-seeking at any cost.
Being alone, both literally and figuratively, is the only way that true growth can occur; the answer will not be found in the world around us, but rather will be found within us.
By going on this journey, you will learn to leave the material world behind, no longer placing value on the physical aspects of life. And only when you learn to detach yourself from criticism and ego-driven judgment, will you be able to share your knowledge and teach this Universal wisdom to others.
---
You may also like:

98.1% (1312)
---