The Hanged Man: discover the meaning of this Tarot card
---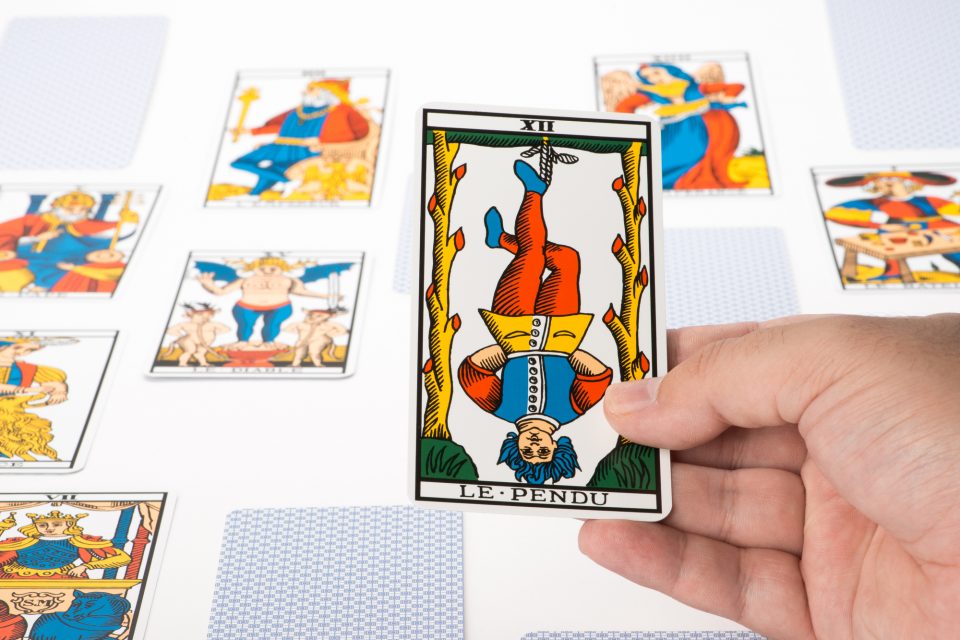 The Tarot deck is a set of 78 divine cards used to connect with the divine, providing answers about our life, events, and future possibilities to come. By using inborn intuition, the answers will never cease to yield the correct answer. The Hanged Man Card is card "12" in the deck, and possesses a mysterious yet important meaning when it shows itself during a tarot reading.
Receive all our tips by email!
Love Astrology? Subscribe Now and Receive Exclusive Content!
The Hanged Man Card: Meaning
---
The Hanged Man Card ​is the Number "12" card in the Major Arcana of the tarot deck. The Major Arcana is composed of the trump cards, (or the first 22 cards of the deck), which are numbered from 0 to 21.
Since The Hanged Man Card is labeled number "12," it contains the vibrational energy and traits of many associations involving the Number Twelve. ​The associations we will analyze to interpret the meaning of this card are its illustration, and the Numerology of the Number Twelve.
Visual Interpretation of The Hanged Man Card
The illustration of The Hanged Man Card displays a man hanging upside down, suspended from a tree – and by the look on his face, he seems to not mind and be there of his own will. His right foot is bound, while his left foot is free and bent, tucked behind his right leg.
His arms are also bent with his hands behind his back, forming a triangle. His pants are red, his pants are blue, and his shoes are yellow. He also has a yellow halo or aura around his head, and the background is grey.
By being there by his own will, it reflects parallels to other prophets and teachers – such as Jesus, Buddha, and Odin. He seems to have surrendered himself and/or his ideals for the greater good, giving off an energy of martyrdom, being suspended in time, and sacrifice.
By being suspended upside down, we can sense the metaphor of being grounded on Earth via the tree, but also still being connected to the spiritual world. His red pants symbolize his natural human passion, his blue pants symbolize wisdom, and his yellow shoes symbolize his high values.
Numerology Association of The Hanged Man Card
The Number 12 is a higher frequency of the Number Three, as it reduces to 3 (1 + 2 = 3).
The Number One possesses an energy of pioneering, independence, masculinity, confidence, new beginnings, initiation, and individuality.
The Number Two possesses an energy of duality, including: yin/yang, masculine/feminine, physical/spiritual, light/dark, positive/negative, etc. It is all about balance, and the need for it in life, in order to maintain harmony.
The Number Three possesses an energy of creativity, artistry, self-expression, imagination, optimism, spontaneity, enthusiasm, extravagance, indulgence, and "the universal trinity" or the "holy trinity."
The energetic combinations of Number One and Number Two create the Number 12/3.​ This means the energy of Number Twelve is composed of the initiation and leadership energies of the Number One, with the duality and balance of the Number Two, creating a unique vibration of the creative essence of the Number Three.
See this as the Initiation (1) of Universal Duality and Balance (2) to create a Force of Reasoning (3).
What The Hanged Man Card Means In a Reading
This card may indicate a time of indecision, and needing to suspend any action until a decision is made. If you feel a sense of urgency to take action, the best thing to do is to wait on it. By taking more time before taking action, you will allow new insights and additional options to be uncovered – some of which may change the direction of your plan.
The Hanged Man Card is contradictory in many ways, which in essence, is the message it is trying to send. Sometimes in life we need to "let go" in order to be in better control of a situation, or we need to compromise in order to keep harmony.
Also, when it comes to spiritual understanding, we cannot force our teachings onto others; it is only learned by the other when we remain silent and they figure it out on their own.
These are the truths that are sometimes hidden in a paradox. Such as with many religious prophets who sacrificed themselves, but then were eventually hailed as the victor. By making such decisions, we will eventually get the outcome we are looking for.
Staying with the theme of release and "letting go," this card may also mean you are currently feeling stuck in life, and something that no longer serves you needs to be released. By stepping out of your comfort zone and taking a different path than you normally would, you open yourself up to new experiences that are outside of your current need to "control."
In order to gain, sometimes it takes sacrifice. Regarding spirituality, we must sacrifice our time, energy, and sometimes money in order to attain the level of enlightenment we strive for.
---
You may also like:

98.1% (1312)
---