Crystal Horoscope for April: elevate your vibration
---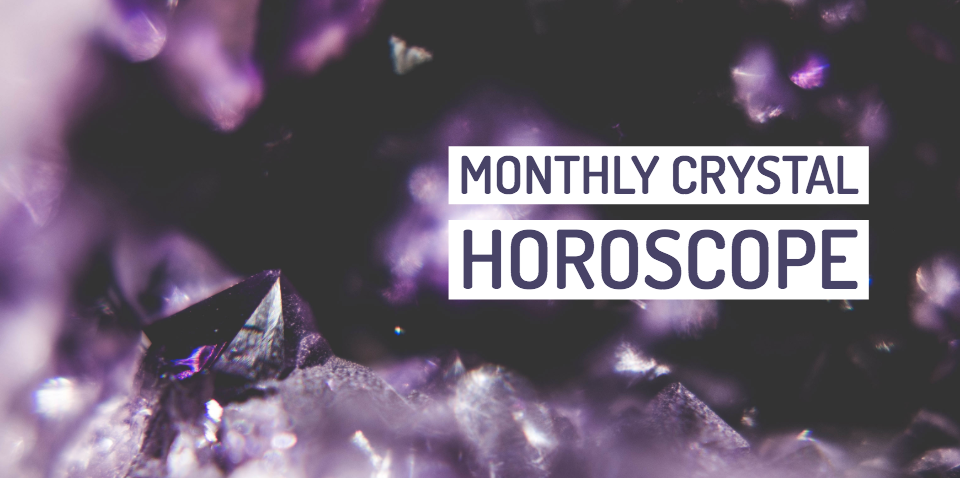 The Crystal Horoscope for April is here to give you a hand dealing with the energies that will affect every single one of us during the thirty days of this month. April will start with the fire and active vibes of Aries, and move on to the energy of the earth and beauty brought by the Sun in Taurus. 
To help you understand how you can balance your feelings and actions, we'll give you gem's advice according to your zodiac sign. These are challenging times, and the Crystal Horoscope for April is here to make it better. Find out which crystal to use as your lucky amulet in April.
Crystal Horoscope for April 2020
---
The world might feel like a confusing place to be nowadays. Despite that, we are living in one of the most crucial moments to look inside, do our self-knowledge, and evolve as spiritual human beings.
The truth is also, that it becomes harder if you feel anxious about the future. To fight that, it's important to keep some practices of meditation, for example, or reading, physical exercise, whatever makes you feel more relaxed. Gem's are also important since the crystals have the power to influence energy.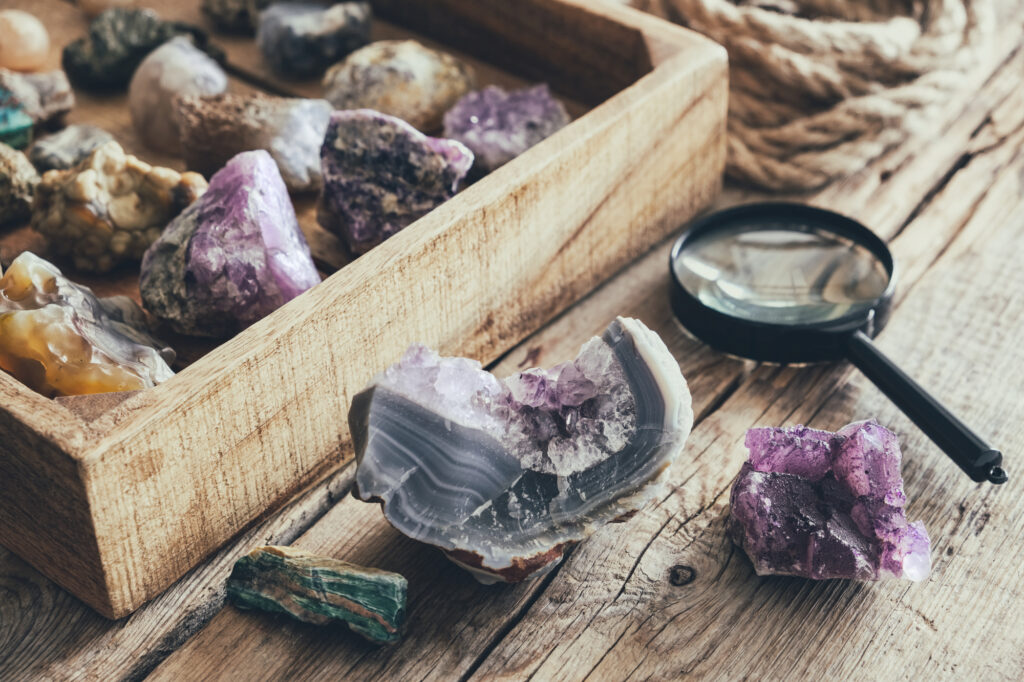 Aries: Obsidian
Dear Aries, the Crystal Horoscope for April is more about your presence in the world than anything else! Surprised? 
You have so much energy, and with the Sun lightning your vibes, you feel it, even more, that easily you take the lead. But this time, you might need to be, the leader. Your community needs you, and you need to keep strong in that position.
Either from your home or if you have an important professional role in society now, people will listen, and count on you. 
Obsidian will help you stay grounded during this period, which you'll need a lot since the requests from your community might feel overwhelming. And to not give up and keep playing that role, you need to feel connected to the earth and control your fire. 
It also protects you from the negative energies that are so strong right now. Use it in your daily meditations, or as a talisman or jewelry, and keep a healthy balance.
Taurus: Moonstone
Your time is about to arrive, your birthday as well, but you might be feeling a little down. Uncertainty is not your favorite thing to deal with, especially if it also includes money or physical matters. Consequently, more than ever you need to go get all the confidence you have in yourself. If you don't, it's time to build it! 
How? Be with yourself, learn self-love, keep your routines (it's crucial in your care!). And what does Crystal Horoscope for April has for you? Moonstone is the advice.
Taurus, honey, moonstone is the key when self-confidence is the problem! Connected to the goddess sensuality, it's an empowering gem that will kick your self-esteem and personal power. By activating your intuition, it will also give you some sense of direction, that you need so much to keep grounded.
If possible, do meditation with your moonstone! 
Gemini: Jade
Gemini, the world needs you! The world needs you to share and spread all your happiness, your endless questions and superb capacity of maintaining conversations. The world needs you lighthearted!
At the same time, you can't forget to take care of yourself. That means you'll need to find a good balance, and a crystal can help.
Jade is your gem in this Crystal Horoscope for April. Why? It is like a rock star gem, and its power of unlocking love will help you share your light with the world. At the same time, at the moment you also feel down, you can count on the vibes of this crystal to lift your spirit.
Jade resonates with the heart chakra and opens it to unconditional love, something that we all need. Enjoy it, and take your relationship with yourself and the others to the next level!
Cancer: Pyrite
Sweet Cancer friends, you need this Crystal Horoscope for April! There is a challenge waiting for you during this period. You need to focus on what needs to be done, what is essential for you in the first place, and for the others. And no, it doesn't mean doing everything for everyone, it's exactly the opposite. 
The challenge is: you need to learn how to set up boundaries, especially for your family. We know how did is a huge challenge for you, and how you want to be there for everyone else, but it's time to build a healthier balance. 
To help you with that, it's time to get a warrior friend. Pyrite will be your partner in this journey! 
It gives you the confidence you need to set up limits, and the necessary protection for your energy. You need to know that a different attitude will have a reflection on the others, and changes always make people uncomfortable. So you need to be ready for it, and you'll need your meditation with this crystal to help you face it and keep on track. 
Leo: Bronzite
Leo, beautiful friend, time to come down to earth. You always need to find that shinning point in your life, you need to have your luxuries, or maybe you are more focused on being the best at your work and get all the compliments. It's time to work on your love and attention to daily life, and the tasks it includes. 
The world is made of little actions, and it's time for you to give value to yourself and the others in this complementary of small things that keep our lives on track. 
To give you a little hand with such a big lesson, the energy of Bronzite is your gem on crystal horoscope April. It will give you the energy of the earth, to balance your fire, and to redirect your attention to more pragmatic areas of life. 
At the same time, because it promotes harmony, it will help you deal with this new direction and focus, and still feel everything is ok. Remember, you will never stop being you, but you can always learn new things, overcome new challenges and embrace new sides of life. 
Use Bronzite and promote your spiritual peace while you learn how to perceive life from new perspectives.
Virgo: Rhodochrosite
Virgo's of the world, the world needs your service, and you need your work to keep your balance. You are probably relieved now, by reading it since you can't stop feeling that the world needs you. 
The truth is that during this time, you also need your work to keep your mind balanced and healthy. Despite that, you also need yourself. Therefore, our gem advice is not concerning your capacity for putting all your energies into your job, but the opposite.
You'll need a little help to not forget yourself in the middle of everything you want to give to the world, and Rhodochrosite will be there for you. This crystal has the power of improving your happiness while boosting your self-love.
Take little moments in the day to give attention to yourself, and keep this gem with you, or use it during your meditations. Keep it near you while you work so that it reminds you of your little breaks and self-love. 
It will help you reconnect with yourself when you feel harder to get out of the external world and center again in you. Remember, your contribution to the world will be much better if you are healthy. 
If by any chance, you can't take those breaks, keep this gem with the intention of emotional balance, and remember yourself, the time for you will come. 
Libra: Amethyst
Libra, you'll feel the need and eager for personal contact. Taking into consideration the current state of the world, it might be either easy or impossible for you to get it. 
If you are close to your loved ones, enjoy it the best you can. It's the perfect time for you to give yourself to the others, to share your hugs, your smile.
In case you are far from everyone else, you'll need to be strong. Your mind takes you many times to a place of indecision, of unbalanced thoughts. You're not alone! You are never alone, and you can reach the others by digital means, or emotional connections.
Consequently, you'll need to work on your internal balance.  
Amethyst (which always appears on the list since it's so amazing) will protect you! Most of the times we need protection from ourselves and our negativity of damaging patterns. That's how Amethyst can give you some help. It will make it easier for you to clean yourself from negativity, and think clearly. 
Don't wait for the despair to use it, start now!
Scorpio: Garnet
Time to check your body and pay attention to what it's trying to tell you, Scorpio. Many times, physical symptoms are a reflection of stress, anxiety, emotional problems. This month will ask for you to pay attention to your physical material aspect of this life, and take care of it.
To promote your physical health, and give you a hand unlocking your energies, Garnet is an amazing choice. It has a material effect, but it will also work with your energies. It also boosts your libido, which, used with responsibility can be a way of self 
Take it seriously, use your detective amazing skills to explore your body and your healthy balance.
Sagittarius: Hematite
You are all about externalization! You prefer to live life outside, your house, your country, everything. Well, now that the times ask for a quieter moment, you may be part of those freaking out. 
What can you do, Sagittarius? Use your imagination more, and then create something out of it. Maybe you finally understand what you want to do with your life because once in the last five years you spent more than two hours at home. You can explore that idea, trace a new future.
You can also work on your creativity, your arts, anywhere your imagination takes you to. Find new ways of externalizing your energy and you contribute to yourself and the world. 
We all know you don't need a gem for creativity, but grounding. And you'll need it! A Hematite will give you the support of the earth that will allow you to be in peace even if on a different paradigm than the one you are used to living in. 
Capricorn: Fuchsite
Everyone is rethinking life right now, while you start to question your structures and your life goals. Accepting that process for the ones who love tradition, order, predictability can be one of the hardest moments in life. That means you might find yourself lost during this period. 
The first thing we want to tell you, Capricorn, is, changes are part of life. You are here to give everyone else the structure to handle those changes, but sooner or later, you'll also be called to be part of the new solutions, new ideals, new structures.
Fuchsite will help you feel more flexibility towards life. It will improve your connection with your heart since you are more linked to your rational side. By protecting you, it gives you space to explore a new perspective of life, of existing. 
Aquarius: Clear Quartz
How is it going, Aquarius? You love to learn new things and to keep your mind thinking and working. That might give you an answer to go through difficult times since it also represents the chance of finding new solutions, new answers. You are the perfect person to go that extra mile, and this is the perfect moment to put your energy in learning and creating.
To help you focus, feel clear and process information, Clear Quartz is a great option for you now. Give yourself time and space to learn, and keep this gem with you. You might find great solutions, for you, for your neighborhood, or even the world. 
Pisces: Onyx
Sweet Pisces, we know things are tough now, but you got to be strong! The fact is that although Pisces tend to be down when they make the others smile, it's the best smile of all times. There is cure energy in Pisces and the capacity to use it to make yourself and the ones around you happier can be boosted with Onyx. 
Like you, Onyx can turn negativity into positivity. 
It's a short message, but your heart will understand how big it is if you compromise yourself to make this change.
Crystal Horoscope for April gives your advice for increasing hope, transform the bad into something good, face the real and embrace the challenges. You are stronger than what you think you are, and when you feel down the world is here to help you stand again! 
---
You may also like:
---