Crystals for fall: which stones should you choose?
---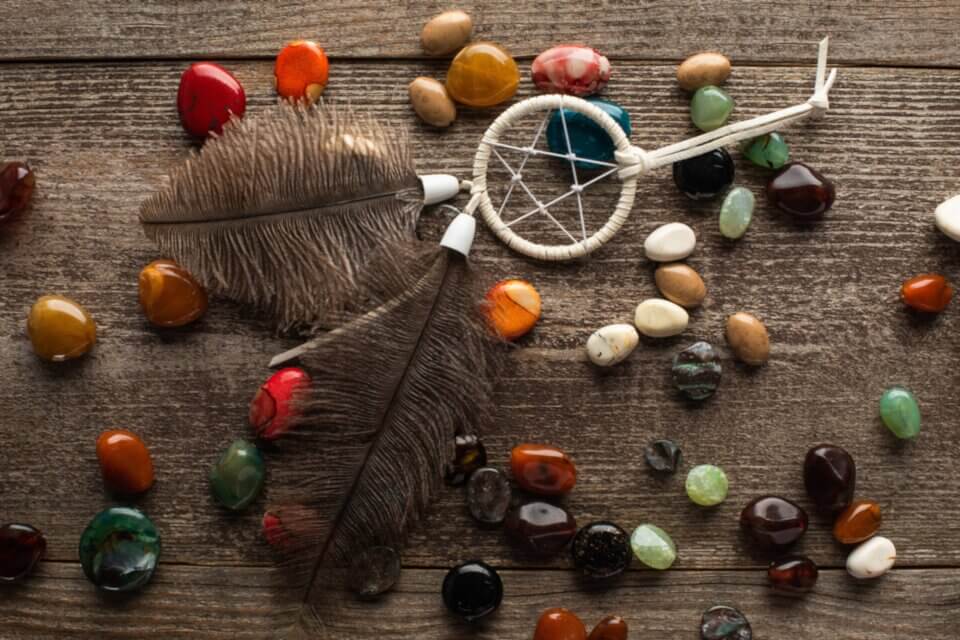 Autumn is the time of the year that takes us into a process of interiority, concentration and withdrawal, necessary before the winter. This season allows us to observe and establish a record for this year that is almost finished. Will it be rich in transformations, evolutions or decisions? An analysis certainly a bit ahead, but a necessary analysis to glimpse our objectives and to end this year in style. Here are the best crystals for fall that will help you go through the season.
2024 predictions are out
Discover the stars predictions for new year!
The best crystals for fall
---
Connect to the energy of Autumn with stones
Autumn Equinox and Autumn are associated with Root Chakra. Located at the base of the spine, this Energy Center is associated with Anchorage, Balance and Stability. The Red Jasper, the Carnelian or the Taurus Eye are Stones that, thanks to their Energy and Color, are in resonance with the Root Chakra.
You can combine them with Tourmaline and Hematite to work even more intensely on your Anchorage.
Take one of these Stones in hand and remember a good time spent this summer. Let the images scroll through your mind and relive this good memory. Feel the warmth of the sun's rays, listen to the rolling waves, feel the positive emotions you've experienced this summer.
Then, do the mental exercise of "loosen up" these moments, do not hold on to them anymore because they belong to the past. Always with your Autumn Stone in your hand, say these words: "I let go of the past and I am excited to discover what the future holds for me."
Regularly during the Fall, return to your this incantatory sentence. Take back your stone in hand and pronounce this sentence again. This Ritual will help you direct more Positive Energy toward your life goals this Fall.
Other crystals for fall
---
Labradorite
Autumn brings us into a slowdown that is sometimes a source of great fatigue, demotivation and sometimes depression. The days are getting shorter and our need for light and heat is getting stronger and stronger.
Labradorite is particularly recommended during the Fall because it protects against all the negative energies (mental and physical). This stone will help us to assimilate all experiences during the year in order to derive all the possible benefits.
Labradorite makes it possible to reconnect with oneself, with one's intuition and feelings. With it, we agree with the natural movement of our energies so that everything goes smoothly. Our internal balance is thus stabilized to cross this period.
Pyrite
This is the stone that manages everything related to our relationship to the outside world. It's our ability to protect ourselves and deal with aggression from outside. It's our personal armor.
Pyrite's role is to give strength and the ability to resist the aggressions of the outside world. The lung manages the balance between the inside and the outside.It is in charge of protecting the skin.
Snowflake Obsidian
During the Autumn, we are spectators of a vegetation giving up its leaves in the perspective of a new flowering. And if we enjoy, too, this moment of introspection to give up and let our old beliefs die?
This is the opportunity to use this soil to create itself in another form, relieved of old beliefs that pollute our daily lives. This process is essential to begin our new life goals without previous parasites.
The snowflake obsidian is therefore the ideal stone to let go and get rid of a sometimes too heavy mind. It helps to mourn the past by cleaning up resentment and persistent regrets. This stone drives all forms of judgment on oneself, or on others, and makes it possible to welcome events experienced with hindsight and serenity.
---
You may also like:
---