---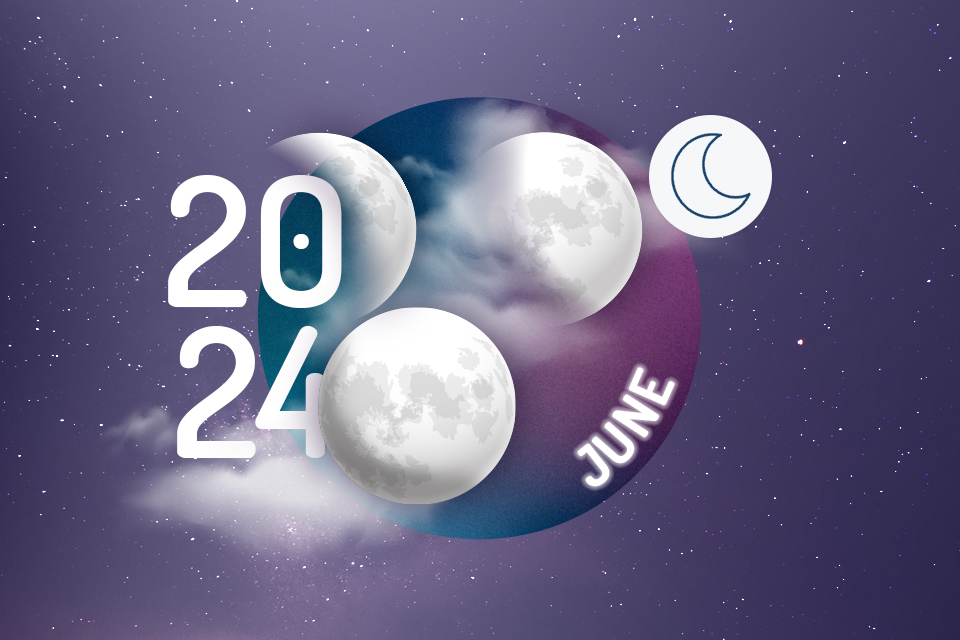 Eastern Time Zone | GMT -5 Standard; GMT -4 Daylihgt
June will be a harmonious and positive month, yet emotionally charged. To do well and achieve your goals, the Moon Phases in June 2024 allow you to be inspired and prepared for what lies ahead. With your intuitive and emotional side in evidence, expressing yourself can be a very constructive experience. Want to know what else the Moon has to reveal? Be sure to follow the forecasts.
Below, check out the Moon Phases in June 2024. After the chart, get informed with some tips and predictions for each phase. Take the opportunity to get organized and prepare for the month ahead, based on the lunar cycle.
Receive all our tips by email!
Love Astrology? Subscribe Now and Receive Exclusive Content!
Moon Phases: June 2024
| | | | |
| --- | --- | --- | --- |
| Date | Moon Phase | Hour* | Sign |
| June 06 | New Moon 🌑 | 08:40 AM | ♊️ |
| June 14 | First Quarter 🌘 | 01:19 AM | ♍️ |
| June 21 | Full Moon 🌕 | 09:10 PM | ♑️ |
| June 28 | Last Quarter 🌒 | 5:55 PM | ♈️ |
* Eastern Time Zone
the energy of the stars
June is filled with discoveries, and it will be a crucial month for your emotional life. From inner to outer aspects, the lunar phases promise to bring impactful results. Learn to balance your mind and heart, and the results will come as expected.
Advice from the stars: June is an invitation for inner revolution. Reinvent yourself and expand this progress into the external world. There's a vast source of creativity ready to manifest and expand your physical and mental horizons.
Creativity is the announcement of ideas in action, capable of radically transforming your way of living. Focus on this productive moment to channel your energies into goals for your life.
Astrological calendar for 2024
Prepare Yourself for This Month!
You may also like:
---