Tarot Forecast February 2023: The Lovers
---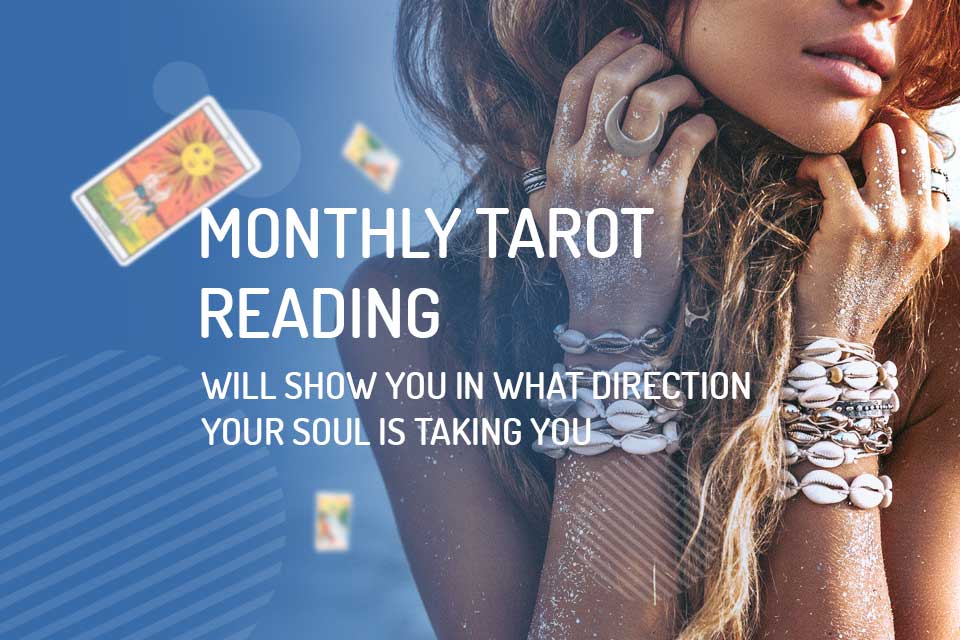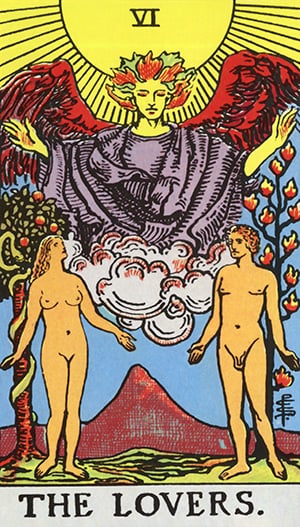 The Lovers card represents the duality of life and brings us the lesson of making wise choices, always remembering the importance of following your heart. This card also speaks of a harmonious, honest, and trusting union. In the case of a love relationship, it indicates strong attraction, both physical and emotional. It is not always just about romantic partnership, The Lovers can also speak of the harmony between two characteristics of a person's personality, for example someone who is communicative and friendly. See the Tarot Forecast February 2023!
Arcane of the Month: The Lovers (Arcane 6)
Deck used: Diary of a Witch (Tarot)
Love: In love, the Lovers' Card is very positive, and is about a harmonious, deep and trusting union. If you are single, there are great chances that a new love will appear in your life, or someone you already know will reappear strongly. In the case of an already stable relationship, this is a good phase of connection and happiness.
Finances: In finances, the Lovers' chart symbolizes decisions to be made, you are ready to move forward and try new alternatives. This card can also suggest a business partner or financial arrangements with your love partner, as well as opening a new venture with this partner.
Health: In health, the Lovers chart suggests that you pay attention to your arms, hands, shoulders, and lungs. It is possible that this is about the improvement of a phase of emotional exhaustion.

Receive all our tips by email!
Love Astrology? Subscribe Now and Receive Exclusive Content!
Tarot Forecast February 2023 – Monthly Tarot Card Reading For All Signs
Tarot Forecast February 2023 – Aries

The tarot card that will represent this sign in February 2023: Ace of Wands

The Ace of Wands represents new beginnings, energy, and creativity flowing easily in your life. It is about being motivated and focused to make things happen as planned. This card speaks of a lot of potential and the birth of something new, this could be a new job or project because new ideas are coming to you that make you feel inspired and motivated. Often, this card is about taking on a challenge with enthusiasm and confidence. The Ace of Wands also denotes fertility and conception.
In love, the Ace of Wands tells of new phases in the relationship, it can be about moving house, new projects and trips together, or even pregnancy if it is desired, as this card is a good sign of fertility and conception. The Ace of Wands denotes a relationship full of passion, enthusiasm, and spontaneity. If you are single, this card suggests new opportunities and suggests that you have the courage to show your interest in someone you like because there is a good chance it will work out. Otherwise, don't give up and keep opening yourself to new possibilities.
In finances, the Ace of Wands is a sign of new positive changes in your financial life. Investments could give unexpected returns, creative ideas could come up with a new way to earn more money. It could also be about inheritance, gifts, or even winning unexpected raffles.
➡️ Click here to see Aries predictions

Taurus

The tarot card that will represent this sign in February 2023: The Judgment

Rebirth, Calling, Awakening.
The Judgment card speaks of a great transformation and about being prepared for this moment. It is about taking responsibility for your life and being who you are meant to be. This card speaks of spiritual awakening and connecting with your Intuition, as well as the ability to judge character.
In love, the Judgment card can indicate a relationship that came close to ending, but reconciliation was possible. It is also related to the need for the couple to appreciate each other more and to be careful about being too harsh with their partner. If you are single, the Judgment card is about being cautious about making hasty judgments about people who cross your path. Maybe it's time to give someone different a chance, without judging by appearance or status. This card can also indicate someone who will cross your path when you are living and fulfilling your purpose, because this person will be on the same quest as you.
In finances, the Judgment card is about putting projects into practice so as not to miss the opportunities that will cross your path. Often it is about career advancement, and even if you don't know it yet, you are being considered for a position of greater responsibility, for example.
➡️ Click here to see Taurus predictions

Gemini

The tarot card that will represent this sign in February 2023: The Emperor

The Emperor card represents masculine energy, success, and self-control. This card also speaks of passion and enthusiasm for life. The Emperor knows that freedom comes with discipline because he is logical, practical, and direct. It is about being rational and not getting carried away by emotions when involved in a problem. The Emperor chart speaks of a leader, which can be a severe father or with a military posture. The Emperor doesn't have much patience for theories, and learns by doing with ease. On the other hand, this card can also refer to big companies.
In Love, the Emperor chart speaks of a possible attraction to someone older who has an interest in order, logic, and organization, as well as someone who likes to dictate rules. The attraction may not be reciprocated at first, but with time and patience it will increase. The Emperor card can also indicate stability, security, and happiness. It shows a couple that works together to pursue their goals and build their empire.
In finances, the Emperor's card speaks of guaranteed success because there is discipline and clarity to see your goals. This card can mean a new management position, or a father figure willing to pass on his experience and business, as long as it is to the right and determined person. The Emperor speaks of financial discipline, work, and stability.

Cancer

The tarot card that will represent this sign in February 2023: Three of Cups

Meetings, Friendship, Celebrations.
The Three of Cups card represents togetherness among family, friends, or even in community. It's about partying, enjoying the company of people who are nice to you, and who care about you.
In love, the Three of Cups card indicates joy and satisfaction in the relationship. You both enjoy your company and share the same ideals. It can indicate a busy period of parties or some special celebration such as an engagement, wedding, or anniversary. If you are single, this card indicates a busy social life and numerous possibilities of meeting someone special soon.
In finances, the Three of Cups indicates a good time when you feel secure, possibly extra money is coming in, and things are going well. Don't hesitate to spend a little to celebrate your achievements, but be careful not to lose track and overspend, especially on parties or superfluous things.
➡️ Click here to see Cancer predictions

Tarot Forecast February 2023 – Leo

The tarot card that will represent this sign in February 2023: Six of Cups

Memories, Childhood, Nostalgia.
The Six of Cups card talks about childhood memories and happy times that were part of your past. It can indicate reunions with school or college friends, children around you, or even a possible pregnancy.
In love, the Six of Cups suggests a relationship of joy and spontaneity, where both feel free and happy, indicating soul mates. Often, this is a childhood love that has come into adulthood. This card can also indicate pregnancy. In some cases, the Six of Cups denotes immature behavior affecting the relationship. If you are single, this card can indicate the return of a love from the past, or the possibility of finding someone interesting by visiting a place from your past, perhaps the town where you spent your childhood, for example. A new love can also arise through childhood friends.
In finances, the Six of Cups suggests involvement with donations and charity. It could also be about an inheritance being received or some old loan that you will now be paid back.
➡️ Click here to see Leo predictions

Virgo

The tarot card that will represent this sign in February 2023:: The Sun

Joy, Vitality, Success.
The Sun card speaks of physical energy as well as positivity and infectious happiness. The Sun is a card of new opportunities and positive confirmation about something you want.
In love, the Sun chart speaks of a high potential relationship in which both have self-love and are happy. It is a light, fun relationship with an intense social life. It can be about a romantic trip. The Sun chart can also be a strong sign of pregnancy. If you are single, this is a phase when you are attracting interesting people into your life. It could also be about love at first sight. The Sun chart can indicate joy and fun, also denoting a person who is happy alone.
In finances, the Sun chart indicates success, prosperity, and material achievements. In the case of a new project, The Sun comes to confirm that everything you do will work out. Now is also an excellent opportunity to make extra money. If any old debts come to the surface, it is time to pay them off.

Tarot Forecast February 2023 – Libra

The tarot card that will represent this sign in February 2023: The Strength

Courage, Self-confidence, Power.
The Strength card talks about the combination of mental and emotional courage. It is about mastering your emotions and acting in pursuit of your goals with the certainty of your worthiness, ability, and value. This card also speaks of passions and desires, so it suggests the need to overcome instincts and direct your energy toward your personal development and creativity.
In love, the Strength card indicates a good time to meet people since you are in a phase of self-confidence and awareness of your worth, so you will not accept anything that is not what you want. If you are already in a relationship, the Strength card shows a strong, mutual, and stable relationship in your life, or it could be a new phase of vigor and strength in the relationship.
In finances, the Strength card is very positive, and usually indicates financial success. This card is about self-confidence to achieve your goals, and about the certainty of your worth and worth.
➡️ Click here to see Libra predictions

Scorpio

The tarot card that will represent this sign in February 2023: 10 of Pentacles

Abundance, Family, Achievements.
The Ten of Pentacles card talks about enjoying tranquility and financial prosperity, as well as domestic and family harmony. This card serves as a confirmation that things will come right, and you can be proud of all the success you will achieve.
In love, the Ten of Pentacles indicates a solid, long, and stable relationship. Possibly it refers to a couple from families with traditional values and who share the same ideals. This card indicates harmony and happiness in the family environment, and can also denote important stages in the life of the couple, possibly marriage or renewal of vows are on the way. If you are single, this card indicates the arrival of someone with traditional values or who shares the same family values as you in your life. This card denotes someone who is prepared to commit to a serious, long-term relationship.
In finances, the Ten of Pentacles speaks of wealth, stability, and material security. It is about empire building and working in a family, possibly to be passed down or already coming from other generations. Often, this card can indicate unexpected money, either through an inheritance or an investment that yields profits beyond what was imagined, for example.
➡️ Click here to see Scorpio predictions

Sagittarius

The tarot card that will represent this sign in February 2023: Two of Pentacles

Balance, Responsibilities, Adaptation.
The Two of Pentacles card talks about managing your time and your priorities. It can refer to more than one job, extra source of income, or ongoing projects and businesses.
In love, the Two of Pentacles can indicate that a couple needs to find balance in their relationship.
Possibly one of the parties is not being able to prioritize the relationship, perhaps because of work or other commitments, which ends up generating fatigue and frustration. It can also refer to business deals or financing made together. If you are single, this card can represent the choice between starting a relationship or focusing only on yourself and your projects. You may need to change some habits and your routine if you want to attract love into your life.
In finances, the Two of Pentacles is about considering more than one business possibility or source of income. Your chances of success are high, so take a good look at new investment or work opportunities. It can also refer to some important decision to be made in the financial area causing you stress and anxiety. Trust your ability and intuition, this phase is temporary and success awaits you.
➡️ Click here to see Sagittarius predictions

Tarot Forecast February 2023 – Capricorn

The tarot card that will represent this sign in February 2023: 10 of Cups

Happiness, Family, Contentment.
The Ten of Cups card talks about harmony and personal fulfillment. It is about happy families, a life of abundance, and Spiritual alignment.
In love, the Ten of Cups card indicates a true and lasting relationship, possibly soul mates. You feel happy and complete together. This card suggests commitments such as engagement, marriage, pregnancy, and the beginning of a life together as a family. If you are single, this card tells of a new relationship with great potential to turn into something serious and lasting, bringing you stability and emotional security.
In finances, the Ten of Cups suggests security and financial stability. If you are experiencing difficulties, this phase will pass and prosperity is near to come for you. Investments and business deals will bear good fruit and bring you the desired result.
➡️ Click here to see Capricorn predictions

Tarot Forecast February 2023 – Aquarius

The tarot card that will represent this sign in February 2023: 3 of Wands

Progress, Expansion, Opportunities.
The Three of Wands is about the contentment that your achievements have brought you, and about being ready to explore new possibilities. This could be opportunities abroad, travel, or adventure.
In love, the Three of Wands suggests that the relationship is going well and progressing as expected for both parties. It can refer to traveling together, or even a long-distance relationship. If you are single, this card could indicate a romance while traveling, or it could simply be about the satisfaction and happiness of being single, enjoying your freedom, and having the adventures you desire.
In finances, the Three of Wands indicates a period of improvement in your financial life. It is about good prospects and opportunities to expand business.
➡️ Click here to see Aquarius predictions

Pisces

The tarot card that will represent this sign in February 2023: The Hierophant

Values, Tradition, Knowledge.
The Hierophant card talks about following standards and having strong values of conduct. This card can refer to religious or traditional organizations, as well as to the search for knowledge and spiritual advice.
In love, the Hierophant card indicates serious and deep commitment, possibly marriage. This card speaks of someone with traditional values who has characteristics such as faithfulness, the search for a single love, and also a strong connection to spirituality.
In finances, the Hierophant chart shows that success is very likely, but it is not sudden, it happens with planning and at a moderate pace. This chart is about a conservative and safe path in search of financial stability. The Hierophant can also tell you about someone who is being pressured by those around them to pursue an acceptable and stable career.
➡️ Click here to see Pisces predictions
You may also like:
---