Yoga poses for beginners: the gateway to a regular practice
---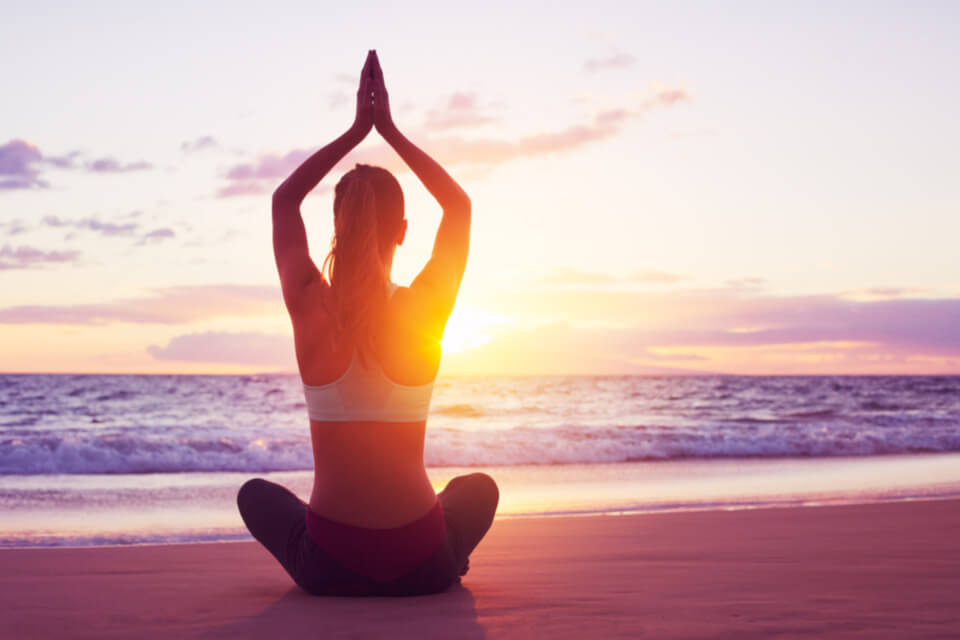 Yoga poses for beginners, where to begin? There are a multitude of yoga poses that are suitable for beginners. These foundational poses, help build strength as well as promote flexibility and very importantly, improve balance.
Once a practitioner can get to grips with these postures, they can quickly move onto more difficult sequences and asanas that may require a higher level of body awareness as well as focus. This article will explore the 3 best yoga poses for beginners.
Receive all our tips by email!
Love Astrology? Subscribe Now and Receive Exclusive Content!
3 yoga poses for beginners
---
Mountain Pose – Tadasana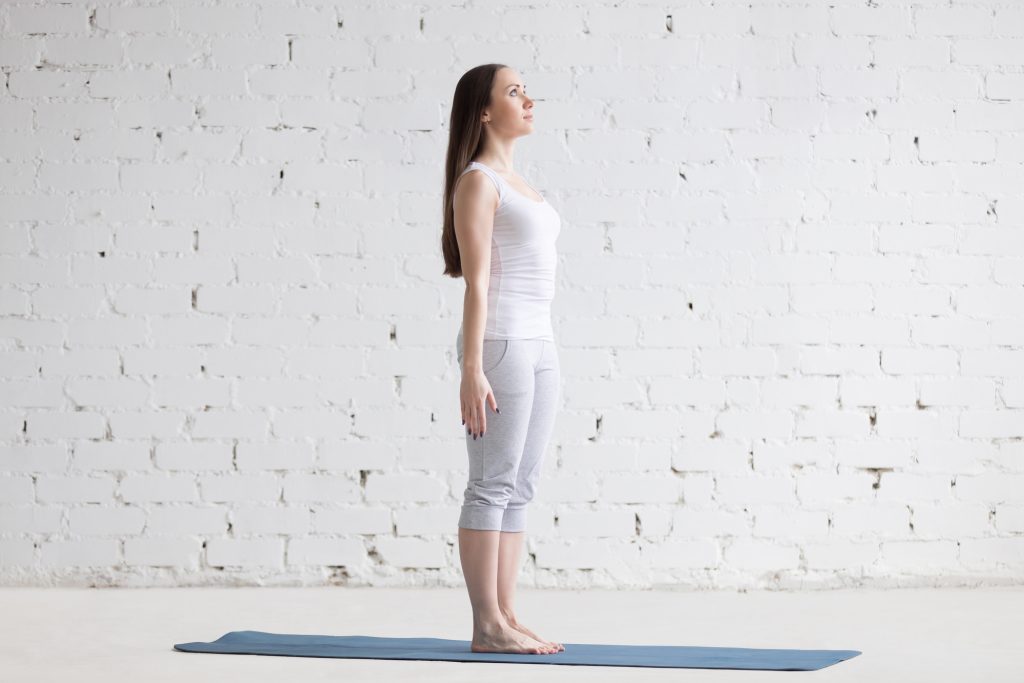 You may be thinking, it may look a bit strange, how is this yoga? It is just a person standing, surely? Well, you would be right and wrong. The practitioner is standing perfectly straight and with an active body. Muscles are engaged, including the core and arms.
This pose brings awareness and grounding and it helps to correct poor posture. It is particularly nice to do this pose outdoors so that your feet may connect with the earth. You will be surprised how aware you may become of the soil and its connection to you.
How? As you stand bring awareness to your feet, spread your toes apart and find a strong sense of balance. Lift the kneecaps, tighten thighs and tuck your tailbone under. Open your shoulders ( without lifting them). Next, ensure your head is balanced over your pelvis and your chin is parallel to the floor. Relax your jaw and chin , ensure your arms by the side of your body. You may point your palms outward if you wish.
Childs pose – Balasana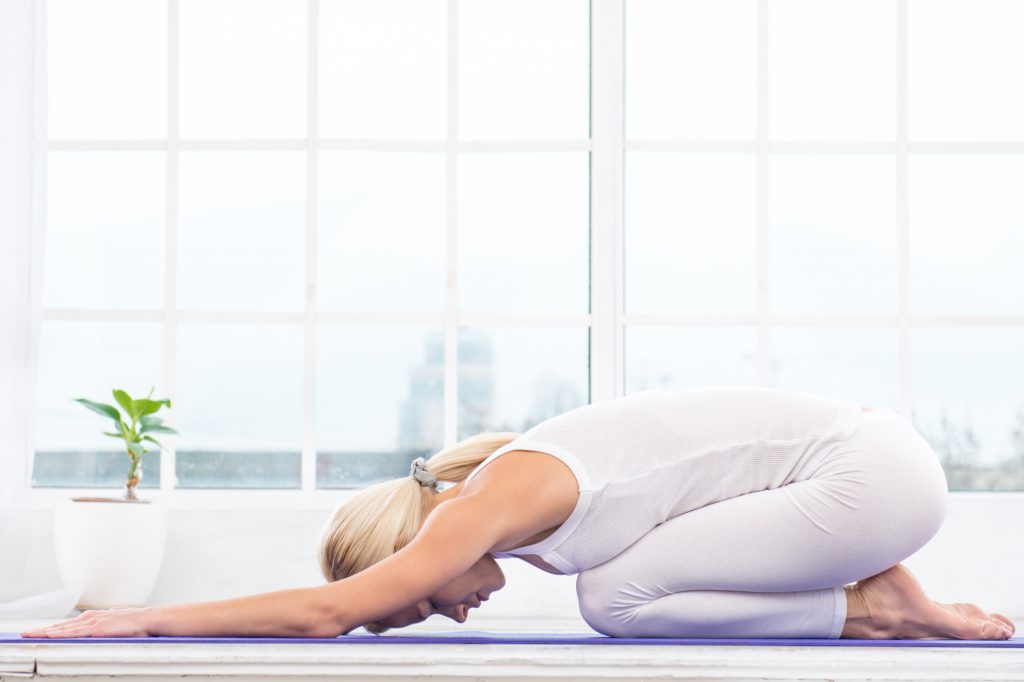 Childs pose is said to replicate a fetus in the mother's womb. This pose is a great beginners pose as it will bring awareness to your spine and shoulders so that you may tackle more difficult moves, such as cobra, with ease.
The focus of this pose is the thighs, as you bend forward, the spine should feel a gentle stretch, which can help alleviate back pain, while at the same time the thighs work to massage the digestive system and other internal organs. As your head is placed on the floor it may give relief from fatigue and anxiety.
Lastly, the shoulders will get a good stretch. Open shoulders mean strength for inversions later on.
How? Sit on your heels, knees bent and fall forward, outstretch your arms and rest your head on the mat. Become aware of your breath, breath with purpose and draw your naval into your spine upon each exhale. You should feel an instant sense of calm.
Downward Dog – Adho Mukha Savasana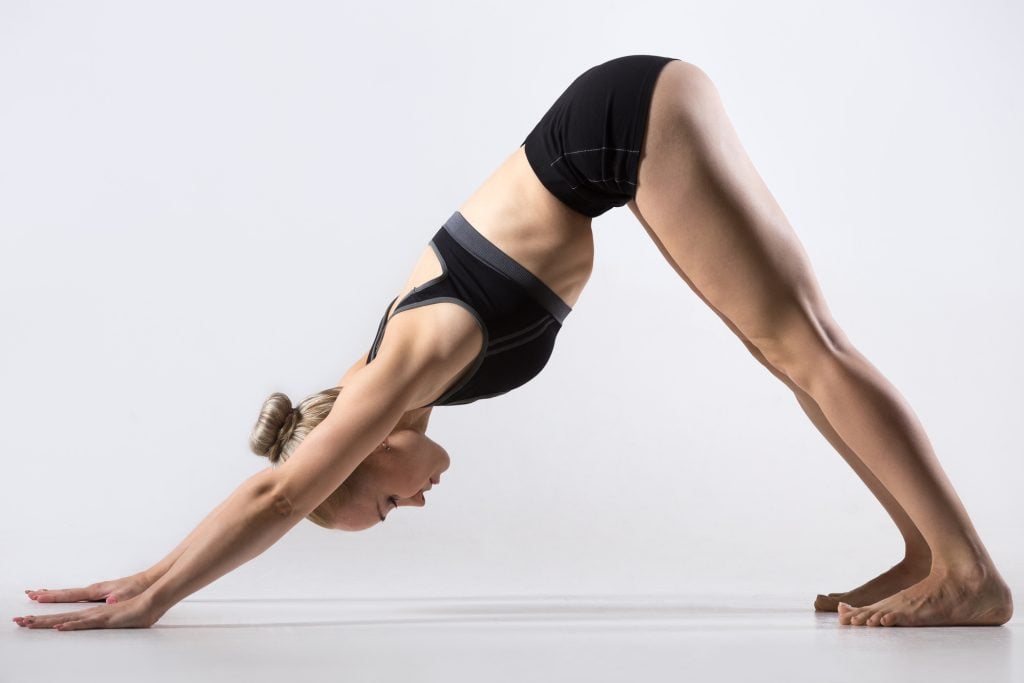 This pose although foundational, can still be challenging and elusive to those that have been practicing yoga for quite some time. But don't be disheartened, as it will help beginners develop back flexibility and shoulder and hip awareness. Practice rather that perfection is what's important.
The pose engages a lot of the larger deeper muscles in the body, which means one can build strength very quickly. Downward Dog is the simplest introduction to inversion practice for a beginner.
Lastly, and this may come as a surprise, especially as you try to perform the move for the first time, Downward facing Dog is actually a resting pose. Keep that in mind as you develop familiarity with it.
How? Start off in plank pose, push down on your hands and lift your sit bones to the sky, bend your knees as needed to ensure your hips are tucked under and engaged. Step forward as necessary to be comfortable and to create the infamous upside down V shape.
Make sure your arms are not bent outward, fall deeper into the bend if possible and put your weight onto your legs.
There are dozens of poses perfect for beginners and also modifications available, not to mention assistance with bolsters, bricks and straps to ease you into poses.
Beginners will quickly find they feel more relaxed, stronger and a little more flexible as they continue their yoga journey.
---
You may also like:

98.1% (1312)
---