Yoga sequence for anxiety
---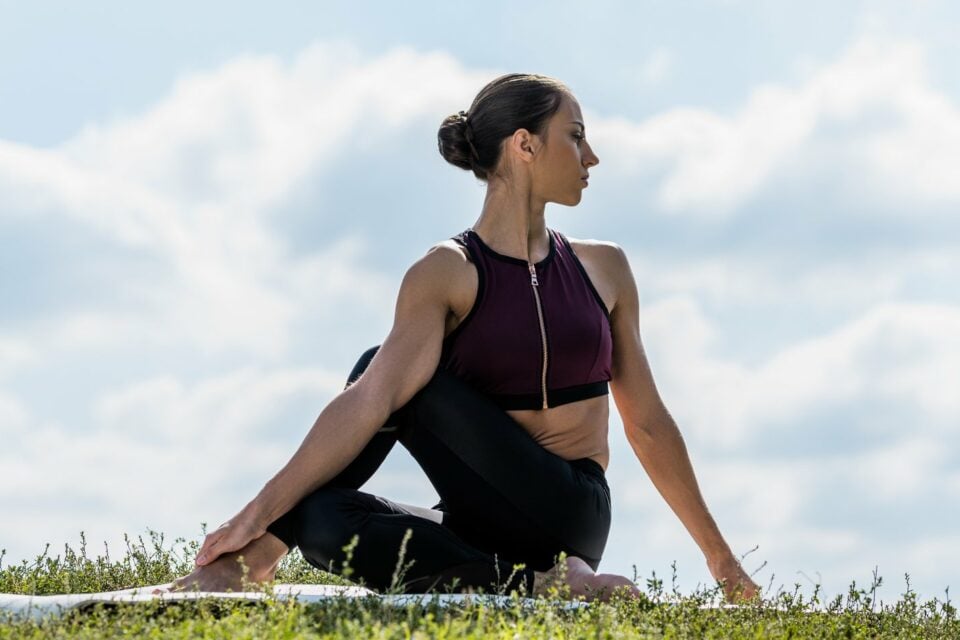 Here you will find a yoga sequence for anxiety. It doesn't matter if you have been suffering from strong anxiety, or if you just have lighter episodes, this sequence is helpful for everyone. 
It aims to be a tool to help you doing yoga by yourself, whenever you want to. But it must be used as a complementary practice, especially in severe cases. We also encourage you to explore it freely and try what feels better for your mind and body.
Nevertheless, before presenting you the yoga sequence for anxiety we want to explore deeper what is anxiety and how yoga can help you deal with it.
2024 predictions are out
Discover the stars predictions for new year!
Yoga sequence for anxiety: understanding anxiety
---
In order to develop a yoga sequence for anxiety that can actually help you, it was important for us, as it is for you, to know more about anxiety. 
Anxiety is experienced by every single person, although at different levels. While to some people the episodes are fast and soft, anxiety can severely undermine someone's health when they get severe.
Some of the symptoms include obsessive thinking, as well as thinking in a loop; insomnia, digestive problems, nausea, general pain in the body, shortness of breath, among others. 
Despite the importance of the symptoms to target the problem, understand its source is extremely important.
Anxiety in its origins is a useful emotion, that aims to help us recognize and protect from danger. And it doesn't end in visible threats, it also works pretty well when we are aligned with our intuition. But that is far from the kind of anxiety we are mentioning here. If you are thinking over and over again about a problem when there's nothing you can do about it, or even, when the problem doesn't even exist, then it loses its purpose and benefit.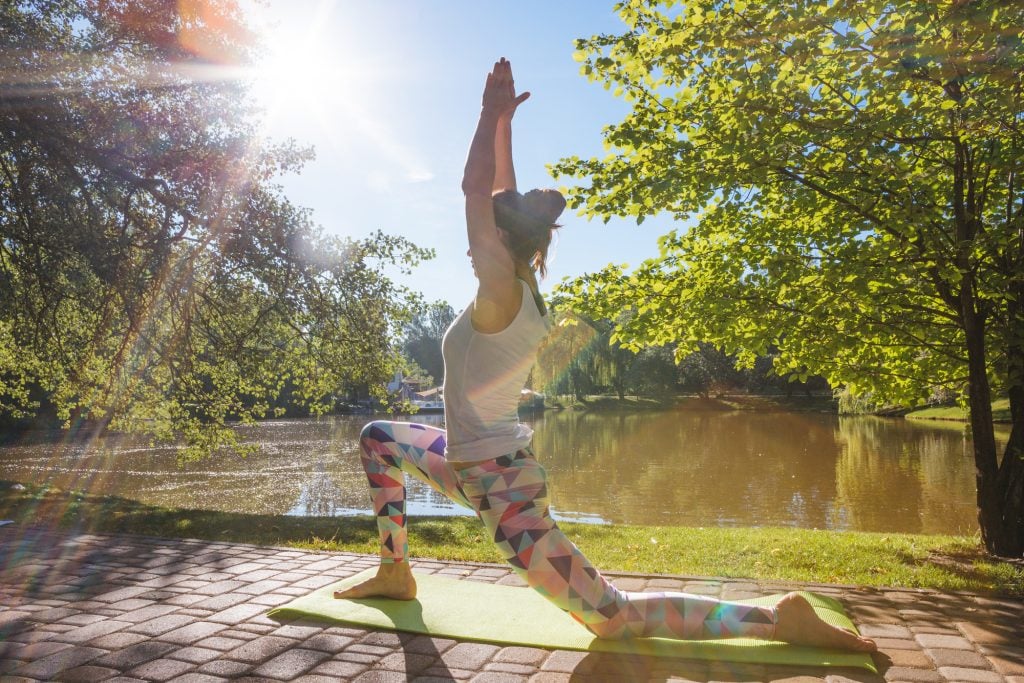 Yoga and anxiety
There are two main aspects in which yoga is a good helper. Some techniques, especially the breathing ones, help reduce the symptoms. Secondly, it promotes a better understanding of the self which allows going beyond the surface of the problem. Hopefully, some people will understand better the source of their anxiety.
Breath
The way you breathe is connected to anxiety. There are scientific studies who show the efficacy of yoga, inclusively, a study conducted by Vahia showed that yoga was significantly more effective in relieving anxiety than tranquilizers.
The anxious breathing is fast, it happens mostly in the upper chest, and because it produces more carbon dioxide it results in you feeling more on the edge. While in yoga, the training of slow breathing, deep, relaxed, and complete, results in calm and peace. 
Awareness of thought patterns
It helps the person start to understand where the anxiety comes from and cultivate a more positive approach to it. Instead of fighting those thoughts, the process is to accept them, but not feed them. This results in a more honest look about emotions and thoughts. 
It also allows us to slow down the rush of the mind and to detach from it. This distance brings more and more clarity and relaxation. 
Wrap it up
Summarizing, yoga helps anxiety by:
Slowing down the breath;

Asanas (or poses) help correct physical blockages that promote anxiety;

Yoga promotes a sensation of gratitude which also helps to diminish anxiety;

Develops your capacity to surrender and accept that you can't control everything;

Improves awareness;

Raises feelings of hope.
We hope that after this brief explanation, you can now understand why yoga can have an important role in your journey dealing with anxiety. Therefore, it's time to present to you our suggestion. 
Nonetheless, we have some recommendations:
It's scientifically proven that some people benefit more from breathing exercises and meditation, while others from the asanas, the physical part of yoga. Despite we strongly advise you to include it all, try to adapt the practice to your personal needs;

Feel free to adapt the practice to what makes you feel good;

Adapt the practice to your body capacities and remember that every day we feel different, so it's ok to take it easy sometimes, and others doing it strongly;

Respect yourself most of all.
Now, a yoga sequence for anxiety (with some photos)
1. Utthita Balasana or Supta Baddha Konasana with abdominal breathing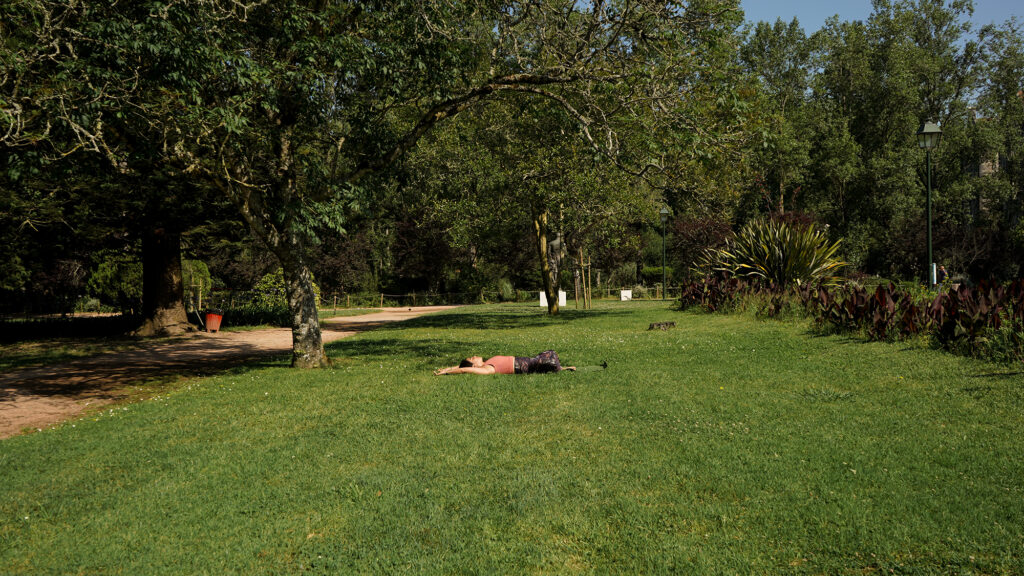 Utthita Balasana, is a way to start slowly and connecting with yourself.
2. Surya Namaskar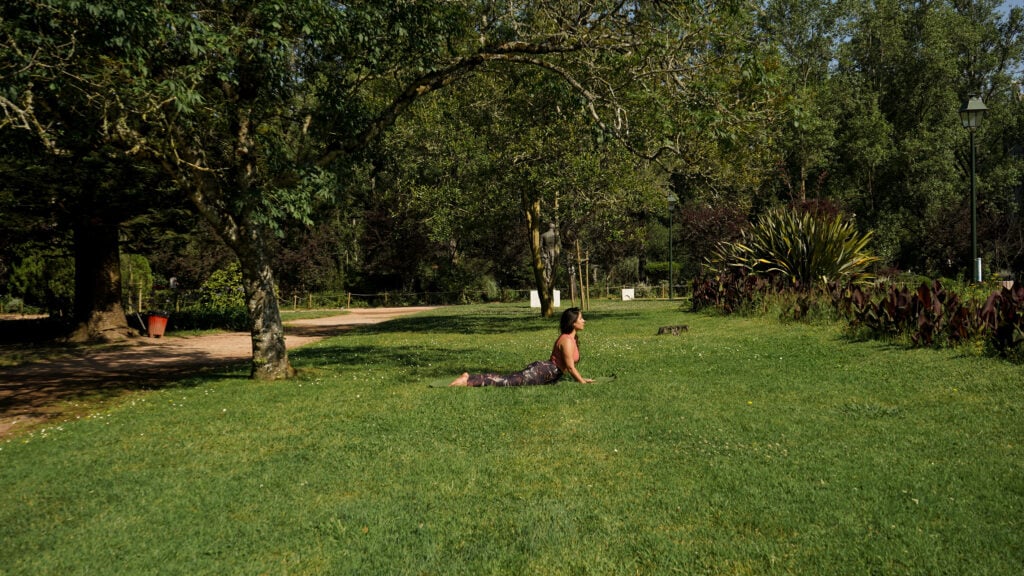 Surya Namaskar it will warm up your body and awaken your muscles.
3. Virabhadrasana II and Parsvakonasana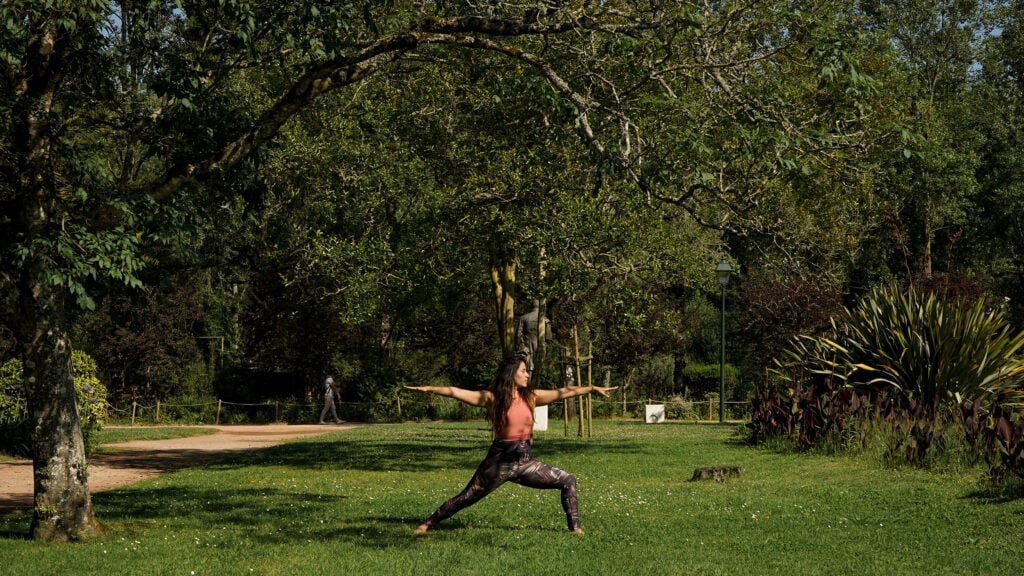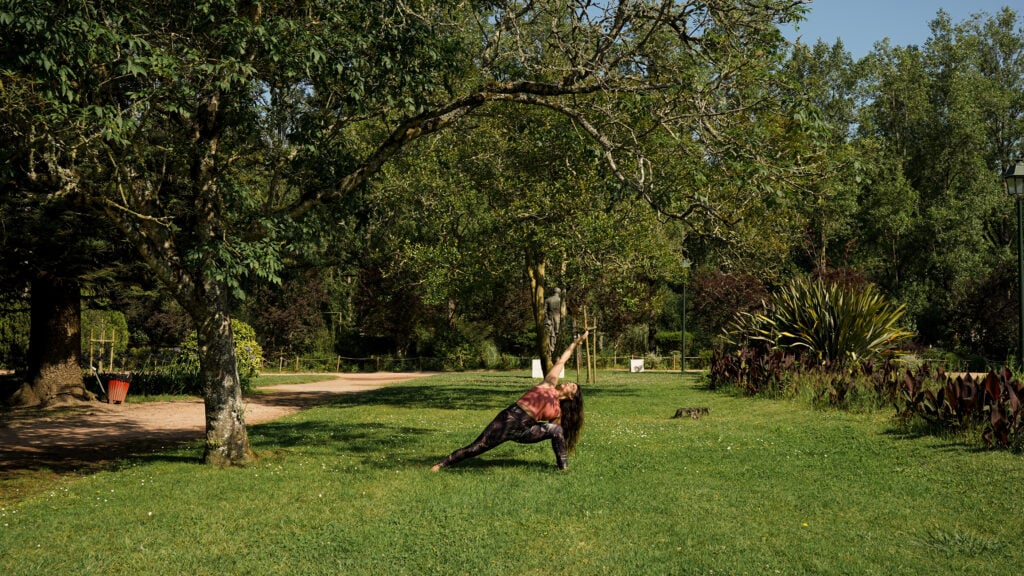 Parsvakonasana is the traditional warrior to awaken your strength.
4. Surya Namaskar B and Virabhadrasana I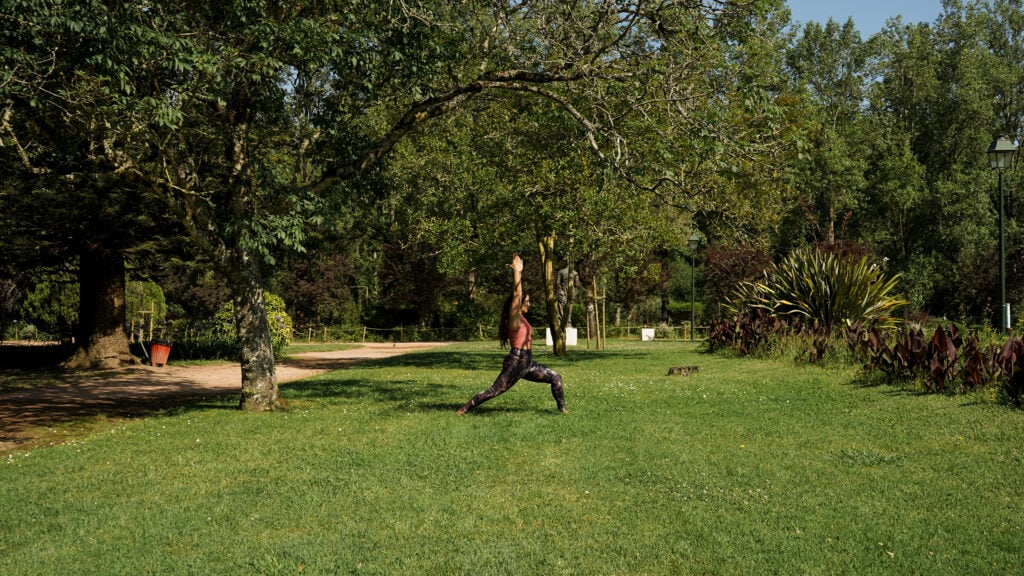 Take it slow, focus on breathing instead of on being fast, and take three breathing on Virabhadrasana I for each side.
5. Baddha Konasana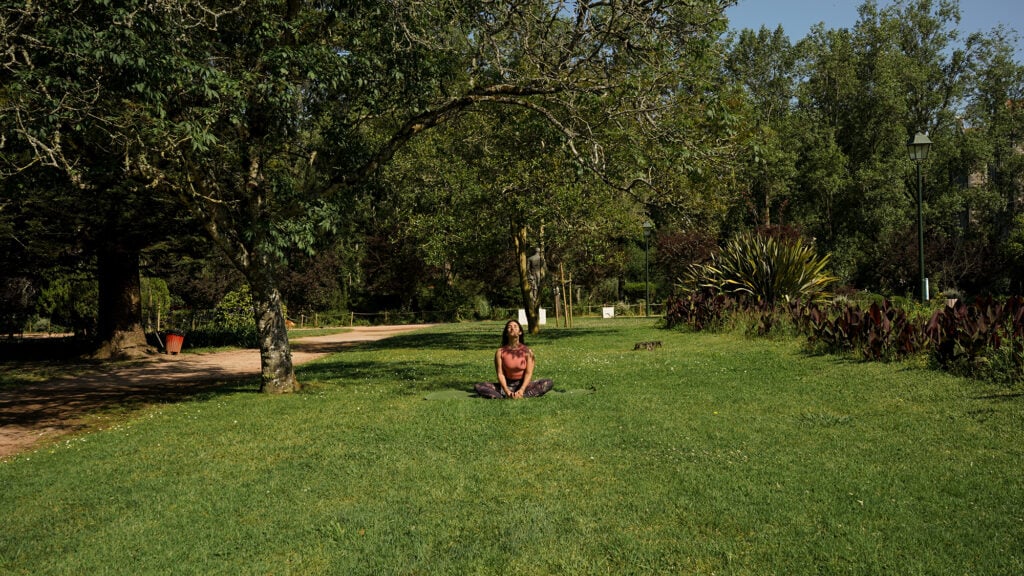 Baddha Konasana In a version focused on opening the chest, don't go down.
6. Twist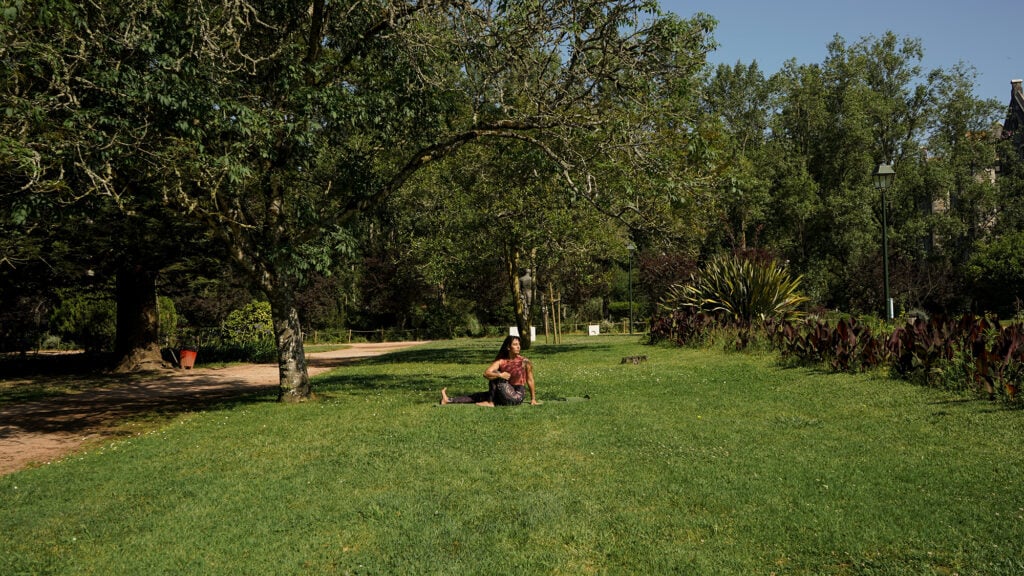 Make your favorite twist, it's extremely positive. Choose a soft one, like the version of Ardha Matsyendrasana in the photo.
7. Janu Sirsasana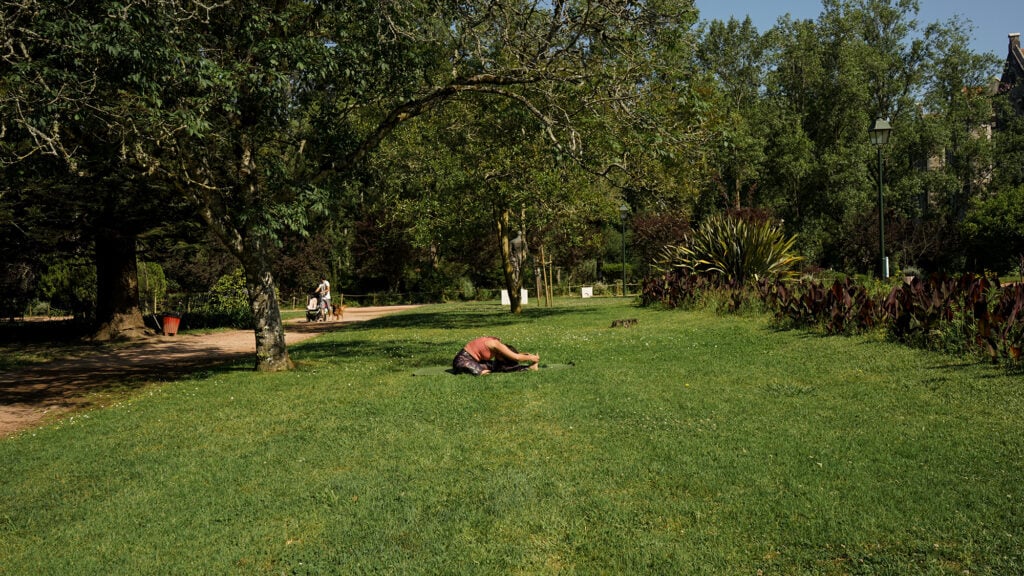 Do it with movement: inhale look forward, exhale, and dive into the pose.
8. Sarvangasana or Sirsasana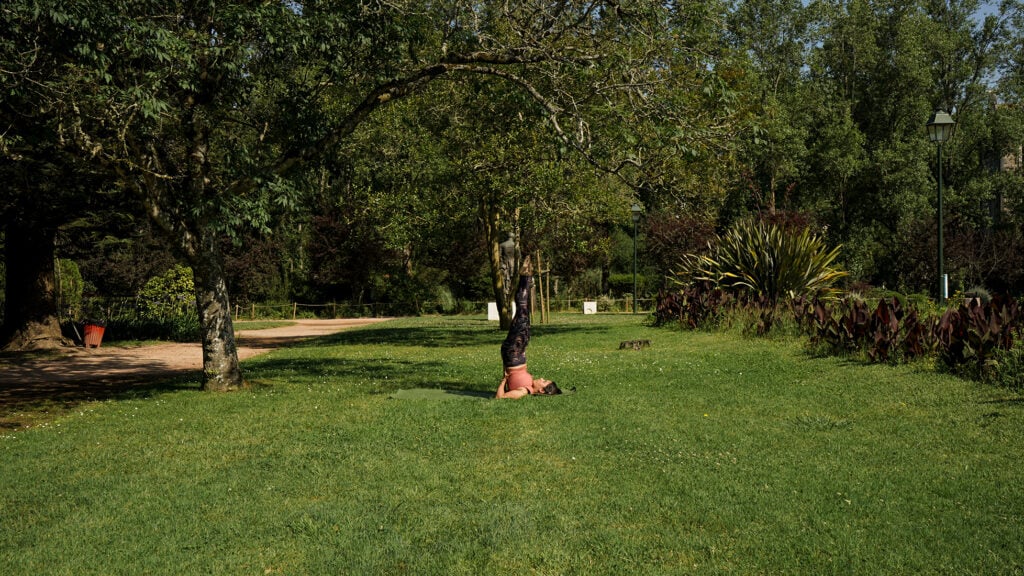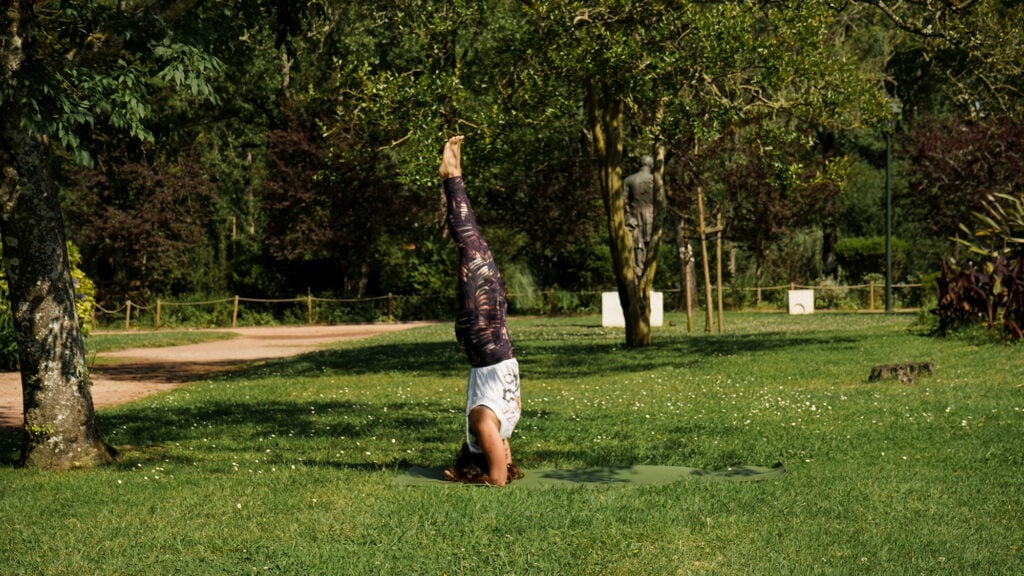 Inversions are important. If necessary, just put your legs up on the wall and it's already perfect.
9. Savasana
Ok, listen to us: this is important! You need a long Savasana, at least 8 minutes, but if possible the 10 or more. It will make all the difference.
10. Meditation
A simple meditation: focus on the air passing through your nostrils and every time your minds fly away to go back to it. Remember, your mind exists to think, so you'll never stop your thoughts, just control it better. Be kind and gentle with yourself.
On one last note, yoga promotes a healthy lifestyle. Good nutrition, self-love, positive social connections. The key is to have a holistic approach to your anxiety.
We really hope this yoga sequence for anxiety can be useful to you and you can overcome your moments of anxiety.
---
---