Aquarius Horoscope for February 2019
---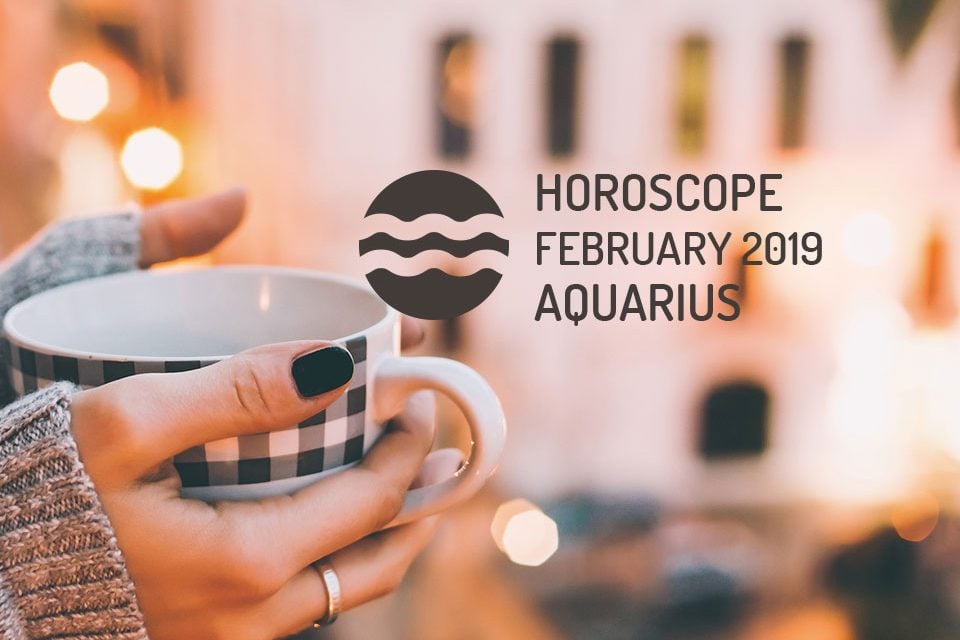 Here is your Aquarius Horoscope for February 2019. Every month, you will find at WeMystic the astrological forecasts for your zodiac sign.
Aquarius Horoscope for February: what to expect
---
Love and Relationships
Chiron's entry into House III of Aquarius on February 18 indicates that it is necessary to review the way you communicate with others, and particularly the internal dialogue (how you speak to yourself), since you can be your main motivator, but also detractor.
In this sense, the entry of the Sun into House II of Aquarius (also on 18/02), will shed light on your system of beliefs and values, which will allow you to leave aside the idealization (Neptune in House II), and work consciously for change.
As Jupiter will remain in House XI of Aquarius until December 2019, you will have the unconditional support of your friends, both professionally and emotionally. Social life will continue to rise.
Harmony in the home may be hindered by the entry of Mars into House IV of Aquarius (14/02), which in addition to generating a certain reactivity in family discussions, leads to the appearance of flaws in the building, which had to be addressed in advance.
However, Mars in House IV of Aquarius also confers to the sons and daughters of the Aquarius the will to undertake the reforms without losing their heads, and to create spaces of trust, where the members of the family can listen to each other without falling into disqualification.
On the sentimental level, the entry of asteroid Juno into House V of Aquarius (11/02) refers to a romantic relationship that began as a game or flirtation, but gradually began to take on more serious characteristics (possibility of marriage or engagement in doors).
The couples of the sign will experience a calm period, in which they will be able to talk about the past and the future objectives (Full Moon in Virgo on the House VIII of Aquarius, the 19/02).
Money and Career
Overall, February 2019 will be a positive season for the Aquarius economy. The entry of asteroid Vesta into House II of the sign of the water carrier, where Neptune is also located, will clarify priorities and efficiently manage material resources.
In fact, Vesta in House II of Aquarius is an excellent ally for people who are responsible for the economic management of humanitarian associations, or charity events. Collaborating with a cause that moves you will bring you a feeling of lasting satisfaction.
Likewise, the Sun and Mercury will enter House II of Aquarius (on February 10 and 18, respectively), which means that resource inputs will be diversified, hand in hand with interesting business, employment or investment proposals.
On the other hand, the Full Moon in Virgo on 19/02 will touch House VIII of Aquarius, indicating that a pattern of expenditure or consumption that involved the couple or family group, will come to an end, as all will be aligned with the achievement of a greater goal, in the mid or long term.
In terms of work, the entry of the asteroid Eros into House VI of Aquarius (19/02) can cause you to fall into patterns of procrastination, but if you keep clear in your goals (North Node in House VI), you will overcome the hurdle.
This trend will be reinforced with Juno's entry into House V of Aquarius (11/02), which highlights the importance of committing to your personal projects (those you are passionate about), if you really want to see them flourish.
Jupiter and Ceres are kept in House XI of Aquarius, which translates into inspiration and business (or employment) opportunities, which come to you through friends and colleagues. Social meetings will be at their best, as will work teams.
However, academic procedures or those associated with international procedures may present delays due to the beginning of the retrogradation of Pallas in House IX of Aquarius.
Faced with this type of situation, take advantage of the extra time to check if all the documents correspond to what was requested, or if you must include new vouchers or references. At the end of the day, the balance will tip in your favor.
Health
The New Moon in Aquarius on February 4 opens a window for personal reinvention, which can be taken advantage of by the sons and daughters of the water carrier. The lunar event alludes (mainly) to the search for new experiences, friendships and projects.
The native one can renew his environment; take advantage of the practical applications of technology (simplify agenda, remote work, promote products by digital means); and stop overanalyzing his proposals, to put them definitively into action.
Don't forget that Pluto, Saturn and the South Node are in your 12th House, which means that the structures of the past only retain you and don't allow you to give your potential to the world.
In the same way, the North Node in House VI of Aquarius points to the definition of professional objectives, which will lead you to build the future you dream and yearn for.
The road will not be without obstacles. Keep in mind that Lilith remains in Aquarius, so your worst critic or detractor to beat will be yourself. Although this astrological position also tells us about trials with friends, it will only be the projection of your inner world.
On the other hand, the entrance of the asteroid Eros in the House VI of Aquarius (19/02), can propitiate the self-care, or (in low vibration) make you lose the direction by means of an excess of complacency.
In this season, you should spend some time away from electronic devices or other means that can overstimulate you, at least one hour a day, in order to silence external voices and pay attention to what is happening inside you.
Discover more about Aquarius character and personality traits >>
---
You may also like:
---