How to Cure Nightmares and Self Heal with Lucid Dreaming?
---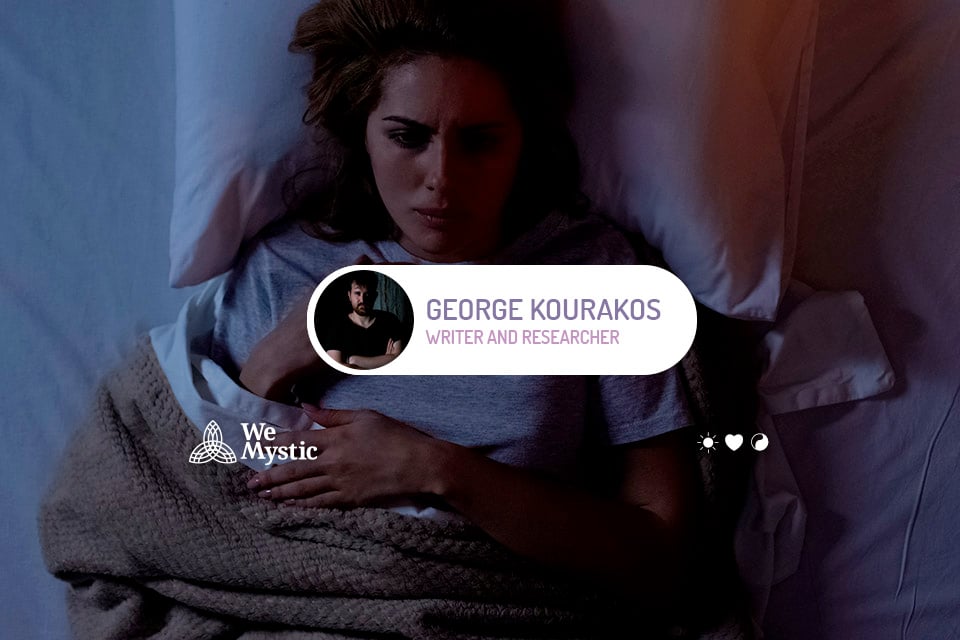 Do you know what nightmarish dreams or nightmares represent?
They are spitting images of the turbulent, conflicting thoughts inside your head. Something that you are constantly trying to escape or afraid to deal with.
At times, in a way, they represent your poor psychological state and emotional confusion. So, when your emotional or mental distress is unresolved, they might find a pathway through your sleep to appear in your dreams on a loop.
Receive all our tips by email!
Love Astrology? Subscribe Now and Receive Exclusive Content!
REM Sleep and Bad Dreams
Nightmares are commonly experienced during REM sleep.
While you are in your REM sleep, such dreams tend to be non-lucid in nature. So, there is a high chance that you might not be able to understand or recollect any of them at all, leading to more stress and severe panic occasionally, disturbing your sleep as well as your mental peace.
Bad thoughts and horrible memories of the past can hijack your dreamscape, causing sudden bouts of sweaty, high-tension, perhaps enormously discomforting nightmares. And these are no fun at all.
There would be several brief awakenings from your REM sleep, which means you could theoretically try lucid dreaming every time you wake up. But practically, it may not be a feasible thing to do. So, it boils down to your intentions to induce dreams. Firmly deciding the night you want to engage in lucid dreaming would help in such cases.
Now lucid dreaming has proved to cure such bad dreams and help you self-heal. Let's together embark on a therapeutic journey where we learn to induce lucid dreams that heal your nightmares.

98.1% (1312)
Curing Nightmares and Self Heal with Lucid Dreaming
Lucid dreams can solve this problem which can very easily spiral out of control if not treated on time.
The best part is it would help you effortlessly come to terms with your nightmares. It is all about how you poke your consciousness to wake up and get creative with your dream landscapes in order to cope with your nightmare problems.
Any fight with your inner self or with someone or something needs to be settled through the lucid dreaming approach. The dreams would help you form the correct responses to your fears and nightmares.
The most effective way to induce lucid dreams for curing nightmares and healing voluntarily is to follow the MILD technique, also known as the Mnemonic Induction of Lucid Dreaming.
Maintain a Dream Journal
The first step is to start with a dream diary or any journal where you can easily make a note of your lucid dreams and even nightmares.
It is recommended that you create different versions or scenarios of your dreams in your diary and also record your possible responses to different events in the dream. Practice your responses and outcomes in your head to execute them effectively later every time you experience a nightmare.
Keep Practicing
Keep rehearsing and modifying your dream scripts if needed based on your previous lucid dream experience. Make it a point to go a notch higher and formulate responses to nightmares that are better than the previous ones.
This would help you improve the quality of your lucid dreams, bounce back stronger, get better outcomes, and help you get closer to your goals of vanquishing repetitive nightmares.
The MILD Technique for Lucid Dreaming
This methodology was invented in the 1940s by an American Psychophysiologist named Stephen LaBerge.
It essentially means to train your brain to execute certain responses and actions that you aspire to perform or have in mind in order to remember that you are in a dream. This technique is commonly used during the nighttime after waking up due to some dreams but can also be practiced during the daytime.
How do you Willingly Induce Lucid Dreaming Using the Mild Technique?
Once you wake up after a dream, you try to recall the same dream and reinforce your dream journal plans, intentions, the ideal plan of action, or responses that you would aspire to implement.
This means you alter the sequence of different events you just saw in your dream and align them with your true intentions.
With some consistent practice, this step would help you get started with lucid dreaming. You would then realize you are in control of your dreams and then proceed with modifying the remaining incidents of your nightmare for a more favorable outcome.
The next step is to start practicing the improved or the modified version of your dream. Repeatedly visualizing this, imagining clearly in your lucid dreamscape, and ensuring that you are always reminded of the fact that you are a part of your dream can do wonders.
Once you become aware of your presence in a lucid dream, there is no going back for good.
Constant reminders, even when you are awake, are mandatory for remembering that you are lucid dreaming.
This works like affirmations, wherein you repeatedly encourage yourself to induce lucid dreams every time you go to sleep, something like "I will lucid dream tonight" or "My dreams will be more lucid when I dream about it tonight."
On your way to Total Recovery from Nightmares
You are almost there now!
The trick here is to have a distinctive symbol or a sign that indicates instantly that you are in a lucid dream. So, every time you happen to see that symbol, you immediately realize that you are lucid dreaming.
These steps are crucial. You can even use them to modify your non-lucid nightmares and progressively transform them into lucid dreams with desirable outcomes. Think of how you would want your lucid dream sequence to be; you are at the wheel here, so go ahead with this in full confidence.
This is the key to eventually stopping the nightmares and self recover inch by inch.
Important Tips to Remember
If you are not able to recollect your non-lucid dream or nightmare in this case, after you wake up from your REM sleep for a brief period of time, don't fret! Take this opportunity to remember your most recent non-lucid dream and imagine how you can transform it to become lucid.
Sometimes you can feel super groggy after you suddenly wake up from your REM sleep. The urge to go back to deep sleep is stronger here.
What to do then?
It's tough but try to sit upright on your bed, straighten your spine and prevent your sleep from taking over your body only for a little while – till you recall your nightmare. The next step is to start altering the dream story to your liking, give it the shape you want and finally control the result.
Practice well multiple times and be persistent. You got this!
Once the lucid dreaming period is over, you are more likely to sleep and have unconnected or unrelated dreams later. They may not be necessarily relevant to your previous dream – the one that your mind recollected before for lucid dreaming. This is absolutely normal!
The aim is to learn the art of remembering dreams in order to become a seasoned lucid dreamer and induce clearer lucid dreams. And MILD helps you achieve just that – purpose served, right? So, it really does not matter which dreams you experience later.
Also, it is advisable to make a conscious effort to dig deeper into your lucid dreams, recall them more vividly, decode them better considering multiple emotional aspects and revise them consistently.
Why?
So that you are able to put into practice whatever you have learned in your lucid dreams in real life. After all, the ultimate objective of lucid dreaming is to be a stronger, more stable individual mentally and engage with your subconscious or inner self to live a better, more satisfying life.
Success in inducing the perfect lucid dreams may not be guaranteed every time, but at least you are not giving up, and that makes all the difference.
Verdict
If you are looking to reconcile with the troubling thoughts and past events from your dormant memory, it would be worthwhile to give lucid dreaming a try.
It may sound and seem extremely hard to practice or induce lucid dreams that heal and help you get rid of nightmares. But it would take a fair number of trial and error to eventually become a pro lucid dreamer.
Yes, the process of lucid dreaming might seem taxing as it needs a great deal of concentration; however, a study conducted by the National Library of Medicine concludes that lucid dreams can be very effective in treating the problem of recurrent nightmares.
So if you ask me, or the experts out there, it is absolutely worth the effort. And if you manage to ditch your nightmares once and for all with lucid dreaming, it would be a greatly rewarding experience
You may also like:

98.1% (1312)
---