Hot Yoga: get to know this trend
---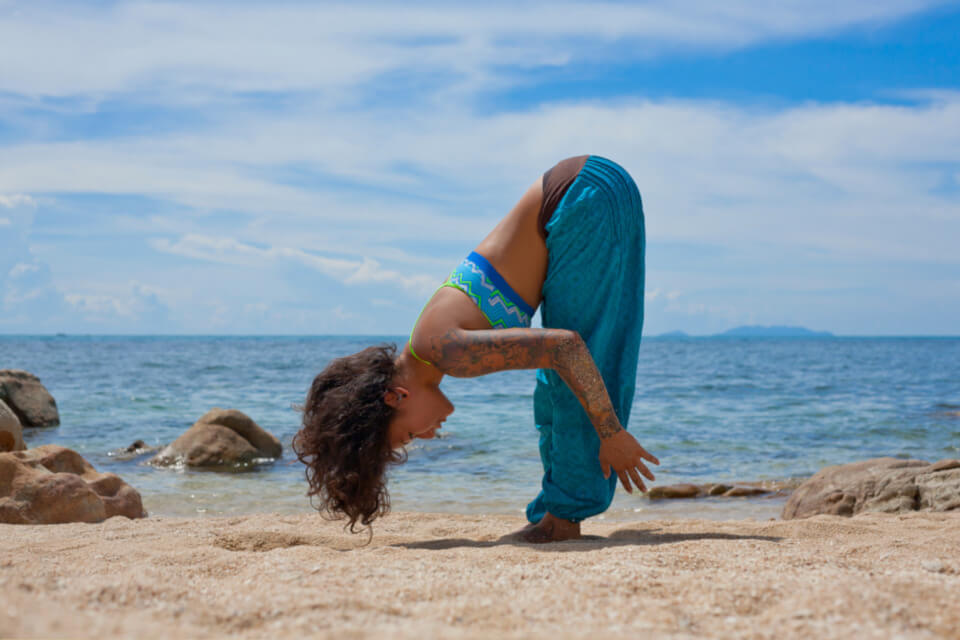 Hot yoga is a physical and intense practice characterized mainly, but not only, for taking place in a heated room. Although it's been around for a few years, it has been growing as a trend.
Receive all our tips by email!
Love Astrology? Subscribe Now and Receive Exclusive Content!
Why is Hot Yoga different from other practices?
---
The first main difference is that the room will be heated from 38,8º to 40º Celsius degrees. As soon as someone enters a Hot Yoga class this fact will have an impact on breeding, flexibility, strength and mind. The studio is not only warmer but more humid.
The length of the class is usually 90 minutes, instead of the 60 minutes practice. The sequences are vigorous and intense. Hot Yoga is not committed to one single type of sequence or practice, it will depend on the teacher, but mainly you'll find a mix of Vinyasa and Power yoga, although the teacher can also bring some elements of Yin Yoga.
Hot Yoga is more physical and usually is practised by individuals who want to explore the physical part of the practice, more than the spiritual.
Practising in a heated room makes it a harder "workout", especially because it elevated the heart rate. It also causes a lot of sweat and dehydration, which leads to the need for drinking a lot previously to the class.
The temperature warms the muscles and makes it easier to go deep in the poses, keeping the safety and minimizing the injuries.
Although Hot Yoga is a type of yoga, it will bring you a totally new experience dealing with exercising in the heat, an over sweating body and differences in your breathing. It can be a challenge to your mind that if you embrace will bring you a sensation of peace and relaxation.
Benefits of Hot Yoga
The heated involving environment will turn into a completely new experience of yoga. Hot Yoga has a range of benefits just from being performed in a different temperature and being more physical, namely:
It helps to detox since it increases the sweat;
It's beneficial for the skin since helps eliminate impurities;
Reduces the likelihood of injuries;
Improves lung capacity;
It's excellent for circulation;
Due to the hot environment, improves the immune system;
Elevates the body's regenerative capacity;
Increases flexibility;
Favours weight loss.
Hot Yoga shares benefits with other yoga styles. Although it might be a harder path, it's a great choice for those who are looking for physical benefits over psychological benefits.
Precautions
Although Hot Yoga is a great practised that is worth a shot, it's important to take the following precautions:
It's really important to know if you are healthy, especially when there is a history of heart diseases, dehydration related problems heat intolerance or heat-related illness (like heatstroke) – talk to your doctor if you have any of these conditions;
Stay hydrated, drink water previously to the practice so that you don't need to drink a lot of water during the class;
Don't eat much before the practice;
If you feel dizzy, stop and wait until you feel good again;
If you have tension problems, look for softer forms of yoga;
If you are pregnant, chose a moderated yoga style.
Hot Yoga can be great (and even addicting)! Do it in safety and enjoy.
---
You may also like:

98.1% (1312)
---