9 rituals for Autumn Equinox: time to give thanks
---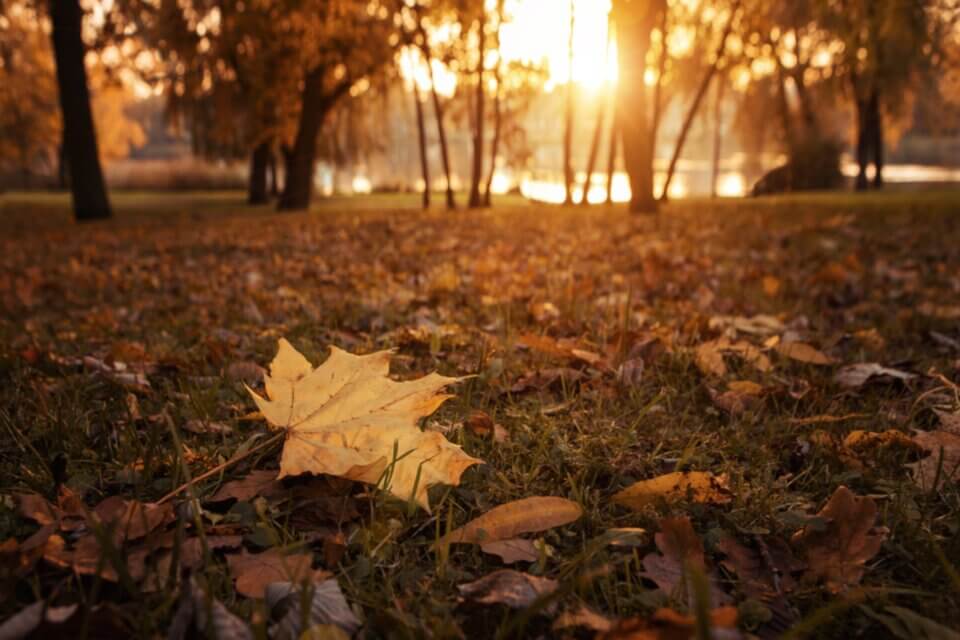 Rituals for Autumn Equinox are a great way to celebrate the new season that is arriving. The seasons have a symbolic meaning and a strong connection to human different periods and stages, a result of our undeniable connection to nature. To perform rituals is a way of incorporating the lessons and teachings, and to prepare for a new moment of the cycle. It improves understanding, peace, and consciousness. 
The Autumn Equinox takes place around the 22nd or 23rd of September in the North Hemisphere, and the 20th or 21st March in the Southern Hemisphere. Despite the fact that is not exactly like that, it's commonly said that day and night have exactly the same length on this day. Consequently, Equinox means "equal night", referring to when day and night have the maximum duration proximity. 
Each new season ignites a transformation not only in the landscape and the climate, but also within us. That's why many people make sure to celebrate properly the change of the season. And they do that by practicing some rituals for Autumn Equinox, as well as for Spring equinox.
Receive all our tips by email!
Love Astrology? Subscribe Now and Receive Exclusive Content!
9 great rituals for Autumn Equinox: start looking inside
---
The rituals for Autumn Equinox will prepare you to the energy the follows the expansion, fun, and fire of the long summer days. In order to understand it better, we summarized the symbology of autumn equinox.
The Autumn Equinox represents a change in the energy of everyone, including plants, animals, and the vibe you can feel in the air. Everything becomes more contemplative, internalized, and peaceful. You'll feel the need to stay more with you, the parties become calmer, the days will soon get shorter.
It's celebrated since ancient times in different cultures all around the world. We're going to mention only one, which represents quite explicitly and in a simple way, the meaning of autumn equinox. In ancient Greece, one of the mythological stories connected to the cycles of nature is the story of Persephone. Daughter of Demeter, Persephone lived her life between the world and underworld, where she is the wife of Hades. She spends nine months with her mother, which corresponds to Spring and Summer, and then she moves down to the underworld again. Among other meanings, it tells us about the need to be out there in the world, but also to dive inside our underworld.
It's a time to rest, to recharge your energies, take care of yourself. It's a moment to fall in love with yourself and connect so that you can feel where do you want to go. A moment to plant the seeds of your future!

Create a food altar
Autumn Equinox is a celebration of the second harvest season. So, it's a time too gather the bounty of the fields, the orchards, and the gardens, and storage them. In this sense, one of the most known rituals for Autumn equinox is to do an altar with this stock, to give thanks for the abundant crops or other blessings.
In addition to the crops, the altars are often decorated with the colors and symbols (in pagan cultures) of the late harvest season.

Rituals for autumn equinox – Let go ritual
Like the leaves fall from the trees when, and both the tree and the leaves accept the cycle of Life/Death/Life, so you have sheds that no longer serve you. To those who have a hard time to let go of people, situations, feelings, emotions or even behaviour patterns, Fall is an amazing inspiration. Look around you and notice how everything in nature tells us about the balance that exists when we respect the cycles.
Rituals have to power to materialize your thoughts. So, whether it's a challenge for you to let go, this ritual will give power to that intention.
Dear friend, it can happen that you need many Falls to let some of your leaves behind, and it's ok. It's a process and accepting it happens in small steps is a great way to keep positivity and development.
Although you can perform the ritual with slightly changes, these are our recommendations:
Do it alone or gather a group of friends;
Go to nature (it can be a park, or a forest). Chose a place with trees and if possible, fallen leaves;
Set up your altar with the four elements (fire, air, water and earth) and add seasonal fruits;
If possible, stay barefoot;
Go and search for big leaves (if there aren't take a paper with you);
Make a small meditation connecting to the earth and let the things in your life that you need to let go come to your mind;
Write down on the leaves the things you need to set yourself free from;
Make a small fire (with a candle if needed) and burn the leaves while you say: Thank you for your teachings. I'm ready to let go of … (repeat it for the different things you wrote down);
In group, or alone, take a few more minutes in silence and your eyes closed, giving strength to the movement of letting things go.

Cook a home-grown Autumn supper for the family
Harvesting the potatoes, apples and the last herbs in your orchard are some of the soothing Autumn rituals that mark the harvest season.
Host a homemade supper with the family and friends and prepare a spicy batch of fresh apple cider, sweet potato roasted in the fire, and hot, healthy grain bread to share.

Rituals for autumn equinox – Plant new seeds
The autumn is also the moment to plant new seeds. Remember, that when we plant seeds they spend sometime in the underground before showing up and grow.
The same happens with the life plans. This is a great moment to plan your life in the middle and long term. Gives your the chance to let those projects and idea stay underground for a moment. During that time they are preparing to grow and see the light. Because of that, what better than actually plant your ideas and see them grow?
You'll need a plant pot, earth, seeds from any plant that you love and must be planted during this time, paper and pen.
Set up your space, with calm music and your materials;
Sit on the ground and meditate. Let the plans that you have for the future show up to you and allow yourself to recognize how you feel about it;
Open your eyes and write down on the paper your ideas and plans;
Plant the seed, making sure you put your hands on the earth, and feel it. While you do it, you can repeat your plans;
Attach your paper to the plant pot (you can use glue, a clip, a clamp, or any other form you like it);
Close your eyes and put your hands above the plant pot. Focus on your breathing while sending love to yourself and your plans;
Keep taking care of your plans and plants during the next months.

Rituals for autumn equinox – Pick some apples
Did you know that apples symbolize knowledge and prosperity? Plucking apples from a tree with your own hands is a ritual that represents that you may also pluck knowledge and prosperity for yourself. It is a hopeful ritual that encourages us to take our fate into our own hands.
After picking the apples, make that batch of fresh apple cider, an apple pie or a jam for the family.

Rituals for autumn equinox – Honor abundance
Have you ever thought about the abundance you have in your life? Your body, your house, your job, the food you eat, the air you breathe, your friends and family. Sometimes we all need to recall ourselves of everything we have and be grateful for it. It's an important exercise that opens the doors to more abundance.
This ritual is extremely important. We are all going to take a journey deep inside ourselves, and we need to be thankful for the earth and our body for the conditions that allow us that trip. You can do it alone, or in a group.
Chose seasonal fruits and foods and cook a delicious, meal (it's important that almost everything is seasonal);
While you do it, look carefully for all the things you have available;
Set up some candles, and bring a cozy environment;
Before starting to eat name out loud all the things you are grateful for, as well as the food you have in front of you;
Eat slowly, and keep any electronics away. Focus on the flavours, on how what you are eating makes you feel;
If you are in a group, you can all share stories about things you are grateful for;
Remember to keep a ritualistic vibe. In the end, you can dance, tell stories, go out and look and the sky, but stay connected with the energy of gratitude.
All of these rituals for Autumn Equinox, you can do it in the day of the equinox or around it, since the energy stays for a few days. If you feel good about it, and you want to repeat it during the season, there is no problem, but try to give some space between them.
Another great thing is that you can do all the three rituals, and you can do it in any order you prefer. You can also opt to share the rituals with a group, or do it by yourself.

Prepare some smoke bundles
Another of the well-know rituals for Autumn Equinox is to gather some herbs and bundle them together to dry to make Autumn smoke bundles that can be later used for smoke cleansing.
This particular ritual helps to remove negativity from a person, object or environment, and using additional autumn herbs will help infuse a space with warmth and nourishment, once the negativity has been smoked away.

Rituals for autumn equinox – Organize a tea-blending party
Meet with your loved ones for a tea party. Harvest and dry the herbs in your garden. Boil some water and play with different blends of herbs, being careful to name your favorites so you can enjoy them later. The important, though, is the moment of gathering, to enjoy and share your crops.

Prepare an Autumn wreath or put an amulet in your front door
Don't forget to prepare your home for the Autumn Equinox. Hanging an item or amulet on the front door of your home is a well-known practice to welcoming the season changing.
The front door is the space that each guest entering the home passes through, and it acts as the symbolic doorway for energy to enter. Hanging an in-season wreath helps emanate a warm, inviting energy through your entire space.
You may also like:
---