Friday 13th: meaning, myths and rituals
---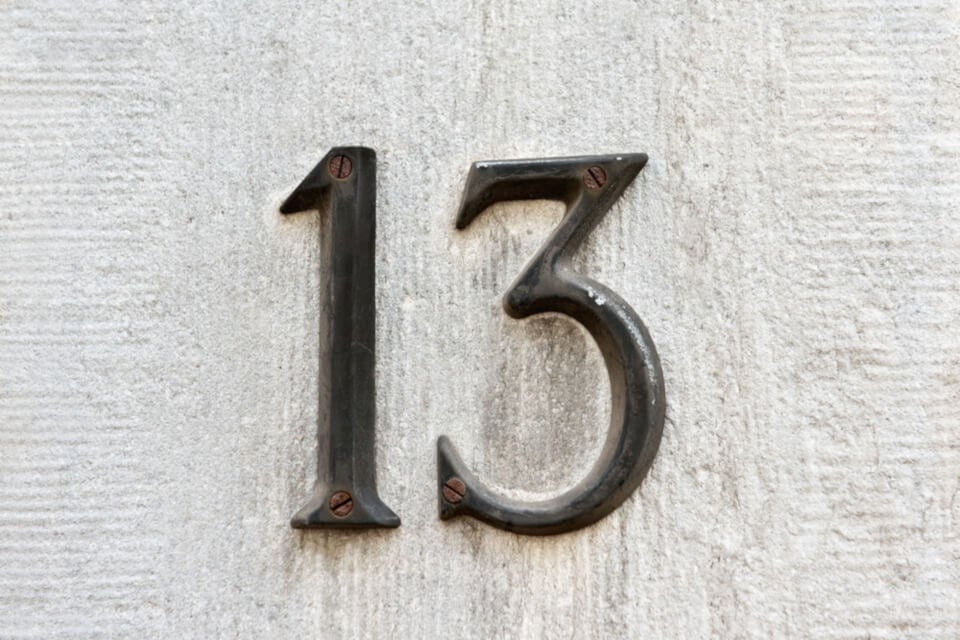 For some, Friday 13th is considered a bad luck day while for others it is just superstition. Love spells, on this date, for example, have a good chance of being effective. They can join people who have been separated for a long time. There are superstitions in different parts of the world, associated with both Tuesday 13 and Friday 13.
It is considered that this day may have negative connotations, not because of the bad luck that it entails but because of the mental predisposition of people before the date.
2024 predictions are out
Discover the stars predictions for new year!
What to do and avoid on Friday the 13th
---
Dos
Fridays 13th are very feared as they are associated with negative and karmic situations. Avoid traveling, undertaking projects and consolidating unions.
However, many love rituals work perfectly, especially when they are performed on a Friday 13th and this day coincides with a Full Moon. This date is conducive to perform prosperity spells, to realize a business, to win the lottery.
To lose weight or stay in the ideal size, the spells on Friday 13th are usually effective.
Don'ts
They say that thinking about bad luck is a bad omen itself.
Do not wear green underwear as this causes you to lose your luck. It is more advisable to use the color red to attract prosperity.
Do not clean or house during the day. Passing the broom is a bad omen.
Do not wash clothes on Friday 13th, nor change bed sheets.
Do not go under a ladder. It is thought that those who do so lose the opportunity to marry.
Drive with caution without being distracted.
Do not sit at the table with thirteen guests.
The meaning of Friday 13th and its diffuse origins
To know the meaning of Friday 13th it is necessary to try to get to the origin of it. For some, the myth has a biblical origin since there were 13 people present in the last supper (12 apostles and Jesus).
For others, its origin would go back to 1307, when, according to legend, on Friday the 13th, King Felipe IV initiated a brutal repression against the Order of the Knights Templar that was the beginning of the end.
Fear of Friday the 13th
Although its origin remains a mystery, what we can say is that in 1907, the fear of Friday the 13th was very real. In that year Thomas Lawson published a book called Friday, the XIII, in which the protagonist plans to carry out his revenge during that day taking advantage of the fear that many had to that date.
Lawson does not explain what Friday 131th means but this book records the association that many made of this date with bad luck.
Although, for many, Fridays the 13th is reason for superstition, others take the opportunity to hold their meetings. This is the case of The Thirteen Club, a group of thirteen gentlemen who met on each Friday 13th, in a selected place in New York.
They began their meetings in the last decades of the nineteenth century and, although according to legend, their intention was to attack superstition, the truth is that they helped their permanence.
Not everything is bad luck
Throughout the previous paragraphs we have developed some ideas of the superstition of society on Friday the 13th that has largely to do with the fear in general of number 13.
But, in astrological terms, there are 13 lunar months, or, according to Wicca tradition, 13 is the ideal number of people to form a circle.
Also, in countries like Italy, 13 is considered the number of good luck. Therefore, there is no apparent reason for fear on a Friday or a Tuesday 13.
Rituals and spells for Friday 13th
---
Ritual to attract good energies
This is one of the most effective rituals for Friday the 13th to attract positive energies. To do it you will need:
2 white candles
Thyme
Saffron
Salt
A bag of cloth
On Friday the 13th you must:
Light two white candles and put some thyme in the cloth bag, some rosemary, some saffron and some salt. Put the cloth bag next to the candles and let them burn out.
Once the candles have been consumed you will only have to carry the bag with you, you can store it in your wallet or purse and gradually you will notice the effect.
Ritual to attract love
If what you need is to choose one of the rituals for Friday the 13th to attract love, you can try the next one. To do it you will need:
A pink candle
1 white candle
A green candle
1 picture of you
A white plate
1 strand of your hair
On Friday 13th you will have to:
Write your name on each of the candles. Once you have written your name, you should put your picture and your lock of hair in the center.
Light the candles and leave them until they are consumed. Do not forget that, not only in the rituals for Friday the 13th, but in general, it is very important that you visualize your goal, what you want to achieve.
Once the candles are consumed you will only have to bury the remains of wax, next to the photograph and the strand of hair in a garden. You can also do it in a pot next to some seeds of a plant that you like.
Ritual to ward off bad luck
If on the contrary you are somewhat superstitious and prefer to launch a ritual to ward off bad luck, of all the rituals for Friday 13th you should choose the following. To do it you will need:
A white candle
A pen and paper
This ritual is very simple, you just have to:
Light the white candle on a Friday the 13th and write on paper:
With this ritual I dissolve all the energy or negative thought that is intended to disturb me.
After writing it you should fold the paper and burn it with the candle flame and let it burn.
Attract good luck to your home
This is one of the most effective spells for Friday 13th to bring good luck to your home.
Did you just move in and want the house to be completely clean of energy? Do you want to start the year attracting good luck? Well, if the answer is positive you will need:
A candle
A pencil
A bay leaf
To perform this spell you must:
Design a symbol on the candle that has meaning for you: a triquetra, the symbol of peace… For this you can use the tip of a pencil.
Once this step is completed, you will have to light the candle and walk around the corners of the house repeating:
"Spirits and beings of light that bring me good vibes, I appreciate your help and ask that you feed my home with the same good energy. That harmony reigns and that no bad energy comes to stay".
Once this step is completed, you must burn a bay leaf with the candle flame, internalizing and visualizing while burning all the positive moments with the people who live at home.
Once the bay leaf is burned, you should let the candle consume.
These are some rituals for Friday 13th that we propose in this article. If you identify yourself with any of them, put them into practice and remember that, more than fearing on Friday 13th, you can – and should! – use all their energy.
---
You may also like: 
---