What do the Gypsy predictions say for your sign in 2022? Find out!
---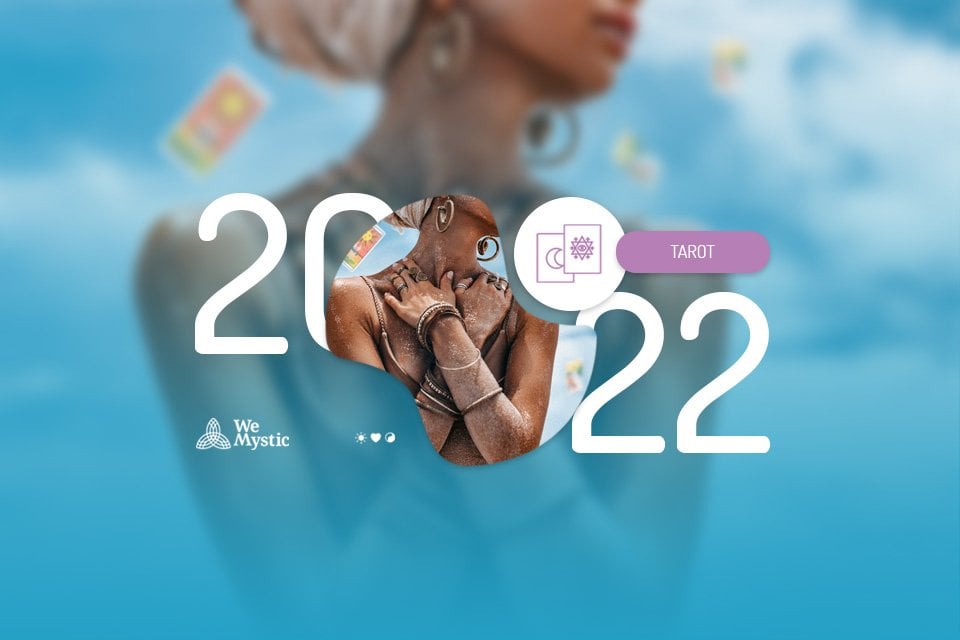 Adding progress and setbacks, 2021 was also a year that many people prefer to forget. With a regency of pros and cons of the cards The Mountain and The Tree, the period was still marked by the problems brought by the pandemic; even if the mere progress in terms of curbing the cases brought some relief in terms of health – even if the financial challenges remain firm, strong and scary.
In the Gypsy predictions for 2022, again, we will have 2 ruling cards: The Clouds (6) and The Path (22). Combined, they will indicate the possibility of difficulties (a few more, but be calm) in the face of a darkness of thoughts and, especially, of choices. You may encounter uncertainties along your journey, as the vision of reality; of what really is an inch away, is blurred, distorted.
And this applies to all areas of life: in love, professionally, and even politically.
Receive all our tips by email!
Love Astrology? Subscribe Now and Receive Exclusive Content!
The Clouds and The Path: The ruling gypsy cards of 2022
When we talk about The Clouds, card number 6, we know that it will be very easy to raise your spirits this year, with your family, with your boss, with your partner, with people on social networks, but on the other hand it will be difficult to argue why there is so much emotional instability. After all, in many cases the conflicts are internal, and we only bring out what we cannot work on ourselves.
Are you creating paranoia? Situations that do not exist? Receiving information halfway through? Clear all this up before you start a fight with someone who doesn't even know what is going on.
Although it seems like a negative time, the winds will blow those clouds away, and reveal a clear, sunny sky behind the gray weather. However, it will be important that you know how to work this lack of clarity internally, so as not to light the fuse of the bombs that are ready to explode.
Now, when the card of The Path, number 22, comes into play, everything intensifies and adds more fuel to the fire – but to a certain extent. As you might expect, this is a card related to choices; it answers questions with a "maybe" and gets you thinking.
Despite the possibility that something will go wrong (which exists and haunts us from the first breath of life), The Path is a card of hope, of new times, of the right path that will lead us to happiness.
There are no obstacles ahead. Everything that stops you from moving forward is inside you, in your head and/or in your heart. This is a road carried by the energy of the present moment. The past no longer matters, and all you have to carry from now on are the experiences and the learning from everything that has been conquered and experienced so far.
In a second context, the card of The Path also symbolizes those people who create their own realities. Those who struggle, who suffer, who conquer with much sweat, and then manage to smile.
Therefore, uniting the energy of both cards, the year 2022 will be a period to reflect, think, meditate, and ponder before making any decision. Don't do or say anything on impulse, lest you regret it later. You will have the power to choose where to go, but don't take sides just to satisfy your ego or contradict someone else. When in doubt, choose wisdom, thrift. Take a step back, if necessary, and resume your path stronger and more decisive.

98.1% (1312)
Gypsy Forecast for your sign in 2022
Now that you've been introduced to the general predictions for the year, it's time to find out what 2022 has in store for your sun sign. But it is important to be careful here. Although a general forecast is possible for each of the signs, it is recommended that each individual should make a personalized consultation for him or herself, so the more specific chart should answer your questions.
Remember that the health forecasts also involve the general aspect of each sign. Therefore, they do not dispense a medical consultation with a specialist. Take care of yourself!
Aries – The Serpent
Card number 7, The Serpent reveals the need for perspicacity and caution in order to avoid dangers along the way. Facing one of the most feared cards in the gypsy deck, it will be necessary for the sign of Aries to pay attention to the people around them. There is a tendency to gossip, intrigue, and dishonesty, but be careful that you are not the one acting this way.
In your love life, there may be some misunderstandings, most likely planted by others. Try not to listen to those who clearly want to destabilize you. Use your intelligence and your rational side to discern between a mean and unfounded comment and a real betrayal by your partner, for example. Don't get off the ground without knowing the truth!
Health also calls for caution, indicating some fragility. If you have a problem that comes and goes quite often, it's time to change the way you deal with it. Either by changing your lifestyle or by seeking a second medical opinion. Taking care of your mental health will also be very important this year. Dedicate some time in your day to meditate, go to therapy, and work on your inner monsters.
➡️ Click here to see this year's Aries predictions
As the chart suggests, 2022 will be a year of much love, surrender, warmth, and transparency. The Heart keeps no secrets, and at the same time that it can represent emotional balance, it can also put unthinking attitudes on the table, causing later regrets.
In love, it represents the intensity of relationships. Maybe a recent love that still has all that fire burning, or a relationship that has been going on for decades, respectful, prioritizing the little details that make both of you happy and stable for much longer. Just be careful about putting the cart before the horse. Everything can be wonderful now, but don't rush into handing over your heart on a platter.
In health, it can represent emotional problems, such as depression or anxiety. In 2022, try to occupy yourself with activities that take your mind away from routine, from problems, even if it is only for an hour a day. If possible, give psychotherapy a try. It will do you good!
➡️ Click here to see this year's Taurus predictions
What a wonderful year, Gemini! Amidst the confusion of the energies of 2022, you can rest assured that you will be surrounded by reliable people who want nothing more than your good. As much as your vision may be blurred at times, you will probably have someone by your side to give you a clearer and more rational picture of reality.
For Gemini, this will be a year for making solid partnerships, whether they are professional or in love. With humility and honesty, you will be able to strengthen your interpersonal relationships and prosper, thanks to those who remain by your side after so long. In love, it will be a period of structure, care, and dedication to your beloved; and if you don't have anyone yet, perhaps your great love is in someone who already knows you and has great affection for you.
Health is also going well, thank you! And if you have any problems bothering you, you will probably find a professional who is willing and specialized in finding the solution you need. For the rest, live life as a puppy! Jump, play, run, get lots of affection, and have fun!
➡️ Click here to see this year's Gemini predictions
Cancer – The Clouds
In the year when The Clouds will be among the ruling cards, Cancer will also be "graced" by it. Indicating a time of passage, your sign may go through a period of doubts, confusion, and internal conflicts that can cause some anguish, or even hasty decisions – because you can't see a solution.
The turbulences will be temporary, including in love, but depending on the density of these clouds, they can cause storms with considerable damage. And then, to get back on your feet, you will need time, support, and resources. Be careful not to hurt the feelings of others with your actions and words, because the chances of regretting it later are great.
Even if your heart or your instinct tells you to do something, contain yourself, think about everything you've built so far, and strengthen your structures. Problems with anxiety, limiting beliefs, and others whose cause may be psychic in background may arise. The year 2022 will be a good time to start therapy or even invest in a deeper process of self-knowledge.
➡️ Click here to view this year's Cancer predictions
Leo – The House
The year 2022 has everything to be amazing for you and all the projects that are simmering in your head about your professional life. The House is a sign of prosperity, happiness, successful investments, organization, power, and material gains! Do you want more than that? You probably do. And that's where the catch is.
This will be a year in which you will need to organize yourself so as not to let your everyday worries take you away from the people you love. It's all very well to work hard, but aren't you leaving someone behind? It's time to structure your life. Everyone is by your side, supporting you, be sure of that; but maybe it is time to slow down and turn your attention to those who have always been your safe haven.
In health, you are probably quite comfortable with the pace of life you have been leading (maybe even working from home now). But deep down you know that some habits will cause you harm down the road. Next week you start going to the gym, right? Those who know you know that this is not true. Don't wait until something serious happens to take action.
➡️ Click here to see this year's Leo predictions
Virgo – The Birds
In 2022 the key word is freedom. With this card we are always reminded to keep pursuing our goals in life, without anyone depriving us; telling us if we should or not. If you have been a caged bird for a long time, you will probably have a hard time adapting to the new world, but it is always time to turn the tables.
In love, the chart suggests that no one is happy alone. Therefore, single women will have a great chance of developing a romance with someone they have been flirting with for some time. Longer lasting relationships will experience times of lightness and joy, most likely rescuing a romance that was forgotten.
In health, the times are peaceful and tranquil. Despite this pattern, it is important that you avoid stressing or fatiguing yourself with superfluous matters. Virgoan women will have a very fertile year, increasing the chances of the arrival of one or more babies (twins). If you do not want to get pregnant this 2022, redouble your care.
➡️ Click here to see this year's Virgo predictions
Libra – The Ring
For Librians, 2022 will be a year to hold hands and not let go; to strengthen your bonds and count on the good energies of the people around you, who love you, in order to overcome the obstacles that may arise along the way. In this period of fraternity and equality, it is important that you remain humble, open to the opinions and advice of those who love you.
In love, existing relationships tend to grow stronger. If there were any problems between you, the sense of togetherness and complicity will speak louder, and you will both find a way to get things back on track. Singles will have a great chance of getting into a serious relationship with someone who will steal your heart – some even with the possibility of walking down the aisle.
In health, despite being a positive card, it indicates that muscle pains or even chronic illnesses may arise. Depending on your state of health at the moment, it may signal ongoing treatment. Commit yourself harder, don't overdo it! Have periodic checkups to make sure everything is okay.
➡️ Click here to see this year's Libra predictions
In 2022, you will find yourself facing some obstacles, but many of them are unrealistic, placed by yourself. A golden opportunity may be slipping by unnoticed. Perhaps your anxiety is speaking louder, isn't it? Beware of a sense of immediacy and negative thoughts, as these can delay your success.
In love, you may need to step back and rethink the relationship: is it worth it? If it is, you will have to overcome some barriers to stabilize this love. Single women may have to evaluate if they are not putting too many obstacles in the way. A very special person could be waiting for your approval.
In health, pay more attention to yourself. Stress, anxiety, bad posture, smoking, and a sedentary lifestyle are factors that can cause great damage down the road. Take care of your physical and mental health now to avoid conditions that need follow-up in the future.
➡️ Click here to see this year's Scorpio predictions
For Sagittarians, 2022 will be a year that will require a lot of cunning and a lot, but a lot of cunning. The world is full of tricksters, and you don't want to be a victim of these people, do you? The Fox's Letter asks you not to hold out your hand to those who will ask for your whole arm later on. But this doesn't mean that you shouldn't trust anyone; just be more aware of those who, deep down, are wolves in sheep's clothing.
Use your intuition to identify when something is wrong. When in doubt, don't get involved in matters or situations that could put you (or someone you love) at risk later on. Avoid talking too much about your plans and feelings, especially with those you have just met – or those you already know have a bad reputation.
In health, this is a card that represents wear and tear, in many ways. If you are feeling physically, emotionally, and spiritually drained, this is the ideal time to take a break from the world around you. Slow down at work, at home, and even in the effort you put into trying to help others.
➡️ Click here to see this year's Sagittarius predictions
Although this card is often associated with negative events, The Scythe also symbolizes transformation; the end of suffering and anguish. The year 2022 will be a time for you to cut through your fears and insecurities once and for all. Changes will happen inside and out, and you will finally see an end to all your worries and situations that wear you down day after day.
In love and other relationships, it indicates a period of transition to something better. Evil will be nipped in the bud, but it will not yet be the final outcome to the main situation. All transformations will be welcome now. Action needs to be taken immediately to avoid any suffering in the future.
In health, if you want your present condition to develop well, you will have to make some movement. The Scythe also indicates the need for some surgery, skin problem, physical pain, or the lack of some vitamin in the body. If there is some hidden disease, the race is against the clock! Don't let it grow without you realizing it.
➡️ Click here to see this year's Capricorn predictions
This will be a year to get you out of your comfort zone. Whatever your background, accept life's changes. No one said it will be easy, but the results of this journey will be extremely positive. If you are dissatisfied with your career, head for a new destination. Change will be slow but concrete and guaranteed.
In love, single women may seek partners outside their social circle, often to ease the longing for a previous relationship. Couples will go through periods of instability, where it will be necessary to go through some situations in order to get stronger in the future. If there is a breakup, it will be for the good of both of you.
In health, you have probably been making some mistakes lately. Now the time demands motivation to get things back on track, as the solutions will be long-term. Possible health problems can be difficult to diagnose.
➡️ Click here to see this year's Aquarius predictions
For intuitive Pisceans, a very mental, thoughtful year, in which the wisdom gained in the last years of your life will serve you greatly in making the next decisions. In 2022, don't be afraid to think once, twice, before you bang the gavel. There are always two sides to the same coin; and you will have the curiosity to scrutinize all the possibilities.
In love, it will not be a year to indulge in wild passions, since contrary to all stereotypes, Pisces will have both feet firmly on the ground. Does this love really have something to add to your life? Will this person complete you in some other aspect than the physical? Maybe you even keep fantasizing about a (sometimes unattainable) crush, but you know what you want for your love life. And that's okay. Just be careful not to idealize someone too much, and miss opportunities that can genuinely make you happy.
In health, you can stop Googling your symptoms and go to the doctor. And if the first professional didn't give you confidence, look for another one. What do you have all this intuition for? In general your health will be good, but you will need to find the right specialist to treat the conditions you have been complaining about.
➡️ Click here to see this year's Pisces predictions
You may also like:

98.1% (1312)
---