Scorpio Horoscope for February 2019
---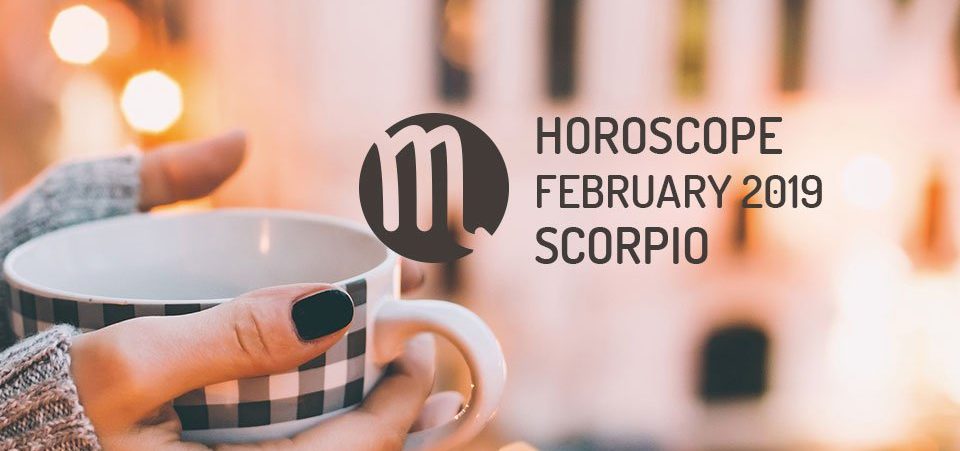 Here is your Scorpio Horoscope for February 2019. Every month, you will find at WeMystic the astrological forecasts for your zodiac sign.
Scorpio Horoscope for February: what to expect
---
Love and Relationships
The entrance of the Sun in House V of Scorpio (18/02), speaks of joy of living and desire to share moments of fun with children, or the person in whom falls the romantic interest.
In this sense, keep in mind that Mercury will enter earlier in the same location (House V of Scorpio), specifically on 10/02, which for singles of the sign translates into the possibility of choosing between several options.
It is important to remember that, in House V of Scorpio, there are also Neptune and the asteroid Vesta (the latter from 01/02), which can feed feelings of idealization and exaggerated devotion to the partner.
On the other hand, the entry of Mars in House VII of Scorpio (14/04) can generate confrontations in the constituted couples, for reasons of jealousy or criterion of possession. It is time to understand the difference between loving and possessing.
Money and Career
Finances remain in positive balance for the sons and daughters of Scorpio during February 2019, a trend that will continue for most of the year, due to the presence of Jupiter in House II of the Stinger Sign.
In addition to Jupiter, the dwarf planet Ceres is also in House II of Scorpio, which means that it is not just a year of economic expansion, but of sharing experiences and resources.
On the other hand, Juno's entry into House VIII of Scorpio (11/02) points to a commitment to the management of assets shared with family, couple or partner. The subject will be cautious in operations involving the common patrimony, and will be willing to listen to the participation of those involved.
In terms of work, the entry of Chiron in House VI of Scorpio (18/02) puts on the table the patterns that threaten your professional development, such as the tendency to over-analyze what is happening around you, or the desire to "maintain control" at all costs and in spite of how exhausting it can be.
Chiron in the Scorpio House VI (where he will remain until April 2027), focuses on showing what makes you uncomfortable, so that you can broaden your horizons and values and your well-being, at all levels.
Likewise, this transition aims to create routines that leave free time for self-care and do not focus solely on production, without taking into account how exhausting it can be for you.
It is worth noting that, during February 2019, you must be especially careful with this transition of Chiron, added to the presence of Uranus in the same location until 05/03. Since once the obstacles have been identified, you may feel impelled to act, throwing everything into the air, without taking into account the consequences.
It is time to resist Uranian temptation and reflect. Chiron will be in House VI of the sign of the sting, until April 2027, enough time to analyze your current position, and decide what your real objectives are.
For Scorpio students, the entry of asteroid Eros into House IX suggests a passion for beliefs and ideals. It is advisable, if something (or someone) really interests you, to go to the bottom of the matter (don't stay on the surface).
Health
On February 18, 2019, Chiron will enter Aries, where he will remain until April 2027. For the natives of Scorpio, this transition is located on House VI, sector of the astral map that refers to daily routines, home and labor relationships.
Chiron in House VI of Scorpio encourages the practice of self-knowledge at all levels (physical, mental and emotional), and the acceptance of the natural abilities of the individual, as a means to help others.
However, this alignment also speaks of that which is repressed (especially anger), and can lead to the manifestation of psychosomatic ailments.
In low vibration, the subject can take advantage of Chiron in Scorpio's House VI, to evade the responsibility of self-care and the construction of the personal project, devoting attention to the resolution of third party conflicts.
It is important to bear in mind that this planetary position (Chiron in the Sixth House of Scorpio), aims to cultivate self-care from an integral approach (mind, body, spirit), and as a conscious decision (not imposition).
While you may be aware of which patterns you will need to address during Chiron's stay in Scorpio's House VI, don't fall into the trap of thinking that it will be a one-day thing (Uranus influence in House VI, until 05/03).
You will face a deep and intense healing work, where you will have to go (layer after layer) to the origin of the situation. Staying on the surface, you will hardly achieve healing.
Another aspect that you should keep in mind, in February 2019, is the beginning of the retrogradation of the asteroid Pallas in the XII House of Scorpio, an event that will also take place on 18/02.
Retrograde Pallas in House XII of Scorpio indicates that there is the possibility of losing calm in borderline situations, causing nervous breakdown or stress, something rare for natives of the sign.
However, this transition can be used to explore the feelings (burden, guilt, resentment, remorse, anger, frustration) that have remained hidden, and channel them positively.
Psychological or spiritual therapy sessions, the practice of meditation or prayer, outdoor walks, and the reading of self-help texts are some of the best activities during this season to support you in the process of finding your inner balance.
Discover more about Scorpio character and personality traits >>
---
You may also like:
---