Aquarius Tarot 2019: major advices
---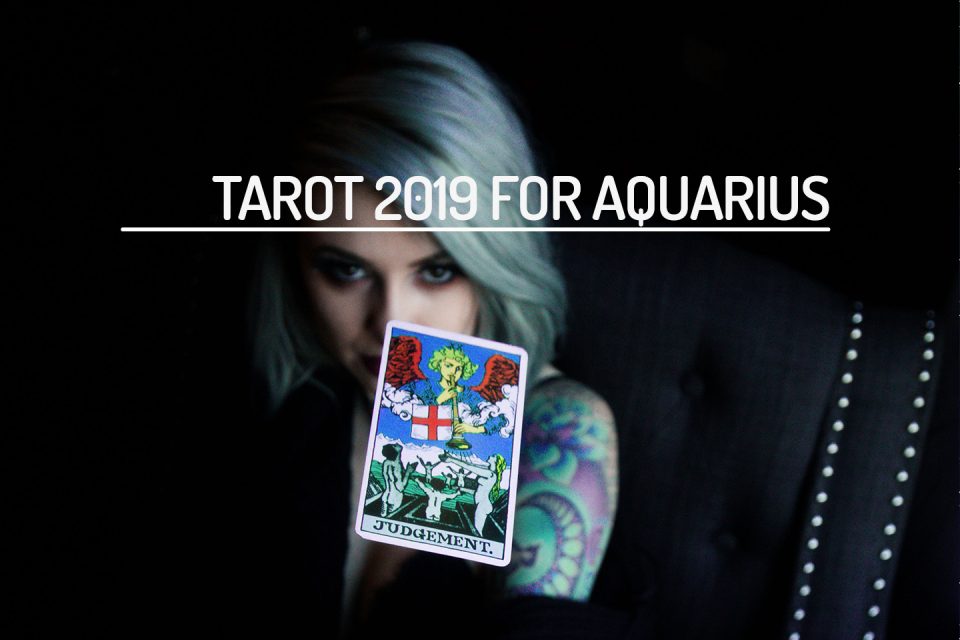 What to know about Aquarius Tarot 2019? First of all, 2019 will be Lilith's last year in Aquarius. This stellar position was characterized by the desire for independence, and conflict situations within the circle of friends. The teaching of this transit focused on opening up to other points of view (do not cling to your own).
On the other hand, in 2019, the North Node will be in House VI of Aquarius; while the South Node will be located in House XII, which translates into working self-discipline, managing time better, assuming responsibilities with joy, being willing to support others, and practicing self-care.
Receive all our tips by email!
Love Astrology? Subscribe Now and Receive Exclusive Content!
Aquarius Tarot 2019: advices and recommendations
---
The following is a series of advice or recommendations, obtained through the astrological spread, to accompany the personal development of the sons and daughters of Aquarius during 2019.
Arcane: The Tower
House I: self-affirmation, personality and its external manifestation.
Advice: faced with the arrival of what you cannot anticipate, and the fall of old structures, surrender to the process with humility, and avoid clinging (stubbornly) to the past. The best is yet to come.
Arcane: 3 of Cups
House II: resources, material possessions, and personal appreciation.
Advice: stability. Economic achievements. After an arduous battle, a positive result is presented. Celebrate it in the company of your loved ones. You are free to pamper yourself.
Arcane: 7 of Cups
House III: communication, mobility and thought.
Advice: while you have many ideas in mind, it is preferable to devote your time to each alternative, and not be caught up in the illusion of control. Order your priorities, to act according to your authentic interests, and not a momentary impulse.
Arcane: 9 of Pentacles
House IV: home, family and origins.
Advice: satisfaction. Fullness. Objectives achieved. Enjoy the success and sense of security present, rather than worrying about the future. Now is the time to share as a family.
Arcane: 8 of Wands
House V: romance, creativity and children.
Advice: channel your creativity, towards the impulse of old projects that you considered forgotten. Rediscovery of love as a couple, or opportunity for a new romance (for singles).
Arcane: 3 of Swords
House VI: health, work and service.
Advice: there may be some sadness or disappointment in your present, but these feelings will help you find your true path. Don't fall into pessimism. Pay attention to states of anxiety, and chronic heart disease.
Arcane: Ace of Cups
House VII: personal relationships, contracts, and declared enemies.
Advice: sincerity in relationships. Commitment or marriage. It is important to focus on the love you deserve, because it will be what you attract to your life.
Arcane: The Chariot
House VIII: sexuality, transformation and shared goods.
Advice: there is harmony in relationships; however, emphasis should be placed on the design of concrete common goals, otherwise the couple's efforts will be diluted. Don't postpone important decisions.
Arcane: 4 of Cups
House IX: Philosophy, higher studies and travel.
Advice: self-criticism can be a powerful tool, but also a great detractor. If you spend time recriminating yourself for past events, you may miss significant opportunities (professional, academic or personal) in the present. Pay attention and reflect.
Arcane: 4 of Pentacles
House X: vocation, aspirations and public life.
Advice: prudence in professional decisions. Concerns in the professional area can create a certain distance in the family. Avoid this situation, giving priority to what is important. Don't cling to a single plan when the Universe has infinite options at your disposal.
Arcane: Knight of Swords
House XI: friendships, groups and social consciousness.
Advice: the exchange of ideas with friends and colleagues will be inspiring. You may feel threatened by a new partner, but time will show that you have the intellectual skills necessary to overcome your fears.
Arcane: The Emperor
House XII: mysticism, karma and hidden enemies.
Advice: the connection with one's own spirituality is complicated, as it is tied to the everyday and the practical aspects of life. Do not lose confidence in the invisible forces that move around you.
---
You may also like:

98.1% (1312)
---