Aquarius Horoscope for January 2019
---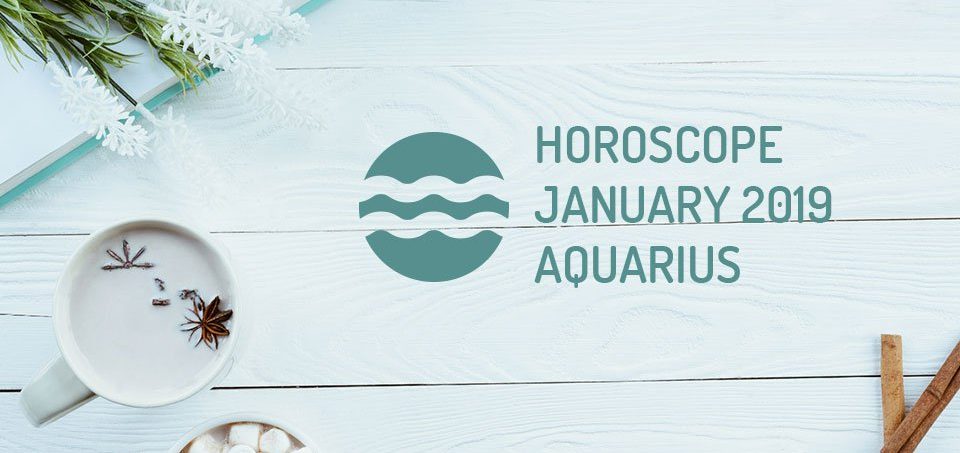 Here is your Aquarius Horoscope for January 2019. Every month, you will find at WeMystic the astrological forecasts for your zodiac sign.
Aquarius Horoscope for January: what to expect
---
Love and Relationships
The presence of the asteroid Eros in House V of Aquarius, speaks of the pleasure of romantic conquest and the enjoyment of intimacy as a couple. But beware, because this planetary position can induce passionate outbursts of jealousy.
Fortunately, the Full Moon Eclipse in Leo on January 21 will touch House VII of Aquarius (couple, partners, contracts, legal matters), which means that it will be time to leave behind the old line of conduct, which affects the development of relationships (jealousy, difficulty in trusting, need for control, among others).
The relationship with children will go through a good time, during January 2019 (Eros in House V). Similarly, there is a commitment to undertake home improvements, and invest quality time with the people in your family nucleus (Juno in House IV); after all, they are your constant support.
Money and Career
Neptune's presence in House II of Aquarius can make you blindly optimistic about the management of economic resources, and when you receive the support of your partner or family you may feel that the Universe gives you all its approval, but be careful.
Neptune's idealism coupled with the demand for immediate results from Uranus and Mars in House III of Aquarius, is capable of making you forget important parts in the development of a project, such as the feasibility study and whether it is really the right time for its launch.
It is preferable to take advantage of Neptunian inspiration, the motivation for change provided by Uranus and Mars, and channel them constructively into the creation of your initiative, so that it is something that can be maintained in time, not the flower of a day.
In terms of work, the North Node in House VI of Aquarius points out that the steps taken this year bring you closer to your life purpose mission, so it is convenient to listen to your intuition (the true one, not the Neptunian voice of idealism), and to be attentive to the details offered by the environment.
It is worth noting that, with Ceres in House X of Aquarius until January 24, the focus of attention will be on finding efficient mechanisms, which allow you to stand out in the professional field.
The Aquarian will dedicate time and effort to cultivate his personal and digital image, as well as to exchange information and experiences on success and entrepreneurship with colleagues and new contacts (Jupiter in House XI of Aquarius, until December 2019).
Finally, for the students of Aquarius, January will be a season dedicated to the organization of academic activities, and the rest of the daily routine, due to the influence of Pallas in House IX of the sign.
This stellar position (Pallas in House IX of Aquarius) also benefits those who are carrying out procedures to close deals abroad, removals or international studies, as it allows a step forward in the management of documents and necessary permits.
Health
Uranus, planet regent of Aquarius, will begin its direct phase on January 6 in the House III of Aquarius, which for the natives of the sign represents greater mental clarity, when weighing different options.
As this transit will take place under the influence of Aries, the energy will be directed to trace new personal objectives, in which it is possible to obtain results in the short and medium term.
It is important to keep in mind that Mars is also in House III of Aquarius, which, although it can become a valuable tool to motivate you to pursue your goals, is also capable of endangering the achievement of them, out of impatience or frustration.
In this sense, the presence of the South Node in the 12th House of Aquarius is opportune, as it warns about those old negative patterns (of character) that must be overcome at this stage.
Considering that Pluto and Saturn also meet in the 12th House of Aquarius, it is suggested that it is a process that requires time, dedication and conscious work to dismantle obsolete structures.
At this location (House XII of Aquarius), will take place the Sun Eclipse in Capricorn on January 5, which alludes to "awakening", understanding how the ancient, is hindering your growth in certain, in the present.
On the other hand, Mercury's passage through House XII of Aquarius, from the 4th to the 23rd of January, presents an excellent period for requesting therapeutic and psychological (professional) advice for dealing with this type of blockages, especially those related to the need for control, anxiety and the management of one's own vulnerability (Psyche in House XII of Aquarius).
Mercury in House XII of Aquarius also favors broadening perspectives on different spiritual doctrines. It does not mean that you should pass from one religion to another, or discard your present devotion, but rather allow yourself to observe the similarities in all paths, and recognize their value as a point of connection with divinity, respecting the individual choice of each being.
On the other hand, with the arrival of the Sun and Mercury in Aquarius (on January 20 and 24, respectively), the natives of the sign who are in a period of convalescence, after a prolonged ailment, will achieve important advances on the road to recovery.
Remember that during 2019, the North Node will be in House VI of Aquarius, which translates into the reinvention of daily routines (work, health, food), in order to approach the welfare state and the best version of yourself, in all aspects.
Discover more about Aquarius character and personality traits >>
---
You may also like:
---