Aquarius Horoscope for March 2019
---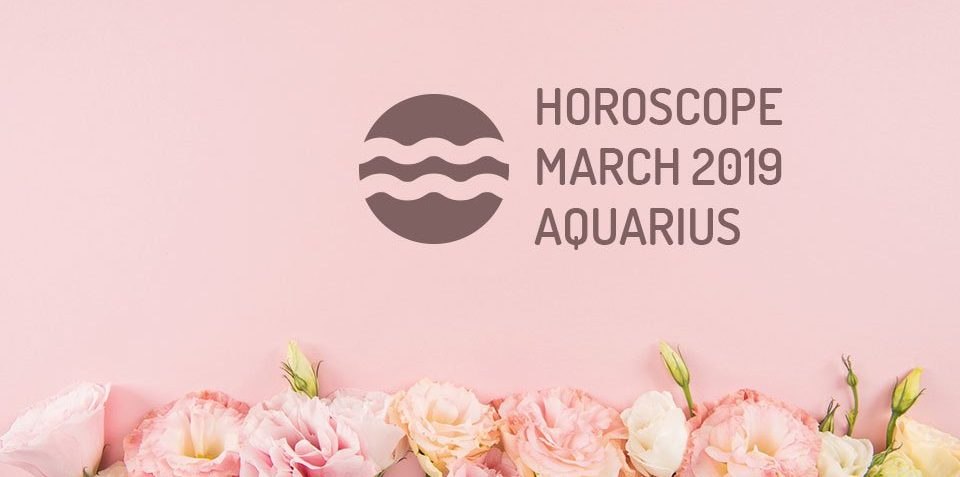 Here is your Aquarius Horoscope for March 2019. Every month, you will find at WeMystic the astrological forecasts for your zodiac sign.
Aquarius Horoscope for March: what to expect
---
Love and Relationships
Aquarians will enjoy a favorable period for couple of relationships, during March 2019, although things will not be running smoothly at home, due to the entry of Uranus into House IV of the sign.
The planet Eros will pass from House VI to House VII of Aquarius, on March 29, which translates into the desire to please the companion, but without forgetting one's own pleasure and enjoyment.
This transit will give you a great social attraction, which added to the presence of Jupiter and Ceres in House XI of Aquarius, can turn you into the soul of the party, or earn the admiration of friends and colleagues.
Likewise, the arrival of Mars at House V of Aquarius on 31/03, aims to take the reins on the romantic plane, especially during the games of conquest. Let's not forget that Juno remains in this location (House V), so the subject will be clear on what he wants, before embarking on a new adventure.
The most relevant astrological aspect of the season is the entry of Uranus into House IV of Aquarius, a transit that will remain active until April 2026, and will concentrate energies on the transformation of ideas related to home, family, roots, and one's own inner security.
Money and Career
March 2019 will be an important financial period for the sons and daughters of Aquarius. The New Moon in Pisces on March 6 will touch House II of the sign, suggesting the possibility of business opportunities, investment, wage increases, and the development of new sources of income.
However, the retrogradation of Mercury in the same location (House II of Aquarius), from March 5 to 27, will force to paralyze the immediate plans temporarily, while the different options are analyzed in depth.
Do not take this as a negative, as sometimes a pause is needed before taking the right direction. Avoid taking risks, and do not be afraid to ask for advice from friends, colleagues or people who know the subject.
On the work plane, the desire to reinvent the professional path (North Node in House VI of Aquarius) continues, making use of one's own talents and inclinations, which can lead to unexplored paths.
The Full Moon in Libra on March 20 will touch House IX of Aquarius, marking the culmination of a cycle associated with international or academic procedures.
Let's remember that Pallas is retrograding in this same location (House IX of Aquarius), so we are not talking about a definitive end, but to complete a level to move you to the next.
If these diligences involve the handling of documents or the appearance to appointments with determined schedule, take your forecasts not to leave anything to chance, and to have what you need to hand with anticipation (better to arrive 15 minutes before, that five hours later).
Important: this astrological aspect (retrograde shovels in House IX of Aquarius) can wreak havoc on student life. Pay double attention to dates and deadlines for assignments or proof.
On the other hand, Mars' entry into House V of Aquarius on March 31 alludes to a creative explosion and a growing desire to share your projects (and talents) with the world.
Let's not forget that asteroid Juno is also kept in House V of Aquarius, where it has influenced you to create the structures necessary to manifest your art and vocation.
If your initiatives and new projects involve the participation of friends or colleagues, you will have favorable results, since Jupiter remains in House XI of Aquarius, indicating the social circle as a source of support and inspiration.
Health
In general, the physical health of the natives of Aquarius will have a positive balance, during March 2019. The presence of the North Node in House VI of the sign of the water carrier, aims to adopt new habits of life, aligned with the personal ethics of the individual.
However, the fact that the asteroid Eros is in the same location (House VI of Aquarius) until March 29, may work against you if you do not have firmness in your intentions.
Eros may encourage a certain tendency to comfort and complacency, conditions difficult to face during a process of change, but if you are clear about your goals, nothing can stop you.
Another astrological aspect that you must keep in mind, in March 2019, is the entry of Uranus into House IV of Aquarius, on March 6, a transit that will remain in force until April 2026.
As you will remember, Uranus is the regent planet of Aquarius, so its entry into House IV of the sign alludes to drastic changes in family relationships: releasing attachments, redefining the concept of home; and re-establishing the link with ancestors and the family group of origin.
This transit may also involve a period of moves to other sectors or cities, without ruling out other countries, since the Full Moon in Libra on March 20, will touch House IX of Aquarius and suggests the closing of a cycle, before starting a new journey.
Obviously, we are not talking about simple processes, because great changes can provoke fear and resistance, especially the desire to cling stubbornly to the known, and the old belief system.
In this sense, let us remember that Pluto, Saturn and the South Node remain in the 12th House of Aquarius, where the work of consciousness is centered on getting rid of the old negative patterns in order to move forward, and find the sense of universal love, and one's own spirituality.
The native may feel more gained by spending time alone than by sharing with friends and colleagues; however, keep in mind that Jupiter is in the 11th House of Aquarius, which means that your vehicle of expansion is precisely the interaction with the social circle.
Discover more about Aquarius' character and personality traits >>
---
You may also like:
---