Aquarius Horoscope for October 2019
---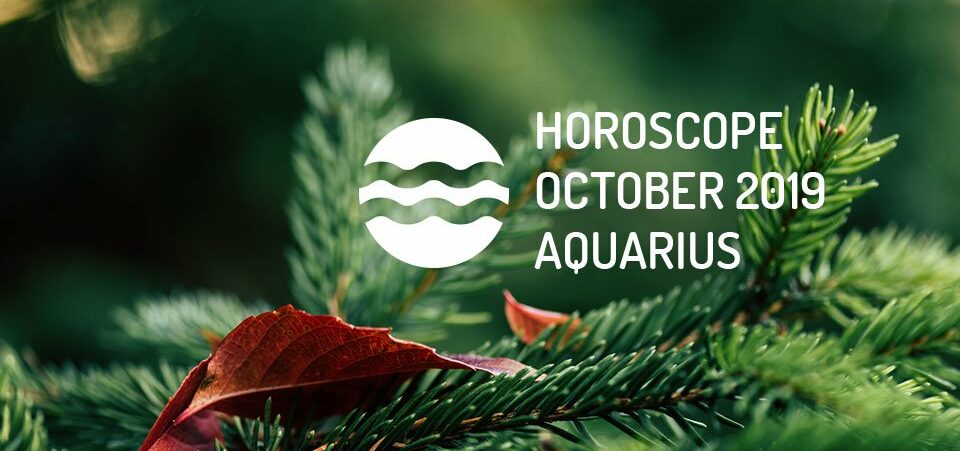 Here is your Aquarius Horoscope for October 2019. Every month, you will find at WeMystic the astrological forecasts for your zodiac sign.
Aquarius Horoscope for October: what to expect
---
Aquarius Horoscope for October: Love and Relationships
Three crucial aspects will define the mood of the Aquarian natives during October 2019: the beginning of the direct phase of Pluto in House XII (03/10), the presence of Psyche and the retrogradation of Uranus in House IV.
Pluto, directly in House XII of Aquarius, alludes to overcoming the old fears, which prevented the correct manifestation of personal power, and the individual's capacity for transformation.
On the other hand, the asteroid Psyche in Aquarius invites you to embrace your own sensibility, open your emotional world without fear, and love every part of you, even those that are less conventional or convenient for you.
In this sense, Uranus retrograde in House IV of Aquarius is a clear reference to how difficult it can be to get out of the comfortable area, and find new opportunities, if you resist change.
You will not get different results if you continue to act in accordance with the old patterns and beliefs. Your potential is infinite. Remember that the asteroid Vesta is also retrograde in your House IV, pointing out the importance of reflecting, before acting.
Transits over House IV of Aquarius also suggest complicated situations associated with moving or remodeling the home, and the approach to the mother figure. Patience will be the key to overcoming these events.
Aquarius Horoscope for October: Money and Career
The finances of the sons and daughters of Aquarius will not be at their best, during October 2019. Neptune continues to retrograde in House II, where Lilith is also located, which can lead to conflicts related to the source of income, or the destination assigned to the funds obtained.
If you want to participate in an investment opportunity, it is advisable to seek advice with a financial specialist. Nor is it a good time to request salary increases, or the payment of old debts, since your perception of reality is altered.
At work, the climate is more favorable. The presence of the North Node in House VI of Aquarius reminds you that you must address professional activities, considering the practical aspect, and not assume responsibilities (of third parties) that do not belong to you.
Excellent season to adjust schedules; implement new work systems; and read about entrepreneurship, productivity, personal management, and advances in your field.
Mercury, Venus and the Sun will enter the X House of Aquarius, on 03, 08 and 23/10. In this same location (House X) the New Moon will be produced in Scorpio, from 10/27.
With these alignments, the professional projection of the Aquarian will be the main objective of the month, and you will receive the recognition you deserve due to your outstanding work, originality and inventiveness.
It is possible that there are promotional opportunities, the award of a new project, or work options in other companies. If you have trouble deciding on this, remember that Mercury will be retrograde in your House X, from October 31 to November 19, so you will have time to analyze the situation carefully.
It is important to keep in mind that, during this period of the year, group work and campaigns aimed at groups will have an excellent impact, and can mark a significant milestone in your career (Jupiter and Ceres in House XI of Aquarius).
Another astrological aspect to consider, in October 2019, is the entry of Mars into the IX House of Aquarius, where it will be accompanied by the Sun, until the 10/22.
Mars and the Sun in the IX House of Aquarius favor the beginning of a new academic career, professionalization courses, launching web pages or publishing books.
Aquarius' students must take special care so as not to convert camaraderie among classmates (jupiter in House XI), into rivalry or competition. Teamwork will pay off more than the individual.
Aquarius Horoscope for October: Health
On October 3, the direct phase of Pluto begins in House XII of Aquarius, where Saturn and the South Node are also located.
Pluto and Saturn in House XII of Aquarius promote an introspective attitude towards life, and a powerful connection with mysticism and creative spirit. The subject perceives the home as a refuge, where it can be expressed freely and safely.
Recall that the presence of planets in House XII suggests attraction to activities of a humanistic or charitable nature.
However, with the South Node in this location (House XII of Aquarius), the individual is alerted to the risk of getting carried away by the illusion of control, and confusing help with sacrifice.
If you are attracted to mystical or esoteric themes, the available alignments encourage exploration of these themes, as well as therapies associated with balancing chakras, past lives and energy balance.
It is important that, if you decide to join a spiritual study group, or join the disciples of a particular guru, you are clear about what you expect from your search process and listen to your intuition, thus avoiding connecting with unscrupulous people.
Discover more about Aquarius character and personality traits >>
---
You may also like:
---