Aquarius Horoscope for September 2019
---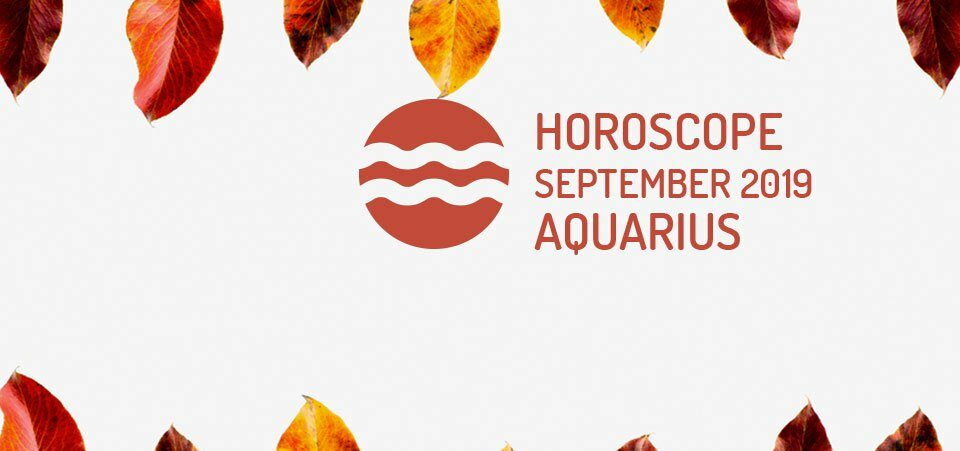 Here is your Aquarius Horoscope for September 2019. Every month, you will find at WeMystic the astrological forecasts for your zodiac sign.
Aquarius Horoscope for September: what to expect
---
Love and Relationships
The presence of retrograde Neptune in House II of Aquarius can influence the distorted perception you have of yourself and your beliefs. You can meet reality, through the path of retrograde Chiron.
Chiron is retrograde in House III of Aquarius, which constitutes an invitation to analyze the internal dialogue (the way you speak to yourself).
Despite Lilith's rebellion in House II, which can refuse to look at the facts, Chiron retrograde turns attention inside the native, leading him to self respect.
On the other hand, Uranus retrograde in House IV of Aquarius has the appearance of an earthquake that shook everything that provided you with security, such as a family connection. This transit should not be considered a punishment, but an opportunity to build your personal safety, review attachment patterns and invest in your emotional healing.
With retrograde Uranus in House IV of Aquarius it is likely that family discussions are presented due to differences of opinion or generational. If you want to solve it, you must overcome the surface and go to the bottom of the matter. You'll be surprised.
For couples, September 2019 is a door that opens to work on trust in personal relationships, deepen intimacy as a couple and rediscover one's sexuality.
Money and Career
The finances can represent certain concerns for the sons and daughters of Aquarius, during September 2019. The presence of retrograde Neptune and Lilith in House II can cause friction with a partner or family, due to the economic issue.
It is important to keep in mind that, with this alignment (retrograde Neptune and Lilith in House II), the subject's perspective is not completely clear or adjusted to reality, and it's projected with a touch of rebellion.
Fortunately, on 14/09 the Full Moon will take place in Pisces, which will touch House II of Aquarius, making it easier for the native to analyze the circumstances in the light of reason, and considering their long-term objectives.
It is worth noting that, during the first part of September 2019, the stellium (accumulation of planets) that was formed in August 2019, on House VIII of Aquarius, with the presence of the Sun, Mars, Mercury, Venus and the asteroid Juno.
A stellium in House VIII of Aquarius speaks of emotional and financial support from the partner or family. Sales of family assets, and payment of old debts, which in one way or another will be in your benefit, are not ruled out.
On the labor level, the presence of the North Node in House VI of Aquarius drives you to connect professional knowledge with the mission of life, projecting you into the future.
Let us not forget that the asteroid Pallas is in the X House of Aquarius, which implies the development of strategies, which may well lead to the launch of a venture, a professional reinvention, or the hunt for a more favorable position.
In this sense, the presence of Jupiter and the dwarf planet Ceres in House XI of Aquarius implies the creation of innovative ideas, and interesting possibilities related to teamwork, or projects of impact in the collective.
For students, September 2019 will bring good news. The passage of Mercury (09/14), Venus (09/14), and the Sun (09/23) through House IX of the sign refers to academic recognition, opportunity to participate in international workshops and courses, and recognition of your passion.
This transit will also be favorable for those who are doing international procedures, registration, language courses, or procedures associated with the publication of a book, or the launch of a web page. Excellent prospects for those who expect a response from a teaching position, or a placement abroad.
Health
In general, the physical state of the Aquarian natives will remain stable, during September 2019. Uranus, regent planet of the water carrier, is retrograde in Taurus (until 09/01/2020), so you must be careful with the intake of food, in the moments of greatest emotional vulnerability.
Note: to minimize the impact of this trend, substitute high-sugar and ultra-processed desserts with fruits and homemade alternatives.
Uranus retrograde in Taurus also represents, for Aquarius, the tendency to engage in meaningless discussions, or suffer from bad mood swings.
In this sense, the fact that the asteroid Vesta begins its retrogradation process in Taurus, on 09/23, will promote introspection between the sons and daughters of Aquarius, and a more thoughtful attitude, which will allow you to notice the different forms of self-aggression which you will have to face.
Discover more about Aquarius character and personality traits >>
---
You may also like:
---