Cancer Horoscope for April 2019
---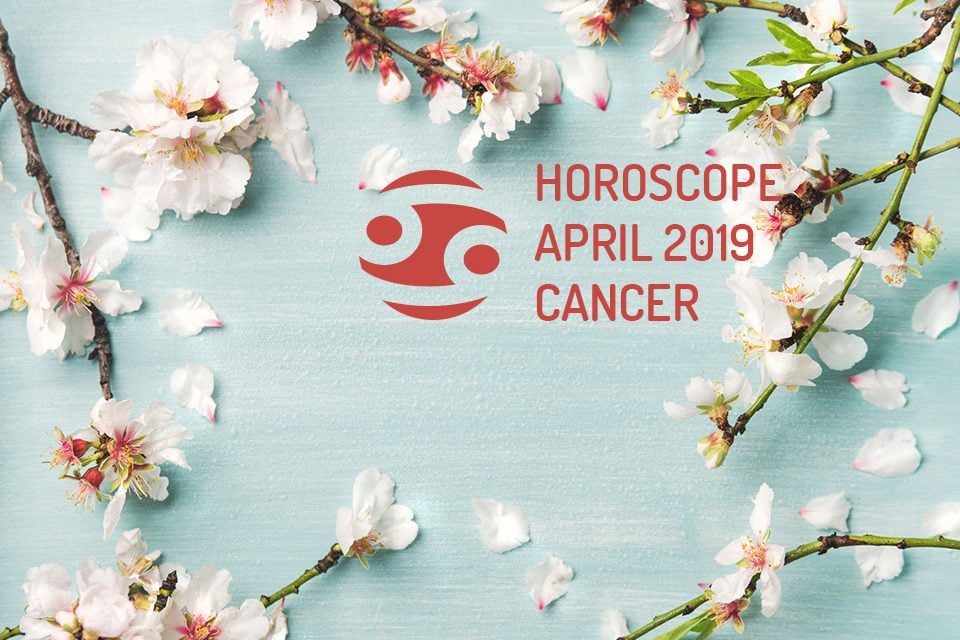 Here is your Cancer Horoscope for April 2019. Every month, you will find at WeMystic the astrological forecasts for your zodiac sign.
Cancer Horoscope for April: what to expect
---
Love and Relationships
Asteroid Pallas continues to retrograde in Cancer House IV, alluding to a situation of family change or conflict, which causes concern and remains under constant analysis.
However, the Double Full Moon in Libra on April 19 will touch precisely this location (Cancer House IV), indicating that it is time to make a final decision, respecting your true desires (you can't make everyone happy).
On the other hand, it begins a period of tension in the relations with couple or partner, due to the retrogradation of Pluto and Saturn in the House VII of Cancer, on April 24 and 29, respectively.
This transit raises interesting questions about the use you make of personal power within relationships, responsibility for one's actions, victim posture, and the placement of healthy boundaries.
Keep in mind that asteroid Psyche is kept in Cancer House VIII, so it is necessary to explore associated patterns in trust within the interaction with others.
It becomes indispensable to create new schemes, and to approach a concept of love, which does not impose unnecessary sacrifices, but contemplates the same level of commitment, between the members of the couple or society.
Money and Career
Overall, finances will remain stable for Cancer natives during April 2019. The presence of Eros in House II of the sign, and Psyche in House VIII, point to the need to evaluate patterns of complacency in daily life, and the level of trust you invest in relationships (commercial or not).
On the labor front, Jupiter's retrogradation will take place on House VI of Cancer on April 10, meaning that many issues will be reviewed, particularly those associated with salary increases, changes in organizational structure, and delivery of new projects.
Additionally, the dwarf planet Ceres will retrograde in the same position (House VI of Cancer), from the 09/04, transit that alludes to recognize the tendency to help others, in detriment of the time that you dedicate to the tasks that are assigned to you.
This type of behavior may be hiding certain negative patterns, such as self-sabotage, to which you should pay attention, and overcome, on the road to success.
It is worth noting that, in April 2019, Vesta, Mercury and Venus will enter Cancer House X (on 03, 17 and 20/04, respectively), where Chiron is also located and the New Moon will take place in Aries, on 05/04.
This means that, despite the tense climate that will prevail in the work space, a period begins in which it is necessary to reconnect with the true vocation, and define the professional path.
You will receive several proposals of interest (Mercury in the House X of Cancer), but it is convenient that you take your time to reflect on them (Jupiter retrograde in House VI), and make your choice considering your true interests, not social pressures (Vesta, Chiron and Venus in the House X).
With the entrance of the Sun in the Cancer House XI, on April 20, the support of friends and colleagues will be invaluable, at the time of making a final decision. Likewise, the possibility of a collective project will be considered, with long-term results.
Important: on April 20, asteroid Juno will enter Cancer, which means that your greatest commitment is to yourself, your personal expansion and overall well-being.
For Cancer students, although the first fortnight of the month will be a fairly intense period in terms of academic activities, the second part of the season is projected as special moments of calm, in which you can enjoy the results of your effort, and develop new objectives.
Health
For the natives of Cancer, April 2019 will be a period to pay special attention to self-care, due to the retrogradation of Ceres and Jupiter, in the House VI of the crab (on 09 and 10/04, respectively).
Retrograde Jupiter at Cancer House VI warns about keeping up to date medical consultations and treatment for those suffering from chronic kidney or liver diseases.
As House VI governs health, work and lifestyle, it is important to keep in mind that uncomfortable situations in the professional area can cause stress, intestinal disorders and psychosomatic ailments in the subject.
Despite this, Jupiter retrograde in Cancer House VI should not be perceived as a negative transit, but as an opportunity to reinforce personal care, and adjust your routines, in the pursuit of integral well-being.
In this sense, the apparent regression of the dwarf planet Ceres, also at Cancer House VI, points to reviewing life habits, and consider whether concern for others, is not used as a distraction, to avoid attending to your own affairs.
It is not a question of selfishness, but of learning to give to others from the fullness (love), and not from the void. There is no point in carrying third party responsibilities, or surrendering everything, if you leave in last place what is most important: taking care of yourself.
On the other hand, the presence of Mars in the 12th Cancer House reminds us that it is not worth crying over spilt milk (act to change circumstances), and that evasion does not solve problems (it only hides them).
Discover more about Cancer's character and personality traits >>
---
You may also like:
---