Cancer Horoscope for January 2019
---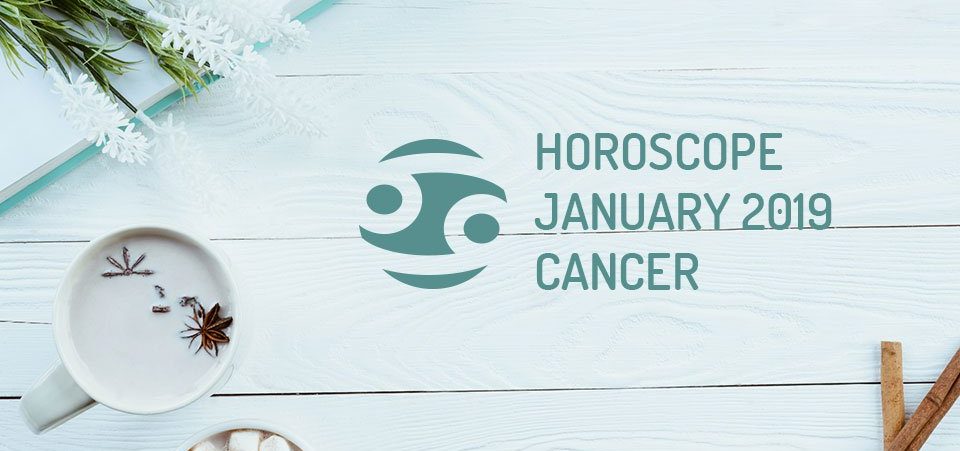 Here is your Cancer Horoscope for January 2019. Every month, you will find at WeMystic the astrological forecasts for your zodiac sign.
Cancer Horoscope for January: what to expect
---
Love and Relationships
2019 will be a year in which Cancer will have an intense work of consciousness, in terms of personal relationships, due to the presence of Saturn, Pluto and the South Node in House VII of the sign.
Let us remember that the South Node implies that which must be overcome; while the presence of Pluto speaks to us of personal power and (profound) transformation; and Saturn refers to restrictions, responsibilities and structures.
If we consider that the North Node is found in Cancer (the North Node alludes to the actions undertaken to achieve the purpose/mission of life), it means that the whole process starts from the reinvention of the native.
In this sense, the Full Moon Eclipse in Leo on January 21 will touch Cancer House II, inviting us to redefine the scale of personal values, and break negative cycles for self-esteem.
Questions will arise about what their real objectives are, how to connect with them, and how to get rid of certain conditioning factors, which they have been able to confuse with their essence.
It is worth noting that, along with Saturn, Pluto and the South Node, the asteroid Psyche is found in Cancer House VII, representing the native's fear of letting its most vulnerable aspects flow.
Likewise, in the House VII of Cancer, will occur the Eclipse of Sun in Capricorn on 05/01, while the Sun will enter House VIII, on 20/01, followed by Mercury (24/01).
The alignments announce that closing a cycle invariably leads us to the beginning of a new one, as well as highlighting the importance of communication in pairs, and the need to assume your darkest aspects (the shadow) and integrate them with your visible part.
Money and Career
January will be a favorable economic period for the sons and daughters of Cancer. The Full Moon Eclipse in Leo, which will take place on 21/01 and touch House II of Cancer, points to the closure of a business or financial cycle.
This does not mean that you will be without a job (it can happen, although it is not the most probable), but that a project is concluded to receive a new one, or to pass to the next level.
It is a good time to study your personal finances, analyze fixed expenses and outstanding accounts, as well as adjust your overall budget, and evaluate your chances of economic growth.
Let's remember that Jupiter will remain in Cancer House VI until December 2019, which means that it will be a year of professional expansion for the natives of the sign.
Cancerians will feel proud of their work, and will want to make it known, without false modesty or shyness. Take advantage of Juno's presence in your House XI, and work shoulder to shoulder with your colleagues for common goals.
An astrological aspect that you must keep in mind, in January 2019, is the beginning of the direct phase of Uranus in House X (06/01), which although it will be maintained for a short time (Uranus will change location, 06/03), can have decisive effects.
Uranus direct in the House X of Cancer, and under the influence of Aries, refers to losing the fear of assuming leadership positions, and trusting in one's own abilities, to face challenges.
Important: if you have long been thinking about launching your venture or being your own boss, this planetary alignment can precipitate events. Do not make decisions lightly, and plan your strategies.
For Cancer students, January will be a particularly quiet time, although many will receive interesting job offers, despite being in the early years of the academic day.
Health
For the natives of Cancer, counting on the presence of Jupiter in House VI and the North Node on their sign, during 2019, means that they will have to learn to turn their attention on themselves.
It is common for those born with this sign o prefer to focus on the people around them (especially loved ones), rather than devote themselves to exploring their true desires and needs.
However, in 2019, the dynamic changes. Jupiter in Cancer's House VI points to expansion through organization and productivity, applied to both professional and domestic routines.
This planetary position (Jupiter in Cancer's House VI), while generally conferring strength on the physical state, can also lead to exaggerated attitudes towards one's own health care.
In this sense, they can go from extreme attention (almost at the limit of hypochondria), to a total carelessness that prevents them from detecting the warning signals sent by their body. Finding the balance between these two extremes will be the main task for Cancer, during this period of the year.
The North Node in Cancer talks to you about personal reinvention, approach to the mission of life, connection with the roots (country, ancestors), and learning to take care of yourself (just as you attend to the needs of others). It is your time to be more authentic, creating separation from the expectations of others.
One astrological aspect that cancerians should keep in mind, during January 2019, and which will reinforce the influence of the North Node on Cancer, and Jupiter on House VI, is Venus' arrival at this location.
Venus, planet of desire, will enter Cancer House VI on January 7, which translates into appreciating/loving routines, the ways you take care of yourself, in all areas of life (work, home, health).
This transit, together with the Full Moon Eclipse in Leo on 21/01, which will be played by Cancer House II, invites you to get rid of negative beliefs and invest (time and resources) in personal evaluation.
Discover more about Cancer' character and personality traits >>
---
You may also like:
---