Cancer Horoscope for June 2019
---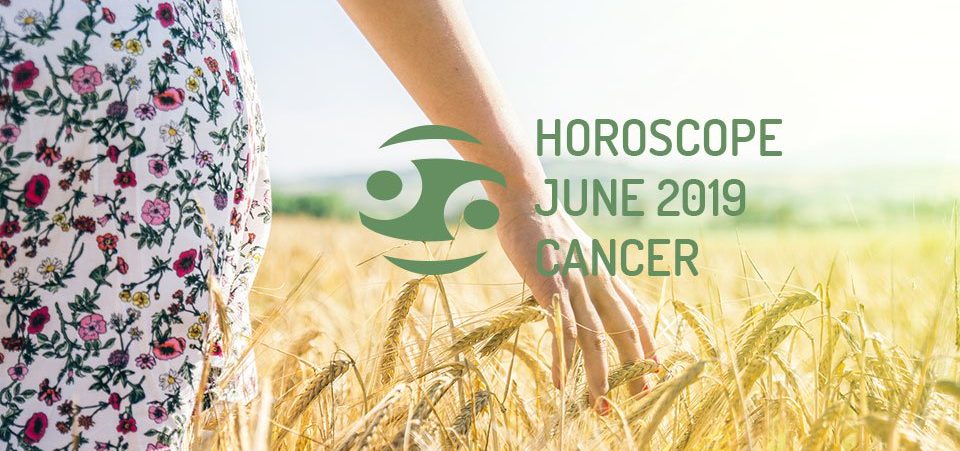 Here is your Cancer Horoscope for June 2019. Every month, you will find at WeMystic the astrological forecasts for your zodiac sign.
Cancer Horoscope for June: what to expect
---
Love and Relationships
The entry of Juno and Mercury into Cancer House II (June 20 and 26, respectively) will encourage sign natives to commit to their personal growth, whether through self-taught training, informal workshops, or academic groups.
On the other hand, the presence of the asteroid Eros in the House III of Cancer (until 17/06), indicates that any new romantic interest will be based on intellectual empathy, and the communion of ideas, leaving the physical aspect in second place.
It is worth noting that on June 9, Venus will make its entrance into the House XII Cancer, suggesting that the sons and daughters of Cancer will be more won to retake an old relationship, than start a new one.
In this sense, let's remember that Pluto and Saturn are retrograding in the House VII of Cancer, a transit that concerns not only couples of the sign, but to singles.
Pluto and Saturn retrograde in the House VII of Cancer, emphasize the less positive of old relationships, not with the intention of criticizing (creating guilt or resentment), but with the purpose of evidencing what must be overcome, and generate a learning.
Therefore, in the face of the desire to retake an old relationship, it is convenient to transcend the traps of nostalgia, and analyze whether there was an evolution of the parts, which adds positive contributions or, on the contrary, it is simply a means of evasion, to avoid facing new experiences.
Money and Career
June 2019 will be a season of good economic prospects for the sons and daughters of Cancer. Juno's entry into House II of the sign (20/06) points to a commitment, not only to personal development, but to building one's own financial stability.
In this sense, the entry of Mercury in the same location (Cancer House II), on June 26, alludes to the creation of new sources of resources, through ventures, monetization of talents, and the acquisition of skills that boost your professional profile.
The goods and business shared with family, couple or partner will not suffer great alterations during this time of the year; however, it is fundamental that investment decisions are made after a conscientious analysis and not by emotional outbursts.
Remember that the asteroid Psyche is present in Cancer's House VIII, which can cause sensitivity to interfere with economic situations, especially if they involve the protection of loved ones, or disadvantaged groups.
On the work level, Jupiter and Ceres continue to retrograde to Cancer House VI, indicating that it is not a good time to make changes at work, (it is not recommended to resign or apply for a new position. Conduct your personal projects in parallel and with discretion).
What is advisable is to design your new professional goals and objectives, in the medium and long term (conceptualize your projects, and evaluate proposals in different areas).
The fact that asteroid Vesta enters Cancer House XI (09/06), where Uranus is also located, alludes to the fact that friends will be a source of inspiration and appropriate advice.
Another aspect that you must take into account is the presence of Chiron in your House X, whose purpose is to help you build a new concept of success, get rid of the weight of expectations, and connect with your life mission.
Finally, the beginning of Neptune's retrogradation at Cancer House IX (21/06) emphasizes that you must act if you want to concretize your plans, especially those related to international and academic procedures; otherwise, it will not go beyond a fantasy.
Health
Although the retrogradation of Jupiter continues at Cancer House VI, June 2019 will be a mostly positive period for the natives of the sign, in terms of health and self-care.
Mercury will be traveling the sign Cancer, from June 4 to 25. This transit suggests intuition and active imagination, as well as a tendency to make decisions based on emotions (not reason).
Keep in mind that the communication planet will retake this sign during its retrograde phase from July 19 to 30. Later, the 31/07, it will begin its direct trajectory (still in Cancer), remaining in this location until the 10 of August.
When the retrogradation of Mercury in Cancer takes place, the sensitivity of the individual will be emphasized, reason why it is necessary to take care of outbursts, as well as of the propensity to change of ideas, due to the influence of others.
Continuing with the forecast for June 2019, the Sun will enter Cancer on 21/06, giving strength and vitality to the natives of the sign. This stellar position (Sun in Cancer) especially favors the sons and daughters of Cancer, who are in the process of recovery, after injury or surgery.
Remember that both Mars and the North Node are under the influence of Cancer. While the alignments feed a subjective perspective, they also encourage the subject to move toward their goals, work family traumas, and build their own notion of home.
Last but not least, as already mentioned retrograde Jupiter is kept in Cancer House VI, which promotes a review of habits and routines.
As the Full Moon in Sagittarius on June 17, will touch precisely the House VI of this sign, the individual will accept that they must modify their lifestyle, becoming aware of what hurts them, and that it is necessary to invest (time, effort and resources) in ensuring their welfare.
Discover more about Cancer's character and personality traits >>
---
You may also like:
---