Cancer Horoscope for March 2019
---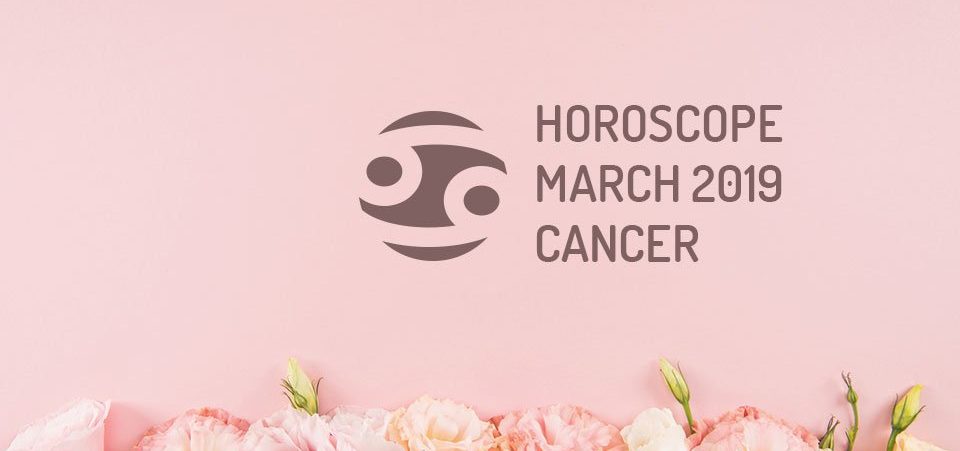 Here is your Cancer Horoscope for March 2019. Every month, you will find at WeMystic the astrological forecasts for your zodiac sign.
Cancer Horoscope for March: what to expect
---
Love and Relationships
March 2019 is an interesting period in sentimental matters for the sons and daughters of Cancer. The transit of Venus through House VIII of the sign, from 01 to 25/'3, points to the enjoyment of moments of intimacy as a couple, and conversations with the members of the closest family.
Let's not forget that the asteroid Eros will continue in Cancer, until March 28, which suggests comfort at the time of exploring one's own sexuality, and the dynamics of deep (and intense) relationships.
It is important to point out that the asteroid Psyche will also enter this site (House VIII) on 16/03, which is a favourable element for dealing with the partner those aspects that make you feel insecure in the relationship, without falling into paranoia, recriminations or victimization.
Let us remember that Saturn, Pluto and the South Node are kept in the House VII of Cancer, from where they impel a change of perspective in the relations of couple, and associations. One must get rid of the old schemes, even if it costs him, and create new structures.
Understand that your reality is different, so it is not worth comparing your relationships with those of other people, even if they are individuals who are close to you or loved. Don't condition your process.
For the singles of Cancer, the entry of Venus in the IX House of the sign (26/03), alludes to the possibility of establishing a special relationship with a person of another nationality, or to know a new romantic interest during a trip.
Another astrological aspect/astrological-aspects-march/ to consider is the Full Moon in Libra on March 20, which will affect the Fourth Cancer House, which translates into the completion of repair work in the home, or a family matter that caused you concern.
Keep in mind that asteroid Palas is retrograduating at this location (Cancer House IV) so there may be last-minute delays. Don't let frustration win you over, and use the extra time to analyze the facts (or works) in detail.
Finally, on March 6 begins the period of Uranus in Cancer House XI, which will extend until April 2026, and will cause a true revolution in relations with friends and colleagues.
Money and Career
The finances of the natives of Cancer will have a boost, during March 2019. The passage of Venus on House VIII of the sign, from 01 to 25/03, points to the receipt of funds, through assets shared with relatives, or couple.
This planetary position (Venus in Cancer House VIII) also encourages the conclusion of agreements, trust between partners, and opportunities for joint investment.
However, it is advisable to postpone plans for expansion or transactions in foreign currency, which are not previously planned, given that the retrogradation of Mercury will occur precisely on the House IX of Cancer, from 5 to 27 March.
This transit is an opportunity to review in detail the conditions of the contracts to sign and meditate on future projects, especially those involving hiring new staff, international moves and profits in foreign currency.
Keep in mind, that also on the House IX of Cancer will take place the New Moon in Pisces on March 6, suggesting the impetus for an undertaking. It takes advantage of the retrogradation of Mercury, to meditate thoroughly on the subject.
An astrological aspect that you should not neglect is the entry of the asteroid Psyche in House VIII (16/03), which will expose insecurities both in intimacy and in the handling of common goods.
Faced with this situation, it is prudent to speak honestly with your partner (partner or family), expose doubts and attend to the reasons of others, rather than waste time, in conjecture and digression.
On the other hand, the entrance of the Sun in the House X of Cancer, the day 20/03, makes reference to recognitions in the professional scope, and the possibility of receiving the support of a mentor or adviser.
It should be noted that this transit will be accompanied by the entry of Uranus into Cancer House XI (06/03), a planetary movement that alludes both to collective projects and radical changes in the group of friends and colleagues.
Uranus will remain in Cancer House XI, until April 2026, so we speak of an extensive period of time, dedicated to fighting conformism, cutting toxic friendships, and investing in personal and professional self-improvement.
Health
With Jupiter at Cancer House VI, the health of  Cancer's natives will continue in positive balance, during March 2019; however, they should be careful with excesses, especially as it relates to beverages and food (attention with desserts).
Let's remember that Ceres is also in Cancer House VI, so it imposes the need to be your own mother, that is, to care for, motivate, and comfort you at all times.
Ceres speaks to us about what nourishes the spirit, not just the physical body, therefore, the lesson focuses on giving you the same affection, which you give to your loved ones.
It is worth noting that Ceres at Cancer House VI also encourages the exchange of experiences with co-workers, and cultivating professional relationships as a vehicle for expansion.
Importantly, it is not about creating links for profit or selfish gain, but to boost your personal development while contributing to the growth of the other, through interaction.
Discover more about Cancer's character and personality traits >>
---
You may also like:
---