Cancer Horoscope for May 2019
---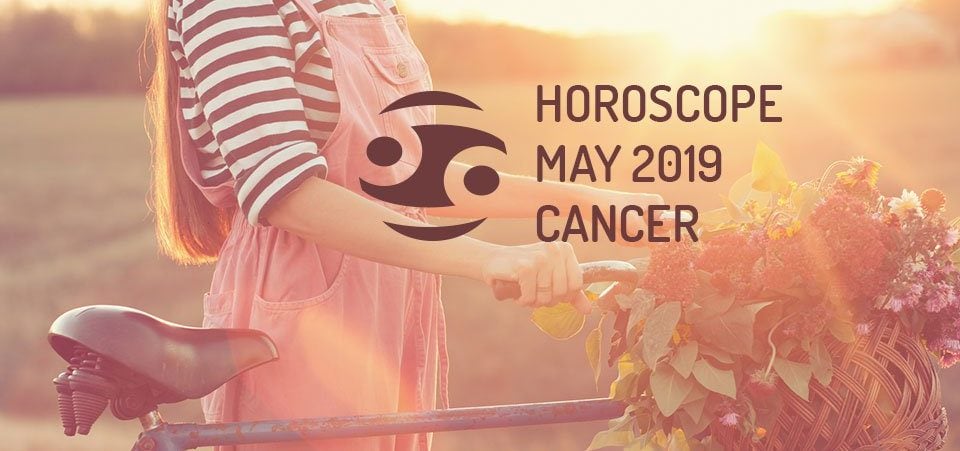 Here is your Cancer Horoscope for May 2019. Every month, you will find at WeMystic the astrological forecasts for your zodiac sign.
Cancer Horoscope for May: what to expect
---
Love and relationships
Mars' entry into Cancer on May 15 will provide physical vitality to the sons and daughters of Cancer. However, it is a transit that can feed the spirit of competition disproportionately.
Let's not forget that Juno is in Cancer, like the North Node, which translates into the desire to commit to one's own welfare, the consolidation of personal goals.
However, with Mars in Cancer, channeled in low vibration, the subject can be oriented to a series of drastic changes, with the purpose of overcoming others, instead of focusing on enjoying his own process (it is not a competition).
On the sentimental plane, the Full Moon in Scorpio on May 18, will touch the House V of Cancer, making reference to a romance (or project) that comes to an end or goes to the next level (a formal commitment or outcome).
The lunar event also affects the relationship with the children, so it is essential to keep the channels of communication open and accessible to all parties involved.
With regard to couples, let's remember that Pluto and Saturn continue to retrograde in Cancer's House VII, the location where the South Node is located, which implies a transformation in terms of relationships.
Important: transformation does not mean a definitive dissolution (necessarily), but the native will become aware of the patterns and preconceived ideas that affect the dynamics of relationships, from their perspective.
The presence of asteroid Psyche in Cancer House VIII alludes to a greater sensitivity and interest in developing intimacy with the partner. In this sense, Eros' entry into House III (06/05) favours romantic conversations, intellectual attraction, and the exchange of ideas.
Finally, on May 30, asteroid Pallas will begin its direct phase in Cancer' House IV, opening the way for the planning of removals, domestic repairs, remodelling and redecoration.
Money and career
In general, finances will remain stable for natives of Cancer, during May 2019. However, caution is recommended in the management of family resources, or assets shared with associates.
Let us remember that the asteroid Psyche is in the VIII Cancer House, so making a financial decision, in times of emotional stress, will not be the most appropriate.
Likewise, and even if you feel pressured by time or circumstance, it is important that you take into account the opinion of the people who count on you, in economic terms, before making a considerable investment.
In the work environment, Jupiter and Ceres continue to retrograde in House VI of Cancer, indicating a propitious period to analyze the systems of work (organization, administration), and the objectives in the medium and long term.
Additionally, you will have Venus in House X (until May 14), which is an excellent opportunity to visualize your professional future from the perspective of soul desires (what you really want to do).
It is worth noting that the New Moon in Taurus on May 4, will touch the Cancer House XI, where Uranus is also found. This alignment favours projects developed in groups, social gatherings with friends, and collective impact companies.
In this location (Cancer House XI), Mercury and the Sun will be passing through until May 20, and Venus will make its entrance on May 15. Therefore, if you have a proposal to present to your working group, or that merits the collaboration of colleagues, it will be the right time to bring it to light.
Note: with Uranus in Cancer House XI, innovative ideas are favoured. Do not be afraid to think outside the box, and do things that others have not considered.
Last but not least, on May 3, Lilith's entry into Cancer House IX will take place, an aspect that highlights the need for freedom, which can generate conflicts with fellow students, or authority figures, within and outside the academic environment.
Similarly, Lilith in Cancer in House IX alludes to obstacles in international proceedings, generated by the individual (not by the environment). If you are facing this type of management, remember that your best allies will be patience and perseverance.
Health
Jupiter and Ceres continue to retrograde in Cancer's House VI, which implies that the natives must internalize the changes they decide to undertake in their lifestyle (habits, work and domestic routine).
It is a question of making changes that can last over time; therefore, we are talking about conscious and responsible decisions, but avoiding falling into exaggerated restrictive behaviours.
The key is to discover what integral well-being means for you, to find the true balance, practicing self-care, without allowing yourself to be carried away by excesses or limitations that threaten the tranquility of being.
In this sense, the entrance of the Sun and Mercury in Cancer House XII, on May 21, constitutes an opportunity to observe the past, with a more analytical and less emotional perspective.
Although Mars visited this site from March 31 to May 14, it was a transit characterized by unnerving passions (associated with old memories) and altering the subject's sleep patterns.
Now, with the passage of the Sun and Mercury through this sector of the astral map (Cancer House XII), the reconciliation with the past and the interest in the spiritual search are raised as elements of (internal) healing.
Another aspect to consider, is the entry of Mars in Cancer, on May 15, which will increase the physical vitality of the natives of the sign, but also the tendency to engage in competitions with others.
Discover more about Cancer's character and personality traits >>
---
You may also like:
---