Cancer Horoscope for October 2019
---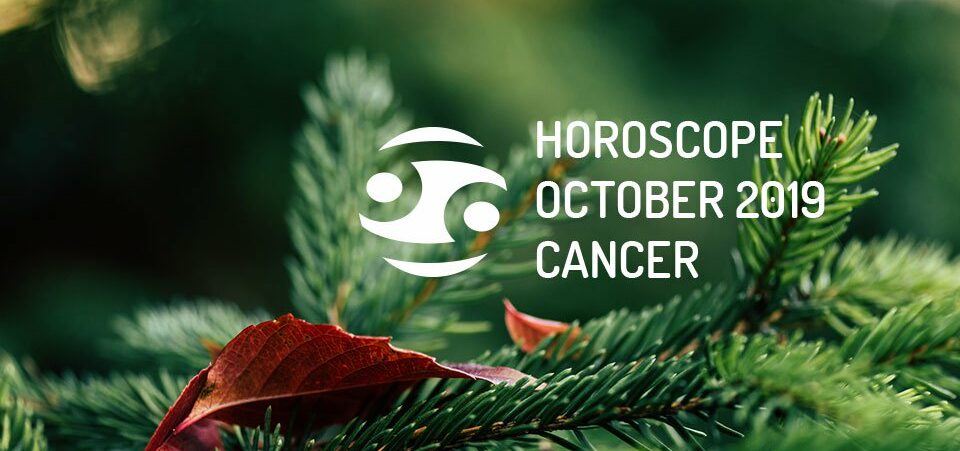 Here is your Cancer Horoscope for October 2019. Every month, you will find at WeMystic the astrological forecasts for your zodiac sign.
Cancer Horoscope for October: what to expect
---
Cancer Horoscope for October: Love and Relationships
October 2019 is projected as a positive period for the natives of Cancer, in sentimental matters. The beginning of Pluto's direct phase in House VII of Cancer (03/10) suggests that the subject is aware of the importance of maintaining a balance of power, within relationships.
Let us not forget that in House VII of Cancer Saturn and the South Node are found, so the Cancerian is working (consciously) to define the healthy limits, duties and responsibilities of the members of the couple, in an effort not to repeat (or overcome) past mistakes.
On the other hand, Mercury, Venus and the Sun will enter the V House of Cancer (on 03, 08 and 23/10), a location where the New Moon will take place in Scorpio on 10/27.
This alignment signals conversations about the children's future, or the desire to have offspring. Likewise, it is a particularly beneficial aspect for singles of the sign, who will receive different proposals of a romantic nature, some of them with high potential.
If you are hesitant about it, keep in mind that Mercury will go back to House V of Cancer, from October 31 to November 19, so you will have time to connect with your true feelings.
Cancer Horoscope for October: Money and Career
The finances will remain stable for the sons and daughters of Cancer, during October 2019. The presence of Psyche in House VIII of this sign alerts you to avoid acting with a dominant (or excessively protective) attitude on issues that involve the assets you share with third parties. You can't control everything.
On the labor level, Ceres and Jupiter continue in House VI of Cancer, which implies an increase in productive capacity, and a growing interest in helping others (sharing knowledge and experiences).
It is essential to avoid overworking, taking on the responsibilities of others, and giving advice that was not requested. Remember that Uranus is retrograde in your House XI, and can lead to discussions with the team or colleagues.
In the same way, Chiron retrograde in the X House of Cancer promotes the desire for perfectionism, and favoring /protecting people in your environment, which you consider less benefited, thereby causing considerable friction.
Chiron retrograde in the X House of Cancer, also aims to rescue the bond with the father, which reflects the relationship of the native with authority figures, and the ability to merit oriented to success.
The fact that the Full Moon in Aries on October 13, occurs precisely on the X House of Cancer, suggests the closure of an emotional cycle, associated with the aforementioned issues.
It will not be an immediate process (it will take time to assimilate it), but once concluded, it will give the natives of Cancer a deep sense of serenity and duty fulfilled.
On the other hand, in October 2019, Mercury, Venus and the Sun will enter the V House of Cancer (on 03, 08 and 23/10), a location where the New Moon in Scorpio will take place on 27/10.
This stellar alignment suggests exacerbated creativity, innovative ideas, the awakening of natural talents, and their application in different projects, which will increase your self-esteem and professional image.
As Mercury will be retrograde in the V House of Cancer, from October 31 to November 19, it is clear that you will have the opportunity to evaluate the different options, and choose the most viable ones, considering their practicality and the desires of your heart.
Last but not least, if you are doing paperwork related to travel or moving abroad, it is convenient to keep an eye on the details, and last minute documents, since Neptune retrograde in House IX of Cancer, can lead to exaggerated optimism.
The same provision applies to Cancer students, who are managing registrations or participating in conferences, competitions, and others.
Cancer Horoscope for October: Health
Ceres in House VI of Cancer encourages the natives of the sign to worry about everything that includes the spectrum of self-care (food, routines, self-esteem, exercise, consultations with medical professionals).
This astrological position is especially favorable, considering that Jupiter is in the same location (House VI of Cancer), which, although it favors the processes of recovery and therapy, can also slow down the metabolism of the subject, or promote excesses with food.
Remember that the sons and daughters of Cancer are going through an intense process of internal work, motivated by the presence of the North Node in the sign of Cancer.
The North Node in Cancer speaks of affirming one's identity, restructuring the scale of personal values ​​and life goals, breaking with the pattern of absolute complacency towards others.
It is important that you avoid disqualification. The fact of requesting support from third parties or professionals does not mean that you are weak (or that you are crazy), the interaction with others is an important part of our evolution, as well as recognizing that sometimes we need others, and vice versa.
Another activity that can bring you great benefits is connecting with your spirituality, regardless of whether you follow a particular religious path or not. Prayer or (individual) meditation will be a great ally in your processes of introspection.
Discover more about Cancer character and personality traits >>
---
You may also like:
---