Capricorn Horoscope for July 2019
---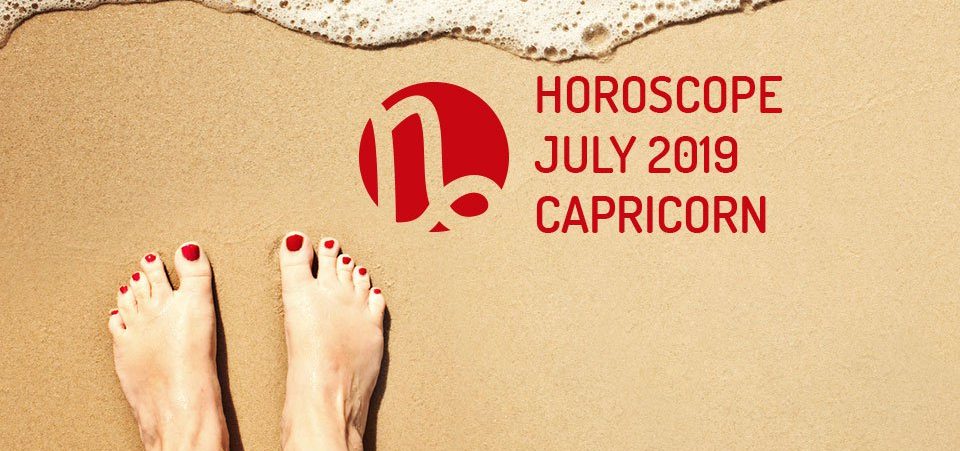 Here is your Capricorn Horoscope for July 2019. Every month, you will find at WeMystic the astrological forecasts for your zodiac sign.
Capricorn Horoscope for July: what to expect
---
Love and Relationships
The beginning of Chiron's retrogradation in House IV of Capricorn on July 8th may increase the subject's susceptibility, awakening tendencies towards attachment, possessiveness, and dependence on relationships (family or sentimental).
It is possible to take advantage of the cathartic and healing potential of this transit identifying the patterns of conduct that drive you to act that way (avoid the automatic pilot and be aware of what you are doing); reconnecting with your roots; and assertively managing family relationships.
Considering that from August 11th the retrogradation of Uranus will begin in House V of the sign of the Goat, it is convenient to use this period to strengthen the relationship with children and subordinates (at the work level) to overcome the power struggles that may arise in the coming season.
The Total Eclipse of the Sun in Cancer on July 2nd will hit House VII of Capricorn, signalling a new status in relationships, and the announcement of marriages, celebrations and engagement.
The energy of the eclipse will be reinforced by the passage of Venus on House VII of the sign of the Goat, from 03 to 26 of July, where the Sun will remain until 21/07.
These alienations speak of harmony in couple relationships. The subject is clear about what they want, for their present and future (the North Node is also in House VII), and feels fortunate for it.
The final phase of Mercury's retrogradation in Capricorn's House VII from July 19-30 may raise some questions about it. However, after some thought, you will be sure that you are driving in the right direction.
Money and Career
In the economic field, July 2019 will bring some positive news for Capricorn's sons and daughters. The entry of Mars, the Sun and Venus into House VIII of the sign (on 01, 22 and 27/07, respectively) points to confidence in the economic support received through family, couple or partner, and business opportunities involving goods shared with third parties.
It is important to note that the first phase of Mercury's retrogradation will take place precisely on House VIII of Capricorn, from 07 to 18 July, suggesting that decisions taken may not be exempt from debate if you forget to listen to others involved.
Given that the final phase of the apparent retreat of the planet of communication will take place in House VII of the sign of the Goat from 19 to 30 July, it is necessary that you pay attention to your pending legal issues, and do not lose clarity before oppositions that may arise in business meetings.
Mercury retrograde in houses VII and VIII of Capricorn can be channeled as an opportunity to review agreements, involving the family heritage or maintained jointly with the associate, in addition to promoting the study of your levels of trust and delivery for those who are close to you.
Let's not forget that the total Eclipse of Sun in Cancer on July 2 will take place precisely on House VII of Capricorn, alluding to new contracts and associations beneficial for the parties involved (the North Node is in House VII, as is the Sun until July 21st, and Venus will transit the same sector of the letter, from July 3rd to 26th).
Important: you will feel more comfortable developing creative projects during July 2019, because on August 11th the retrogradation of Uranus in House V of Capricorn will begin, resulting in possible blockages or inspiration not channeled into feasible goals. Take the forecasts of the case and avoid letting the work accumulate.
Finally, let us not forget that the asteroid Pallas continues over House X of Capricorn. This stellar position favors the planning of medium and long-term objectives, which will bring you closer to a desired position within the business hierarchy.
Health
In general terms, Capricorn's physical condition will not undergo major alterations during July 2019. However, in view of Pluto and Saturn continuing to retrograde in the sign of the Goat, it is advisable to pay attention to the reappearance of old symptoms, especially for those natives who suffer chronic ailments associated with skin and bones (care with injuries at knee level).
Let us remember that, along with Pluto and Saturn retrograde, the South Node is also under the influence of Capricorn, which tells us of the interest in producing internal changes despite the resistance to them.
This dichotomy will reach a climax with the partial Full Moon Eclipse in Capricorn on July 16th, which highlights that if you continue to cling to the past, you will not advance far enough to see your future, and where a greater personal development will take you.
You are much more than your old achievements, and you have what it takes to reach new goals (avoid confusing "being" with "doing").
In this sense, the beginning of Chiron's retrogradation in House IV of Capricorn on July 8th will make it clear what the comfortable zone means for you, what you must conserve and what you must transcend in order to overcome the stagnation in your evolution.
Another astrological aspect to bear in mind during this season of the year is the beginning of the direct phase of the dwarf planet Ceres in House XII of Capricorn, where Jupiter will continue to retrograde until August 10th (2019).
Retrograde Jupiter in House XII of Capricorn indicates that the process of expansion must begin inside, so it is essential to stop placing your attention outside when you must turn it inside.
With Ceres directly in this location (House XII) you can nourish your experience, channeling the old experiences as lessons for growth, and not a reason to build grudges and prejudices.
Discover more about Capricorn' s character and personality traits >>
---
You may also like:
---