Capricorn Horoscope for June 2019
---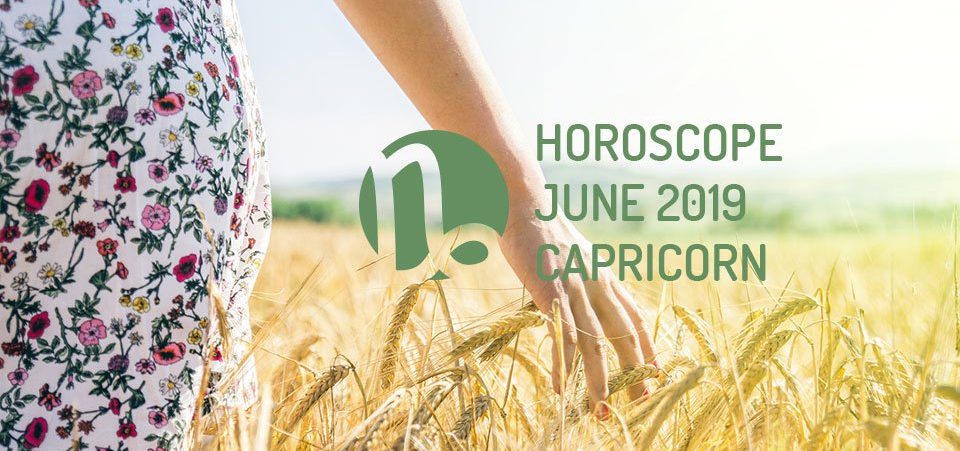 Here is your Capricorn Horoscope for June 2019. Every month, you will find at WeMystic the astrological forecasts for your zodiac sign.
Capricorn Horoscope for June: what to expect
---
Love and Relationships
June 2019 can be considered a positive period for the natives of Capricorn, in sentimental matter. The passage of Mercury on House VII of the sign, from 04 to 25/06, propitiates an open dialogue with the life companion.
Let us remember that Mars and the North Node are also in House VII of Capricorn, where the Sun will enter on 21/06. These alignments, in addition to promoting the exchange of ideas (concerns, aspirations) between members of the couple, encourages the announcement of commitment and marriages.
The tendency will be reinforced with the entry of Juno (asteroid of commitment) in House VIII of the sign of the goat (20/06), stellar position that feeds intimacy, and the development of trust.
For Capricorn singles, the transits of the month allude to being honest with themselves, about their goals and objectives (personal, professional). Likewise, the entry of the asteroid Vesta in House V (09/06) may indicate a new attraction towards a person of an introverted or spiritual character.
Money and Career
Finances will remain stable for Capricorn's sons and daughters during June 2019. Juno's entry into House VIII of the sign (20/06) alludes to a commitment to the growth of family wealth, or resources that are shared with partner or couple.
In this sense, Mercury will enter this same site (House VIII of Capricorn) on 26/06, referring to different investment options, which must be discussed by all parties involved.
It is worth noting that the alignments on House VIII of Capricorn, aim to work patterns of trust (with yourself and others), release the need for control, and learn to delegate. Keep in mind that on June 3, the New Moon will be in Gemini, which will touch House VI of Capricorn, signalling good opportunities in the area of work (promotions, promotions, new offers).
As Venus will enter this location (House VI of Capricorn) on 08/06, the individual will be able to reconnect with the aspects they find most enjoyable, within their daily routine and professional activity (remember what you love to do).
The presence of asteroid Pallas in House X of Capricorn, is an excellent ally to analyze your professional goals, and make sure you are moving in the right direction (towards what you want to achieve).
The beginning of Neptune's retrogradation in House III of Capricorn (21/06), can cause some confusion of ideas, so it is crucial that you do not lose focus, or try to idealize your projects or evade reality (be honest with yourself).
Although, June 2019 will not be the best season to lead professional projects, if it is to establish alliances or business associations, as indicated by the entry of the Sun in the House VII of Capricorn (21/06), and the passage of Mercury on the same sector of the astral map (House VII), from 04 to 25/06. In these cases, the only warning is to pay attention to the details of the contracts or agreements, not to sin of excess of optimism.
Capricorn students will enjoy a quiet season in June 2019. Take advantage of this less hectic pace, to readjust your schedules, prioritizing your welfare (hours of rest, balanced diet, exercise, and recreation with friends).
Health
With the retrogradation of Pluto and Saturn in Capricorn, it is prudent to be constant with treatments and therapies, keep up to date consultations with specialists, and the ingestion of medications.
Natives of this sign who suffer from chronic diseases of the bones or skin, should be especially careful with this transit (Pluto and Saturn retrograde in Capricorn), as it may signal the reappearance of symptoms associated with these ailments.
In the psychic plane, Pluto and Saturn retrograde in Capricorn can accentuate the tendency to introspection, a certain irritability, frustration before comparisons, and nostalgia for circumstances of the past.
It is possible to counteract these feelings by focusing on the present, designing new action plans (medium and long term), and accepting old experiences as lessons, not a point of comparison or an unmistakable sign of what "your destiny" will be.
The repetition of the "errors" of the past can only be guaranteed by the continuity of prejudices and old patterns of behavior that is why the retrogradation of Pluto and Saturn in the Capricorn is so important; since it impels the natives of the sign to reinvent themselves, from self-knowledge and reflection.
In this sense, the New Moon in Gemini on June 3 will touch House VI of Capricorn, which translates into the reformulation of habits and lifestyle, with the goal of greater well-being of being.
The Capricorn will be able to opt for healthier routines (exercise diet), incorporate spiritual activities (meditation, prayer, alternative therapies), and restructure work schedules.
Let us remember that Uranus is located in House V of Capricorn, a planetary position that favors leisure and recreational activities, under the perspective of necessary rest, or serve as a source of inspiration, and not as a waste of time for the subject.
As the asteroid Vesta will enter this site (House V of Capricorn) on the 9th of June, it is possible that the natives will opt for recreation alternatives of an intellectual nature (drawing, board games, etc.), or that will allow them to strengthen links with their children or subordinates.
Another aspect to which you should pay attention during this time of the year is the entry of Venus into House VI of Capricorn (08/06), which, together with the influence of Pluto and Saturn retrograde in the sign of Capricorn, increases susceptibility to sexually transmitted diseases, and the possibility of unexpected pregnancies (Uranus in House V). Take the necessary precautions.
Finally, Jupiter continues to retrograde into House XII of Capricorn, another transit that benefits introspection, spiritual practices, and recapitulation of the past.
Discover more about Capricorn's character and personality traits >>
---
You may also like:
---