Capricorn Horoscope for March 2019
---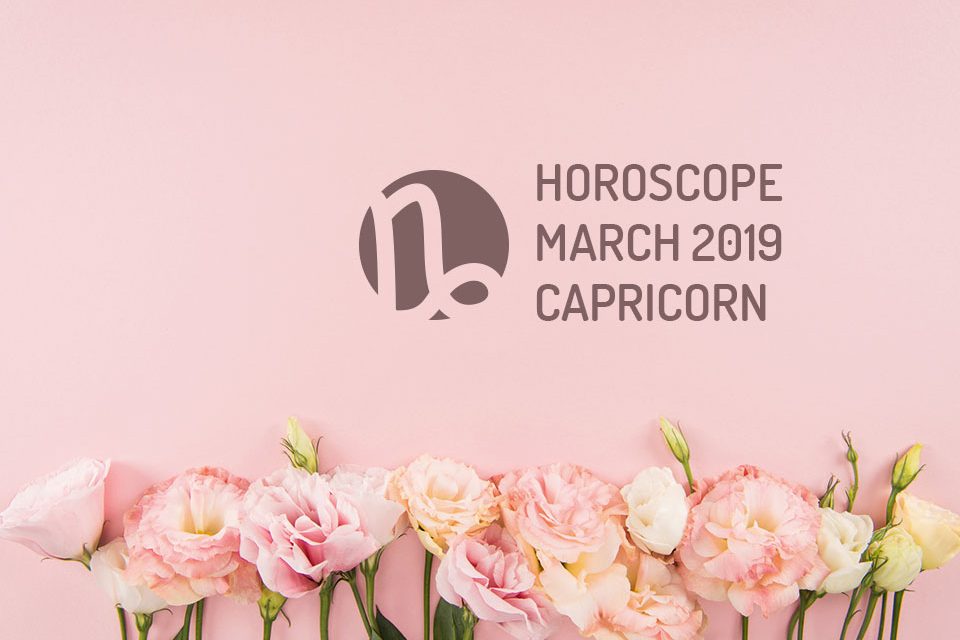 Here is your Capricorn Horoscope for March 2019. Every month, you will find at WeMystic the astrological forecasts for your zodiac sign.
Capricorn Horoscope for March: what to expect
---
Love and Relationships
The transit of Venus over House II of Capricorn, from 01 to 25 March, indicates that this is an excellent season to dedicate time to personal improvement, especially through collective activities such as workshops, seminars and congresses.
The entry of asteroid Psyche in this same location (House II of Capricorn, March 16, alludes to the fact that it is also a favorable period to work the insecurities that can undermine your self-esteem, with professional psychological accompaniment, of course.
Another astrological aspect that you should bear in mind is the New Moon in Pisces on 6th March, which will touch House III of Capricorn, opening a window to the change of internal dialogue, and the way you communicate with others.
However, it won't be a simple process, as Mercury will be retrograding from the same sector of the astral map, from 05 to 27 March, which points out that it will be necessary to reflect in order to overcome the old mental scheme.
On the other hand, on 6 March Uranus will enter House V in Capricorn, a transit that will continue until April 2026, involving days of self-discovery, which will modify the way you express your talent, and your ideas about children, creative power, romance and the enjoyment of pleasure.
It is important to remember that on March 20, the Sun will enter your House IV, where Chiron is also located. This alignment refers to reconnecting with the home, and healing old emotional wounds associated with the family issue and parental figures.
For Capricorn couples, this time of year will be dedicated to complacency and the enjoyment of sensuality, thanks to the transit of the asteroid Eros over House VII and VIII of the sign.
Finally, with Jupiter and Ceres in the 12th House of Capricorn, you may not feel like you have earned the right to pour your energy into social life and you may prefer to devote time to introspection, meditation, and connection with the spiritual, regardless of the path or religion you profess.
Money and Career
March 2019 will be a particularly positive period for the finances of Capricorn's natives. The passage of Venus over House II of the sign, from 01 to 25/03, points to the reception of income through group events, artistic activities, transactions related to real estate.
On the other hand, the entrance of the asteroid Psyche in the same location (House II of Capricorn), on March 16, will constitute an astrological aspect interesting and loaded with meaning.
Psyche in House II of Capricorn alludes to the patterns that threaten your prosperity, such as lack of merit, false beliefs about money and work, and the tendency to accumulate objects, among other issues that generate insecurity in financial matters.
Far from wanting to make you feel pressured or unstable, Psyche's transit over House II of Capricorn seeks to identify and expose the source of the imbalance, to help you overcome it.
Psyche aims to recognize what must be transformed, but from compassion, not criticism or recrimination. It is not wrong to gather goods or possessions, but when your security is based on them and not on yourself, you lose balance.
In the workplace, Juno at VI House in Capricorn refers to the commitment to the professional development of the subject, through increased productivity and efficiency.
It is not surprising that the Capricorn feels the need to apply to assume new tasks or responsibilities, the command of new teams or an emerging project that has caught his attention.
On March 31, with the entry of Mars into this site (House VI of Capricorn), you will feel the confidence necessary to make your plans and ideas known, but do not rush too much, nor try to pressure the people who will make the decision.
In this sense, the Full Moon in Libra on March 20, will touch the House X of Capricorn, indicating that you reach a point where it is crucial to step forward, and not hide your talents in the shade, if you really want to project yourself to the next level, in the professional area.
Let's remember that asteroid Pallas is retrograding in the House X of Capricorn, therefore, for everything to go as you expect, it is necessary to evaluate your planning and the levels of organization that apply in your day to day, because (otherwise) may work against you.
Health
In general, the physical health of the natives of Capricorn will remain stable during the month of February, although the presence of Pluto, Saturn and the South Node in the sign of the goat, suggests that it is necessary to be attentive to chronic ailments or sequels of old diseases.
If you suffer from any condition that requires regular medical attention, try to keep up to date with the controls, and do not avoid complying with the treatment or therapy provided, considering that you are well (the specialist will say when you should complete the process).
In March 2019, Juno will remain in House VI in Capricorn, emphasizing the importance of committing to your overall well-being, adopting healthy habits and practicing self-care.
You can have many professional goals and objectives, but you will not be able to achieve them if your health does not accompany you, therefore, attend to the needs of your body, as if it were a temple.
On the other hand, the entry of Mars into this sector of the astral map (House VI of Capricorn) on 31 March will provide you with energy and vitality. However, it will also reduce tolerance levels, making you more susceptible to episodes of irritability and frustration.
Discover more about Capricorn's character and personality traits >>
---
You may also like:
---