Combinated crystals: mixtures of Mother Nature
---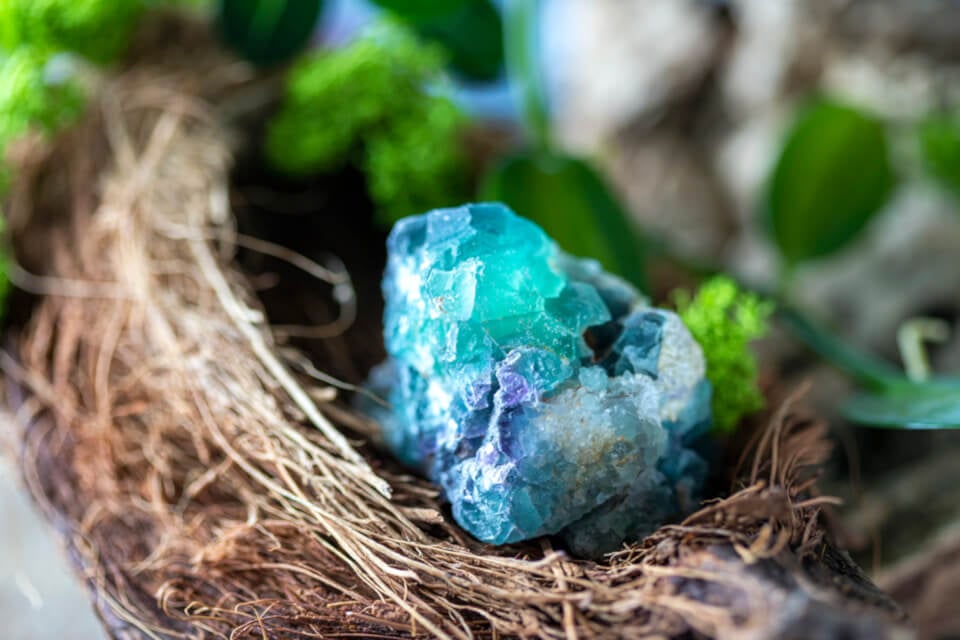 In recent years, the use of crystals as a holistic therapy has become increasingly important. However, little is said about the combinated crystals.
We have come to speak of crystals as recognized as the Amethyst, the Quartz crystal, the Rose quartz , the Citrine, etc. But do you know, for example, Chrysocolla with Malachite or Tourmaline quartz?
Receive all our tips by email!
Love Astrology? Subscribe Now and Receive Exclusive Content!
What on earth is combinated crystals?
---
Crystals are landforms that have been exposed to different conditions for many years: temperature, pressure, various minerals. When certain special conditions are present, two crystals combine, forming a single crystal with unique and powerful characteristics.
Advantages of combinated crystals
You are probably wondering, outside of the physical composition of the combinated crystals, what makes them so special.
As they are crystals that have the characteristics of several of them, they enhance their holistic properties, allowing them to be used for various purposes at the same time.
We have the case of Azurite with Malachite, which can be used in the heart, throat and third eye chakras .
For its part, the Ametrine can work the solar plexus and the chakra of intuition or third eye at the same time. So having this type of crystals combined, it's as if you had a kit with several of them working at the same time.
Main combinated crystals
The list of combinated crystals can be endless, as geological conditions form unique bodies. However, there are some better known combined crystals than others, which also have special holistic conditions. Among these combinated crystals we find:
Ametrine or Bolivianite
Although Citrine is an Amethyst transformed by the pressure and heat of the earth, there are cases in which it stays "half way", giving way to a beautiful crystal known as Ametrine (a mixture of Amethyst and Citrine).
The Ametrine is a crystal for abundance, and at the same time it is a help to transmute negative energies that do not allow us to materialize our projects.
Chrysocolla with Malachite
Another of the best known and used combined crystals is this. Its main use comes from Native Americans who came to it to calm anger or nervousness. It can also be used to absorb negative energies and promote justice.
Tourmaline Quartz
This combinated crystal is recognized for its high protective capacity. This high protection is due to the fact that it mixes crystal or white quartz, which is an energy amplifier, with Tourmaline, an eminently protective and transmuting crystal. Tourmaline quartz is used for emotional balance.
Azurite with Malachite
This is a crystal related to profound changes. It helps with stress, as well as controlling ego and arrogance. Outside of the above, this combination helps us connect with our intuition, not only listen to the rational part of us.
It is also widely used to discover hidden talents and work on self-repression.
Black granite with Pyrite
The stone of the "ground pole". It is a crystal that helps us keep our feet on the ground and is also useful, like the Ametrine, to work on the materialization of our dreams.
Other combinated crystals
There are many, many other combinated crystals that may not be as well known because of their rarity. In this list of less famous crystals we have:
Azeztulite with Morganite: excellent for working out repressions and lack of self-esteem.
Calcite with Amethyst: useful as a crystal for energy cleaning and protection
Chrysocolated Serpentine: helps to let go of the past and focus on the here and now.
Chrysocolla with Cuprite: this combination allows us to work self-sabotage and give us self-confidence.
Obsidian with Serpentine: a rare combination, but when you manage to work with one of these crystals, you can have effective energy protection without the strong effects produced by pure obsidian.
When you find a combinated crystal, do not hesitate to take it with you, because the energy benefits for your life will be phenomenal.
You may also like:
---