Leo Horoscope for August 2018
---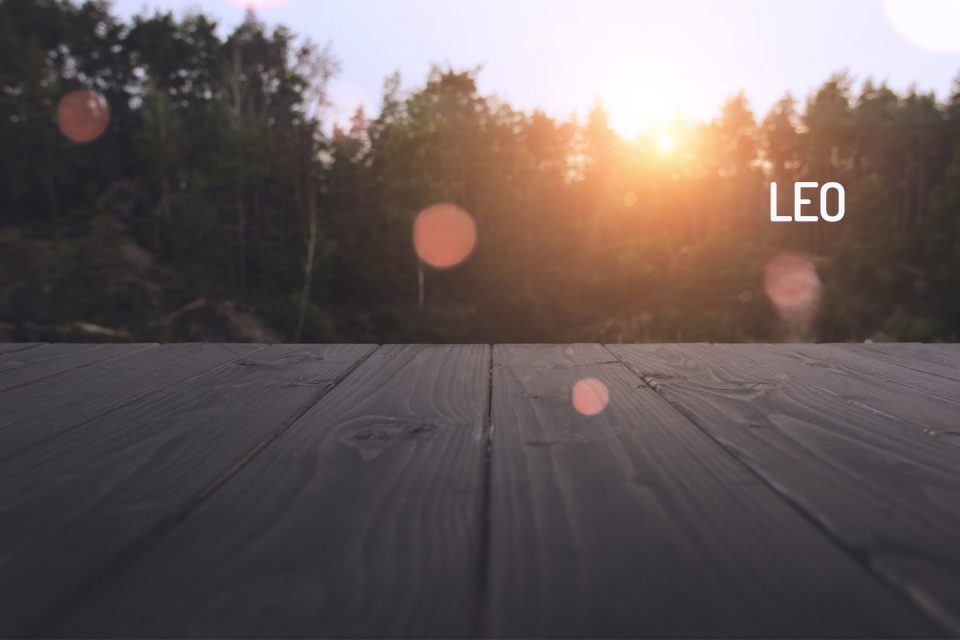 Here is your Leo Horoscope for August 2018. Every month, you will find at WeMystic the astrological forecasts for your zodiac sign.
Leo Horoscope for August: what to expect
---
Love and Relationships
The partial eclipse of the Sun in Leo, which will take place on August 11th, will follow in the footprints of the July 13th eclipse in the XII House of the lion, only this time it is not related to reviewing the past, but rather about gaining a clearer perspective on who you are and what you want to achieve.
This purpose will be reinforced by the presence of three planets in retrograde in the X House of Leo (Mars, Pluto and Saturn), the entrance of the Sun into the II House (08/23) and Vesta in its direct phase in the V House (starting on August 1st). These concern connecting with your true inner talents and exploring options that are close to your professional vocation.
On the romantic level, the entrance of Lilith into the VII House of Leo (08/06) can cause heated debates as a couple. Fortunately, Venus will be in the III House of the lion (08/06), signaling that whatever truths that finally come to light are crucial to achieving true understanding.
The singles of the sign will feel more like spending time with themselves than exploring the possibilities of romance. Sometimes, loneliness is a necessary companion.
Money and Career
The lucky streak will continue financially despite tension in the workplace. If you want to apply for a loan or credit, do it (preferably) after August 23rd, when the Sun enters the II House of Leo and Mercury will be directly in the sign of the lion (after 08/19).
Take advantage of the influence of Mercury in retrograde in Leo and the dwarf planet Ceres in the II House during the first half of August to review the details of any upcoming transactions and to gather any documents relevant to the matter.
These aspects (Ceres in the II House and Mercury in retrograde in Leo) will grant you a meticulousness when it comes to commercial transactions, unscheduled purchases or if you review a large investment.
The Full Moon of August 26th will affect the VIII House of Leo, where Neptune is in its phase of apparent retrograde. What that means is that whatever hindered financial partnerships with relatives or your partner will come to an end.
Since this lunar event will occur under the influence of Pisces, the available energy will be guided towards reconciling the parties and not obliging them. And with Venus entering the III House of Leo on 06/08, you will have everything in your favor to able to leave all parties feeling satisfied with what has been achieved.
In the professional field, Pluto and Saturn will continue in retrograde in the VI House of Leo. The turbulent influence of Mars (in apparent retrograde) will join them starting on August 12th.
Retrograde Mars in the VI House of Leo indicates repressed anger that affects relationships at work and generates frustration for followers of the sign. Since Mercury will also be in retrograde in Leo until 08/|8, it is a good idea for you to keep random comments to yourself.
Pluto and Saturn in retrograde will propel you to seek true power and wisdom from within, not for appearances or because it is convenient, but to reaffirm you as an individual, an intention that is aligned with the partial Eclipse of Sun in Leo, which will take place on the 11th of August.
August is a favorable season for you to reflect on the true causes of what makes you uncomfortable and stop being surface-level (hiding behind antipathy towards your companions or boredom towards a certain task or workplace).
The asteroid Vesta will begin its direct phase in the V House of Leo on 08/01, which, coupled with the retrogradation of Uranus in the X House (beginning on 08/07), will give you the inspiration you need to respond to these questions and elect a new career path (if you want one).
For the students of Leo, the presence of Chiron in retrograde in the IX House of the sign, indicates moments of recollection and rest, with the need to disconnect from your hectic social life and obligations. It is possible that some coworkers will not understand your tendency to isolation, but you will find support and understanding in others.
Health
During the first half of August (until the 18th), Mercury will be in retrograde in the sign of the lion, which indicates a susceptibility to allergies and viral diseases which can affect the respiratory tract and throat.
This transit (Mercury in retrograde in Leo) is also a reminder to keep medical care up to date for the followers of Leo that suffer from chronic coronary diseases or diseases related to the circulatory system.
Mars, warrior planet, will enter the VI House of Leo (08/12) while continuing its apparent phase of retrograde. It will coincide with Pluto and Saturn, which are both in retrograde, in this location.
Pluto, Saturn and Mars in retrograde in the VI House of Leo represent changes that you consider to be necessary in order to strengthen yourself physically (and improve your mood), but that you have not decided to start yet.
The presence of Pluto and Saturn in retrograde suggests that you should look for information from people experienced in the subject that you deal with (medical professionals in nutrition or psychology), and that you should not approach the process on your own under the belief that "you already know how to do it and it does not matter anymore" (Mars in retrograde).
Perhaps you followed a diet or did some exercises that made you comfortable on some previous occasion, but you must keep in mind that the circumstances (and you) have changed.
In this sense, the advice of a health professional should be your guide regarding what kind of nutrients, vitamin supplements or training you need to achieve your goals, according to your age and rhythm of daily life.
Important: when setting goals or objectives linked to lifestyle changes, it is a good idea to opt for those that are realistic, especially in terms of how much time it takes to get results (do not expect to lose the weight from a year or your whole life in just a week).
Purifying diets have a positive outlook for this period of the year, but please remember that it is preferable to complete this type of change with the help of professionals.
Discover more about Leo's character and personality traits >>
---
You may also like:
---