Leo Horoscope for August 2019
---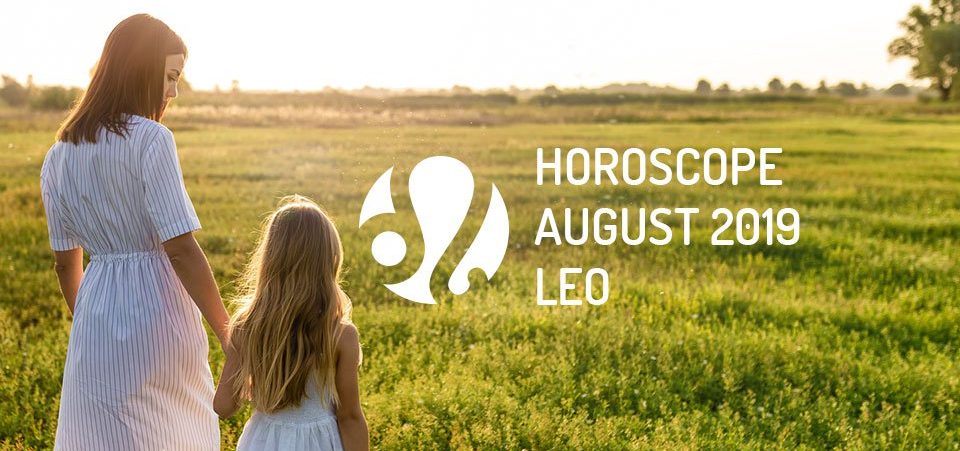 Here is your Leo Horoscope for August 2019. Every month, you will find at WeMystic the astrological forecasts for your zodiac sign.
Leo Horoscope for August: what to expect
---
Love and Relationships
The start of Jupiter's direct phase in Leo's House V (11/08), will attract potential suitors for the sign natives, as well as interest in creative projects of great impact.
This planetary position (direct Jupiter in Leo's House V) encourages conversations about the future and personal beliefs with children, particularly those in adolescence and adulthood. There is a recognition of the potential of future generations, and a desire to collaborate in their path and evolution.
On the other hand, the Full Moon in Aquarius on 15/08, will touch House VII of Leo, translating as a change of status in relationships, or the culmination of a negotiation. Let us remember that Neptune retrograde remains in House VIII of Leo, so there may be a desire to evade reality, but it is crucial to attend to the facts and responsibilities to move forward.
The fact that the asteroid Eros makes his entrance into Leo's House IV (04/08) is a propitious transit to share as a couple, and awaken passion, within the most comfortable spaces of the home.
Finally, let's not forget that on 08/14 there will be the Venus Star Point (conjunction Sun – Venus), just under the influence of Leo. This alignment closes the cycle of stellar events that took place during the first 8 months of 2019, intended to encourage the leonine to detach themselves from the past (North Node in House XII) and reveal their true desires and needs.
Money and Career
On August 18, Mars will enter Leo's House II, beginning the formation of a stellium (accumulation of planets), which will have the presence of Venus (21/08), the Sun (23/08), Juno (23/08), and Mercury (23/08).
Even the Moon will join this lineup on 30/08 when the New Moon occurs in Virgo on the House II of Leo. The stellium will remain active (without the lunar presence) until 13 September (2019).
A stellium in Leo's House II suggests a significant number of financial opportunities, which are presented through different channels: entrepreneurship, business, partnerships, salary increases, and others. With this configuration, it is fundamental to avoid becoming obsessed with the economic issue, since it can produce stress, anxiety or mental exhaustion, with severe physical consequences.
Similarly, prudence is advised when deciding the most viable alternative for obtaining and investing resources. In this sense, seeking the advice of a financial advisor will save you headaches.
Friends and colleagues can also place interesting options on the table; however, do not rush with the recommendations of family or partner, who may not have a perspective adjusted to reality.
On the work plane, the retrogradation of Saturn and Pluto in House VI is an invitation to review old habits; organize schedules and pending tasks; and avoid perfectionism and obsession with control.
Keep in mind that on August 11, the retrogradation of Uranus will begin in House X of Leo, a transit that can be seen as a return to the old patterns (and beliefs) that have some comfort in the professional area.
The retrogradation of Uranus in House X, likewise, refers to a return to an old position, or an unexpected change of status. Either way, you can harness available energies to align yourself with your true vocation (and purpose) through reflection.
Beware of confrontations with authority figures, especially if it is a matter of ego and pride, and not to defend a logical point of view, or a justifiable reason.
For Leo students, retrograde Chiron in House IX of the sign alludes to delving deeply into the motives that guided your academic choice and how you project into the future (personal expansion).
Health
On August 11, Mercury will enter Leo, where it will remain until 08/28. During its stay in the sign of the lion, the planet of communication will meet Venus and the Sun, with whom it will share a location until 20/08 and 22/08 respectively.
Similarly, on August 14 the Venus Star Point (conjunction Sun-Venus)will occur in Leo, an astrological event that is characterized by illuminating the desires of the soul that remained hidden.
With these alignments, the native can feel revitalized (physically), interested in expressing their creativity and talents, undertake image changes (in person or digital), and take on new challenges.
However, keep in mind that Pluto and Saturn continue to retrograde in Leo's House VI, so if you are undergoing treatment or therapy, recommended by a medical specialist, leaving early (just because you feel better) can be counterproductive.
It is essential that you follow medical instructions to the letter; avoid exaggerating with physical or mental effort; and organize your routines so that you have enough time for recreation and rest.
An astrological aspect to take into account is the presence of the North Node in Leo's XII House, a position that favors sessions of psychological therapy, meditation, and reconnection with one's spirituality. The North Node in Leo's XII House emphasizes settling accounts with the past, and letting go of grudge (or guilt) to move forward into the future (it's time to turn the page).
Discover more about Leo's character and personality traits >>
---
You may also like:
---