Leo Horoscope for January 2019
---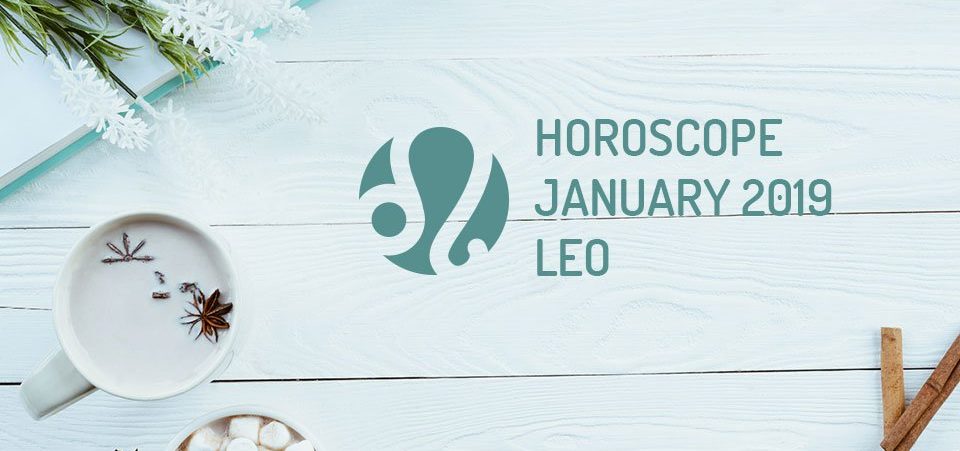 Here is your Leo Horoscope for January 2019. Every month, you will find at WeMystic the astrological forecasts for your zodiac sign.
Leo Horoscope for January: what to expect
---
Love and Relationships
In sentimental terms, January is a favorable month for Leo natives. The presence of Jupiter in House V (where he will remain until December 2019), together with the entry of Venus on the same site (07/01), announces a romantic opportunity that knocks on the door (it may be an acquaintance, since Eros is in House XI).
Additionally, the Sun and Mercury will enter House VII of the Leo (on 20 and 24 January respectively), and Neptune and Pisces maintain their dominion over House VIII.
Translating, the alignments are favorable for maintaining a romantic and intimate atmosphere, in which couples spend time together and work on trust within the relationship.
In the same way, with the Sun in House VII of Leo, there may arise commitment and unexpected marriages, in which the active participation of the family of origin will be involved (Ceres in House IV, until 25/01).
Finally, we must not forget that on 21 January the Full Moon Eclipse in Leo will take place, which will invite you to reflect on your true nature (who you really are, what are the expectations that weigh on your shoulders, or what changes you must undertake to align yourself with your idea of success).
It is worth noting that these types of lunar events emphasize the inner world, increasing sensitivity, so that the individual can take external situations as something personal, as well as experiencing emotional crises and explosions.
Money and Career
The finances will remain stable for Leo's sons and daughters during the month of January. The presence of Neptune and Chiron in Leo's House VIII speaks of investment projects with a partner, family or couple, but which are barely in the conceptualization phase.
Before launching a new initiative, remember to take into account the practical part (feasibility, market studies, and costs). It is not just about having an idea; it is about sharing the work to make it real.
With respect to the professional field, the Sun Eclipse in Capricorn that will take place on January 5, will touch Leo's House VI, will allow you to consider the possibility of undertaking favorable changes in the work (assuming a new team or position, moving to another location, salary adjustments, among others).
However, as Saturn, Pluto and the South Node are also found in House VI of Leo, we are talking about non-immediate processes, which require the creation of structures and the overcoming of fears associated with one's own competence and productivity.
Likewise, Mercury will be visiting Leo's House VI, from January 4 to 23rd, which means that you will have several opportunities to choose from, but it will be the solar event (eclipse) that will show you the direction to follow.
On the other hand, you can count on the asteroid Juno in House X, showing a real commitment to professional improvement (climbing positions within the company), showing you as an efficient and necessary individual.
It is not too much to bear in mind that the asteroid Eros is kept in Leo's House XI, which although it is an astrological position that favors romance with friends and acquaintances, it also constitutes a favoring element at the time of "falling in love" with colleagues and team mates, to join your projects and work initiatives.
Another transit that you should not lose sight of is the beginning of the direct phase of Uranus in House IX (06/01), which accelerates everything related to international procedures, courses and publications.
Uranus directly in House IX of Leo can turn upside down the world of the students of the sign, in the interest of showing what they know and pointing towards higher goals than those raised so far.
Health
In general, the physical state of the natives of Leo will have a positive balance during the month of January; however, it is important to keep in mind that the South Node, Pluto, Saturn and the asteroid Psyche are present in the House VI of Leo.
Additionally, in this same location (House VI of Leo) will occur the Sun Eclipse in Capricorn of 05/01, which refers to a new cycle that opens for Leo, in health and labor relations.
In terms of personal care, the solar event alludes to a typical objective of the beginning of a new year: to initiate new diet or exercise plans, to change daily routines (to include more or less rest, to feed new habits).
However, as already mentioned, Pluto, Saturn, and the South Node of Karma remain in your House VI, so it is not advisable to exaggerate with the use of force or underestimate rest periods.
There is a pending task associated with moving away from harmful habits (South Node), creating new routines that contribute to increasing your productivity and well-being (Saturn), and investing in your internal transformation (Pluto).
In this aspect of internal transformation, the presence of the asteroid Psyche in House VI, and the Full Moon Eclipse in Leo, which will take place on January 21, stand out.
Psyche in Leo's House VI, aims to recognize the most vulnerable traits of the subject, such as the origin of the need to have total control over your life and even that of some loved ones, and people close to you.
On the other hand, the lunar event will allow you to be aware of the patterns that prevent the full expression of your essence, and once you know the truth, you cannot refuse to open your eyes. It is time to close an old chapter, and start a new one.
Discover more about Leo' character and personality traits >>
---
You may also like:
---