Leo Horoscope for May 2019
---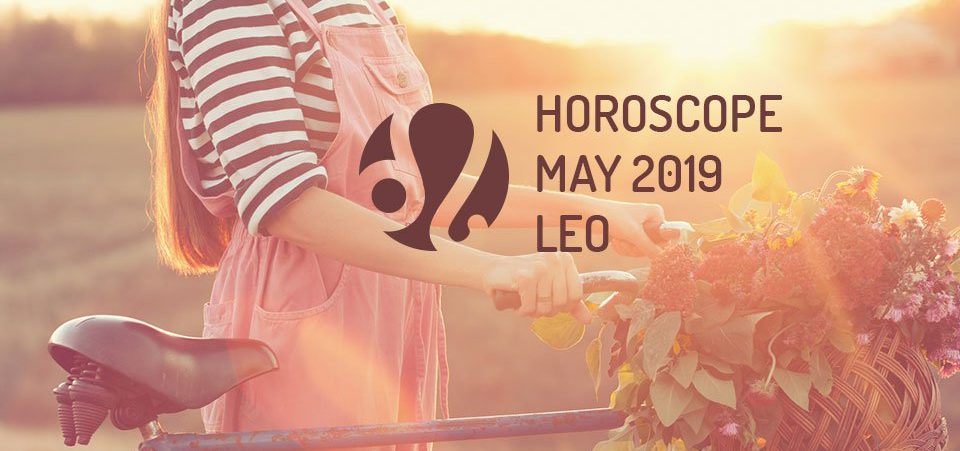 Here is your Leo Horoscope for May 2019. Every month, you will find at WeMystic the astrological forecasts for your zodiac sign.
Leo Horoscope for May: what to expect
---
Love and relationships
May 2019 can be a complicated period for Leo, in sentimental matter. The entry of the asteroid Eros in House II of Leo (06/05) favours conscious work in self-love, but can also encourage another type of energy, linked to false self-esteem, and egocentrism.
On the other hand, Jupiter remains retrograde in House V of Leo, indicating that it is necessary to go deeper into relationships, and not just consider the romantic and idealized aspect.
This tendency also concerns interaction with children, especially those in adolescent and adulthood, and the promotion of the ideas and projects that the subject wishes to undertake (moment of transcending fantasy).
Other aspects to consider, during this period of the year, are the presence of Psyche in Leo's House VII and the entrance of Lilith in House VIII (03/05). These alignments combine vulnerability and rebellion.
The subject may feel the need to transform or end a relationship, but fears the result that changes can bring about, observing them from a pessimistic point of view.
It is advisable to look inside, and discover what you really want, beyond fear. The entry of Mars into Leo's House XII, where Juno is located, indicates that you have the courage to face fears.
While Lilith's entry into Leo's House VIII suggests conflicts, tortuous secrets and traumas from the past, the presence of Juno and Mars in House XII emphasizes the importance of attending to the motives of the heart, and letting go of what it does not bring to your present (limiting beliefs, grudges, and others).
Finally, the Full Moon in Scorpio on May 18 will touch Leo's House IV, indicating the culmination of a move or works in the home, or the imminent reconciliation with a member of the family group of origin, with whom you wish to reestablish contact.
Money and career
The finances of Leo's sons and daughters will remain stable for longer than 2019. However, the entry of the asteroid Eros into House II of the sign (06/05) may lead to unexpected expenses, in order to indulge whims or improve the personal image.
Keep in mind that Neptune is active in House VIII of Leo, so business or investment, involving funds shared with third parties (family, partner, couple), must be analyzed in detail, not to sin optimistic and take a false step.
In terms of work, Pluto and Saturn continue to retrograde in House VI of Leo, indicating tension and uncertainty about the professional future of the native, not so much because of structural changes within the organization or company, but because of their own concerns.
Let us not forget that Uranus is in the House X of Leo, which is driving a new direction in the professional field. As Venus will enter this location (House X) on May 15, the subject will feel inclined to bet on his interests and talents.
Additionally, Mercury and the Sun will be passing over Leo's House X, until May 20, offering greater mental clarity to the natives, about the objectives they want to achieve in the medium and long term.
On the House X of Leo will be produced the New Moon in Taurus on May 4, an event that may mean the renewal of the native's career, or a new proposal to consider.
On May 21, the Sun and Mercury will enter Leo's House XI, an important transit for those who are willing to promote their ideas, with the support of teamwork, or prepare the launch of a collective impact project.
With these alignments, tasks performed with colleagues or friends (on a personal level) will receive greater attention, and with great potential for success, as long as "you don't rest on your laurels.
Note: remember that Ceres and Sagittarius are retrograde in House V of Leo, which more than manifesting as a mental block, is the opportunity for you to analyze (with practicality) the obstacles that can reach your project.
Finally, Venus' passage through Leo's House IX (until 14/05), where Chiron is also located, points to the revaluation of the individual's personal beliefs, with a focus on expansion, and not on using negative experiences as an excuse not to move forward.
Health
During this period of the year, the habits and lifestyle of the natives of Leo are under the magnifying glass, due to the retrogradation of Pluto and Saturn in the House VI of the sign, where the South Node is also located.
Let us remember that the South Node represents the objectives to overcome in the present existence (or the pending matter of other incarnations), so its presence in Leo's House VI, together with Pluto and Saturn retrograde, points to significant changes in self-care.
Natives will be forced to take account of themselves, either by being aware of their processes or by external factors (wear and tear or illness of someone close to him, or his own).
Another aspect to consider, during May 2019, is the entry of Mars into the XII House of Leo, on 15/05. This planetary position can alter sleep patterns.
Last but not least, the entry of the asteroid Eros in House II of Leo (06/05), is a formidable ally to work on self-esteem, although it can also give rise to unusual eating habits for the individual (excesses or not eating at all).
It is advisable to monitor this type of behaviour in relation to food. If you consider it necessary, ask for professional help (psychologist, psychiatrist, therapist) to discover the background of the disorder and avoid major complications in the long term.
Discover more about Leo's character and personality traits >>
---
You may also like:
---