Libra Horoscope for March 2019
---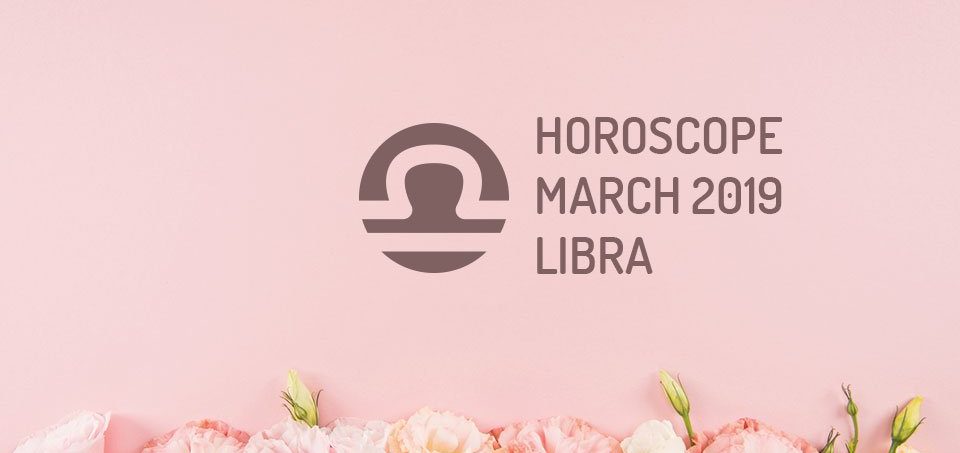 Here is your Libra Horoscope for March 2019. Every month, you will find at WeMystic the astrological forecasts for your zodiac sign.
Libra Horoscope for March: what to expect
---
Love and Relationships
With Venus in House V of Libra, from 01 to 25 March, the possibility arises of a romance or crush, which will be reinforced with the entry of the Sun in House VII, on 20/03 (what seemed like an adventure becomes something deeper).
Venus' passage through House V of Libra also speaks of greater interaction with children or subordinates (at work), creativity oriented towards personal projects, and interest in enjoying trips as a couple.
A relevant aspect in this period of the year is the entry of Uranus in House VIII of Libra (06/03), where it will remain until April 2026, transforming the relations of trust of the natives of the sign, particularly those who maintain with their loved ones.
Money and Career
In general, finances will remain stable for the sons and daughters of Libra, during March 2019; however, Uranus' entry into House VIII of the scale (06/03), translates into breaking with the old schemes and seeking new ways of achieving economic stability, involving the family group, couple or associates.
Uranus will remain in House VIII of Libra until April 2026, so we speak of an extended period of time, in which the natives of the sign will be consciously working on inner transformation, trust structures, and the management of shared goods.
Let us remember that (currently) Mars is also present in House VIII of Libra (until 30/03), so it is possible that you may experience the tendency to want to hasten these issues, without taking into consideration that you have the time on your side.
Similarly, with Uranus and Mars in House VIII you may try to pressure your loved ones or associates to invest in a risky transaction, which may not have the best results.
Uranus in House VIII aims to redefine relationships of trust and power, consider others the same way you want to be heard, and attend to other points of view, without implying underestimating your opinion (except to correct one mistake, not to obtain the approval of another).
In the labor field, the New Moon in Pisces on March 6 will affect the House VI of Libra, signaling the arrival of opportunities in the professional field (change of employment, work group, status or department).
If you do not feel ready to assume other responsibilities or a managerial position, do not worry, as Mercury will return to this site (House VI of Libra), from March 5 to 27, giving you the opportunity to analyze your options in detail.
Venus will also make her entrance into House VI of Libra on the 26th, helping you to tune in to the desires of the soul, before making a final decision. These alignments refer to the importance of cultivating self-esteem (trust yourself and the path you choose).
On the other hand, Mars will enter House IX of Libra on March 31. Keep in mind that in this location is Juno, the asteroid of commitment, which alludes to making you responsible for your ideas and the attainment of your goals, especially those related to travel, international contacts and academic activities.
Health
The theme of personal care will be on the mat, during the month of March, for the natives of Libra. First, the New Moon in Pisces on March 6, will touch the House VI of the sign, which translates into a new vision of the concept of wellness.
The subject will consider adopting a new lifestyle or changing habits, which he recognizes are not the most favorable for his health. However, it will not be a simple process, as announced by the retrogradation of Mercury in the same location (House VI of Libra).
Mercury will be retrograding in House VI of Libra, from March 5 to 27, indicating resistance to the necessary transformations. Instead of experiencing this period as an internal war, it is advisable to assume a more comprehensive attitude.
Habits take time to take root, so you cannot demand to change from one day to the next, something that took years to consolidate. Be patient and surrender to the process with confidence and optimism, without expectations.
Asking for guidance from professionals in the field (nutrition, physical activity, organization), can clarify your doubts and lead you in the right direction. Avoid guessing or guessing.
Another astrological aspect to which you should pay attention is the Full Moon in Libra, which will take place on 20 March. The lunar event places the emphasis on closing cycles and moving on to the next level.
The fact that it happens on your sign suggests that you must cut with the past and what no longer represents you, cultivate the relationship with yourself, enjoy contact with your essence, and ensure that the plans to develop, really correspond to your interests and not those of others.
If you have doubts, do not worry, because you will be able to review these topics on April 19, when we will have the Double Full Moon in Libra, an event that is characterized by making conscious what is hidden.
Last but not least, on 16 March the asteroid Psyche will enter the House V of Libra, placing attention on the psychological plane.
The questions will be aimed at assessing the blockages that interfere with enjoyment and romance (how you manage your vulnerability in the face of others). It is worth noting that on 26/03 Venus will make its entrance into House VI of Libra, emphasizing the need to take care of one's own body as a temple.
Discover more about Libra's character and personality traits >>
---
You may also like:
---