Pisces Horoscope for June 2019
---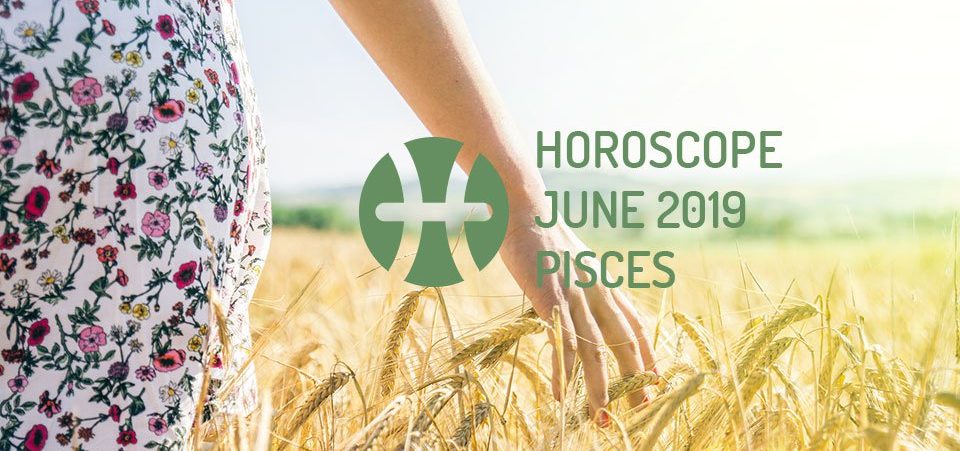 Here is your Pisces Horoscope for June 2019. Every month, you will find at WeMystic the astrological forecasts for your zodiac sign.
Pisces Horoscope for June: what to expect
---
Love and Relationships
Mercury will be transiting on the House V of Pisces, from the 4th to the 25th of June; while Venus will make its entrance in the House IV of this sign, the day 08/06. These alignments indicate that you will have multiple opportunities for family fun. Do not miss it.
It is worth noting that the New Moon in Gemini on June 3, will touch House IV of Pisces, and the Sun will enter the House V of the sign, on 21/06, so we can talk about removals, but also the possibility of pregnancy, or the birth of a new member of the family.
With the passage of Mercury and the Sun over House V of Pisces, where Mars and the North Node also meet, you will be able to open the doors to romance and fun. In this sense, singles of the sign will meet someone who will impress them, and urge them to overcome their shyness, to go for what they want.
Money and Career
In economic terms, the natives of Pisces will not suffer any major upheavals during June 2019. The presence of Chiron in House II of the sign, aims to capture the patterns that impel to fill emotional vacuums with material objects, or to use gifts to receive the attention/approval of third parties.
This stellar position (Chiron in House II of Pisces) is favorable to consciously work on self-knowledge, development of self-esteem, and personal scale of values.
In the same way, the fact that asteroid Pallas is kept in House VIII of Pisces, alludes to the organization of resources that you share with third parties (couple, partner, family).
You may schedule meetings with lawyers, accountants, administrators, and tax officials, in order to develop a more efficient management system, appropriate to current legislation, which ensures equitable protection of those involved and their assets.
In the professional field, the entry of asteroid Juno in House VI of Pisces (20/06), indicates that you must commit yourself to specific labor objectives, and the image you want to project.
Create a realistic action plan, with a defined purpose, will be crucial for you, especially by beginning the retrogradation of Neptune in Pisces, 21/06, and the continuation of the apparent retrogression of Jupiter in the House X of the sign.
Neptune retrograde in Pisces can manifest as intense apathy, idealization of situations that are not what you really want, or a desire to escape from reality, through work or other distractions.
Likewise, retrograde Jupiter in House X of Pisces suggests confusion about professional goals, or the true vocation of the individual. This planetary position indicates that the path to expansion is internal, that is, you must be aware of your interests and desires, to know in which direction to advance.
In this sense, the Full Moon in Sagittarius on June 17, will touch the House X of Pisces, providing the individual with greater mental clarity, to orient themselves and avoid confusing need with desire.
While June 2019 is not the best time to develop teamwork, or the launch of proposals for collective impact (Pluto and Saturn retrograde in the House XI of Pisces), it is not the best time to get involved in individual or personal projects.
Mercury will be transiting over House V of Pisces, from the fourth to June 25. Later, on 21/06, the Sun will incursion in this position, where Mars and the North Node also meet.
With these alignments, we talk about analyzing different alternatives, up to the moment of choosing an idea, in which you will be excited to work, and that, without knowing it, is projecting you towards your future.
Health
Neptune, planet regent of Pisces, will begin its annual retrogradation process on June 21, precisely on the sign of Pisces. This transit will increase the sensitivity of the natives, both emotionally and physically.
Caution is advised when taking medicines, non-prescription substances or alcoholic beverages, as the native will be more likely to suffer its adverse effects.
It is also essential to monitor the levels of glucose (sugar) in the blood (carry out the necessary tests and consult your trusted medical specialist), especially for those natives who suffer from chronic ailments associated with it (such as diabetes or hypoglycemia).
The consumption of processed foods with a high percentage of sugar should be moderate. It is also advisable to accompany changes in diet, with the advice of a specialist in nutrition (not the advice of a friend, or internet).
Although with Neptune retrograde in Pisces, the subject is prone to evade reality, although it is linked to his state of health, the entry of asteroid Juno to the House VI of the sign, will give another turn to the situation.
Juno in the House VI of Pisces, from 20/06, will impel you to take seriously all that it contributes for your integral well-being (balanced feeding, exercise, more efficient routines), because after all you are the most important person of your life.
On the other hand, the entry of the asteroid Vesta to House III of Pisces (09/06) is a favorable alignment for spiritual practices, learning meditation or alternative therapies.
Let's remember that Uranus is also found in House III of Pisces, which together with the influence of Neptune retrograde in this sign, constitutes an alignment that you can use to create new objectives, or give structure to your dreams, integrating innovation and practicality.
Discover more about Pisces' character and personality traits >>
---
You may also like:
---