Pisces Tarot 2019: major advices
---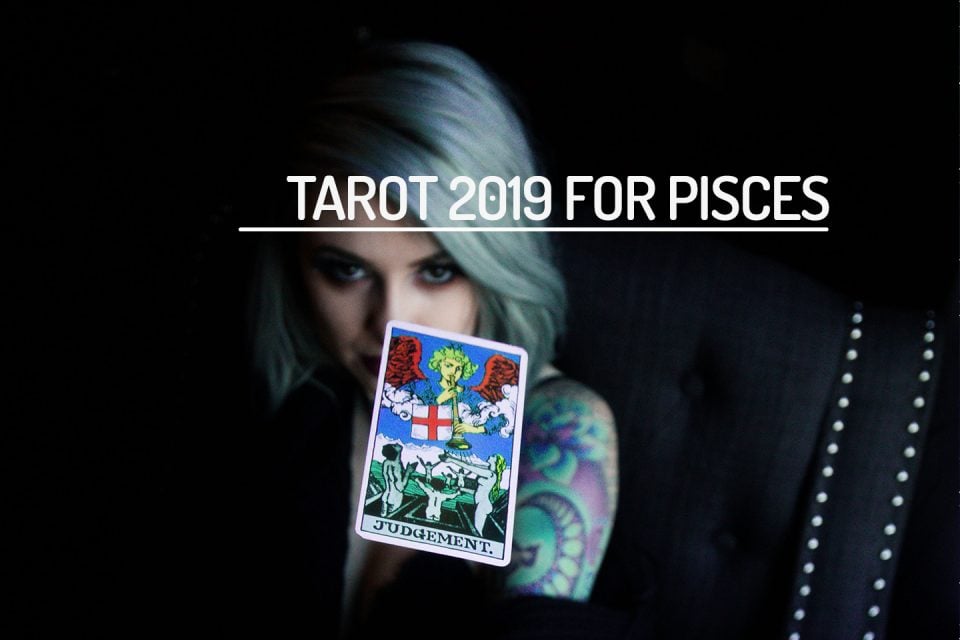 What to know about Pisces Tarot 2019? First of all, 2019 presents astrological facts interesting for Pisces, such as the entry of Lilith in this sign, the departure of Chiron from the same location, and the presence of the Nodes in Houses V and XI.
The passage of Chiron in Pisces (which will culminate on February 18 with its entry into Aries), allowed the natives of Pisces to identify those patterns that led them to confuse fantasy with reality, fear of separation and loss of individuality, in the search for welfare for others.
Now, with the arrival of Lilith in Pisces (03/05) a cycle opens in which these situations will be reviewed again, but under the perspective of conflict and evident faults (nothing will be hidden).
On the other hand, the presence of the North Node in the House V of Pisces and the South Node in the House XI, speak of the use of creativity for practical purposes, the enjoyment of pleasure and the real understanding of love, within the relationships of couple or the interaction with children.
Receive all our tips by email!
Love Astrology? Subscribe Now and Receive Exclusive Content!
Pisces Tarot 2019: advices and recommendations
---
Below is a series of advice or recommendations, obtained through the astrological spread, to accompany the personal development of the sons and daughters of Pisces, during 2019.
Arcane: 6 of Swords
House I: self-affirmation, personality and its external manifestation.
Advice: necessary changes, after a period of sadness. It's time to separate yourself from what no longer contributes to your present, clarify your ideas, and focus your attention on new goals.
Arcane: 9 of Wands
House II: resources, material possessions, and personal appreciation.
Advice: frustration in the management of economic resources. In order to move toward financial stability, it is necessary to start with clear and realistic goals. Although at first glance they may seem like simple conquests, they will help to increase your confidence and self-esteem.
Arcane: The Empress
House III: communication, mobility and thought.
Advice: creativity. Share your projects with people you know will lend you their support, and sincere opinion. Pass the conceptualization phase, and put your ideas into practice.
Arcane: The Star
House IV: the home, the family and the origins.
Advice: good luck to you. Happiness. Divine protection. Family reconciliation. Moving or improvements in the main dwelling. Trust in the future, and share the good news with those who are dearest to you.
Arcane: King of Swords
House V: romance, creativity and children.
Advice: stability in relationships, which drives a dialogue about the future. Ability to deal with conflict situations in the workplace. Your initiatives are ready to be put into practice. Dissipate doubts.
Arcane: 3 of Wands
House VI: health, work and service.
Advice: occupational safety. Professional expansion. Time to receive recognition for your proven dedication. Use this impulse to give a new air to your personal initiatives. Attention to injuries to the lower limbs of the body.
Arcane: The World
House VII: personal relationships, contracts and declared enemies.
Advice: satisfaction. Positive relationships. For singles, the possibility of establishing a union abroad or with someone from another culture. Avoid isolation, and enjoy good times together.
Arcanum: Ace of Pentacles
House VIII: sexuality, transformation and shared goods.
Advice: happiness. Mutual understanding. The couple's relationship acts as a motivating element for personal growth and the evolution of being.
Arcane: The Madman
House IX: Philosophy, higher studies and travel.
Advice: although the possibilities are limitless and you can always start over, you should not be naïve. Having a definite plan will avoid wasting energy on impractical or unnecessary options.
Arcanum: 10 of Pentacles
House X: vocation, aspirations and public life.
Advice: opportunity for success in ventures. Deserved recognitions that respond to an arduous work. Reflect on whether current circumstances are bringing you closer to your life purpose.
Arcane: The Tower
House XI: friendships, groups and social awareness.
Advice: structures that crumble. Necessary conflict within the circle of friends and colleagues, which will allow you to identify the people you can really count on, and separate yourself from those who only want to see your trust destroyed.
Arcane: 9 of Cups
House XII: mysticism, karma and hidden enemies.
Advice: enjoying earthly pleasures, without falling into excesses, does not take you away from your spirituality. It is possible to balance the two worlds, and get the best learning from both.
---
You may also like:

98.1% (1312)
---