Sagittarius Horoscope for August 2019
---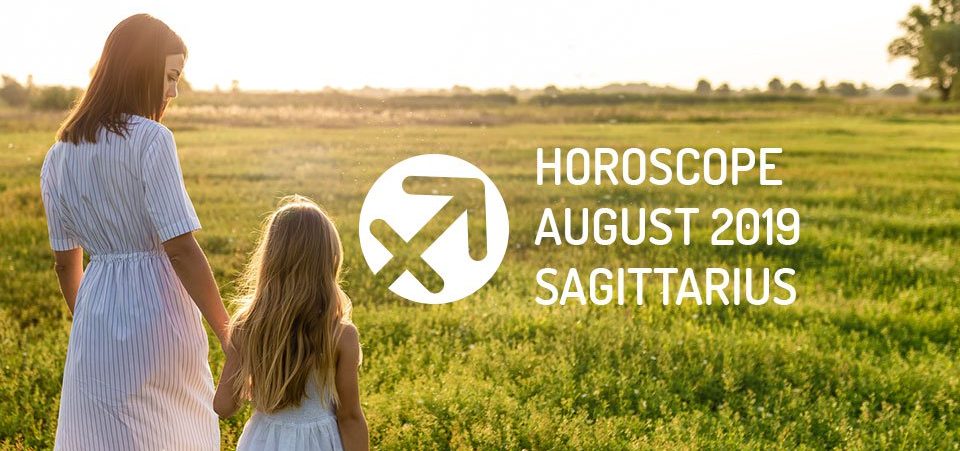 Here is your Sagittarius Horoscope for August 2019. Every month, you will find at WeMystic the astrological forecasts for your zodiac sign.
Sagittarius Horoscope for August: what to expect
---
Love and Relationships
August 2019, will be a quiet season for the sons and daughters of Sagittarius. The presence of the North Node in the VIII House of the sign invites transformation (through relationships), overcoming the fear of intimacy and discovering true personal power.
Likewise, the fact that Chiron retrograde is in House V of the sign implies for singles a time of reflection, in which they will be more interested in deep relationships, than adventures and flirtations.
The entry of asteroid Eros into House XII of Sagittarius (04/08) could mean the reunion with an ancient passion, with which pleasant moments were shared.
Money and Career
The retrogradation of Saturn and Pluto in House II of Sagittarius, where the South Node is also located, implies financial restrictions for the natives of the sign.
However, this situation should not be seen as limiting, but as an opportunity to organize yourself economically, starting from what is important in the present, and for the future. In other words, if you do not prioritize investments, you will be sabotaging your objectives, in the medium and long term. It's not about being mean with money, or not being able to please yourself, but if you lose sight of the goal, you'll be late in reaching it.
In the work plane, the beginning of the retrogradation of Uranus in House VI of Sagittarius, on 08/11, will generate confusion in schedules, and organization of pending tasks, so it is fundamental not to assume new commitments without first fulfilling what was planned.
Avoid exaggerating and overloading yourself with work, you are not demonstrating efficiency, but wearing yourself out, retrograde Uranus in House VI invites you to rethink strategies, and create new productive habits.
In this sense, Mars will enter the House X of Sagittarius on August 18, beginning the formation of a stellium (accumulation of planets) in this location, which will have the presence of Venus (21/08), the Sun (23/08), Juno (23/08) and Mercury (29/08). This stellar configuration will remain active until September 14, and will even briefly include the participation of the Moon during the New Moon in Virgo on August 30.
A stellium in House X of Sagittarius may encourage you to seek new professional horizons; but it also entails difficulty in deciding between different areas or work options; and confrontations with people of authority, which is not a good idea, considering retrograde Uranus in House VI.
The subject might consider undertaking on their own, venture into new investment or association, or take a break from their current occupation until they adopt a different point of view.
Dependence on a single source of income can lead to insecurity and dissatisfaction. Fortunately, Jupiter will begin its direct phase in Sagittarius on 08/11, pointing towards different alternatives, in which you will be able to channel your enthusiasm positively. Finally yet importantly, on 14 August the Venus Star Point (Sun-Venus conjunction) will take place in Leo, an event that will affect House IX of Sagittarius.
With Venus Star Point in your House IX, and Mercury passing through the same location, from 11 to 28 August, your expansion objectives will be clear. Trips and removals abroad, international contacts and university-level studies are not ruled out.
Health
On August 11 there will be two events that will affect the physical state of Sagittarius: the beginning of the direct phase in Jupiter, in the sign of the centaur, and the beginning of the retrogradation of Uranus in its House VI.
Direct Jupiter in Sagittarius gives greater vitality and enthusiasm to the natives of the sign, in addition to promoting a positive state of mind, conducive to travel, adventure, and expansion projects (personal and professional). However, Jupiter (direct) in Sagittarius can also fuel a tendency to overburden oneself physically or mentally, in the execution of objectives, due to the belief that one is capable of doing everything.
The sons and daughters of the Centaur must remember that optimism is not incompatible with moderation, something they must also consider when shopping and enjoying food and drink.
This transit (Jupiter direct in Sagittarius) favors the progressive recovery of those who are in convalescence period, and greater mental clarity, reinforced by the Full Moon in Aquarius of 15/08, on House III of the sign.
On the other hand, the beginning of the retrogradation of Uranus in House VI of Sagittarius can be interpreted as the deep analysis of the subject's lifestyle, or the desire to cling to old habits, despite knowing their negative effects on physical condition.
It is possible that the native feels tempted to try food and exercise plans, not designed for his person, exposing the organism to extreme conditions, and probably harmful. You may also have the feeling that time is not enough for the different tasks you must undertake, and that you must run, thereby generating episodes of stress and exhaustion.
To counteract this tendency, it is suggested not to accept new responsibilities until the pending ones are completed, and to lose the fear of delegating functions to colleagues and colleagues.
Another astrological aspect to take into account, during August 2019, is the entry of the asteroid Pallas in the House XII of Sagittarius (26/08), a movement that alludes to the evaluation of the past, from the perspective of learning and strategy.
Pallas in the XII House of Sagittarius will provide the native with greater prudence, efficiency in the management of crises (personal or work), and support to third parties that go through contrasting events.
Discover more about Sagittarius' character and personality traits >>
---
You may also like:
---