Scorpio Horoscope for April 2018
---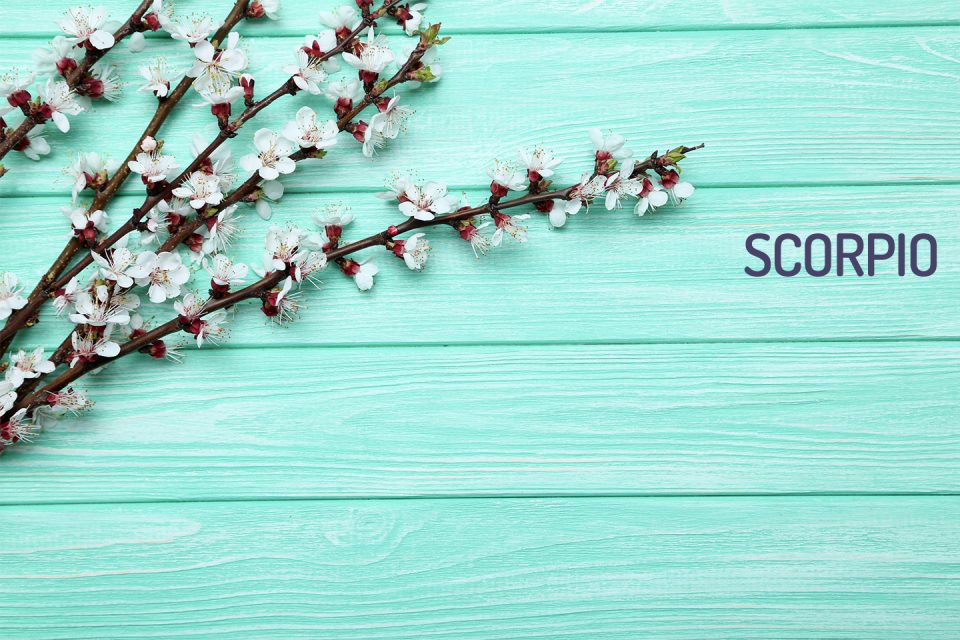 Here is your Scorpio Horoscope for April 2018. Every month, you will find at WeMystic the astrological forecasts for your zodiac sign.
Scorpio Horoscope: what to expect in April
---
Love and Relationships
The Sun will enter the House VII of Scorpio, on April 19, keeping active the area of relationships, which implies good chances of meeting someone special (for singles), and greater harmony for couples.
Keep in mind that Venus, planet of desire, will be in this same location (House VII of Scorpio) until day 23, encouraging the flames of romance and the tendency to coquetry (flirting).
However, this transit has a dark side that is distinguished by giving too much importance to the opinion of others, ignoring your own desires and what makes you truly happy.
When Venus enters the House VIII of Scorpio, the feelings will intensify, and you can share with your partner the doubts that assail you, and work on mutual trust.
Important: Saturn and Pluto will begin to retrograde during the second half of April, in House III of Scorpio. This area of the astral map governs communications, with third parties and with yourself. Watch your internal dialogue.
Money and Career
The finances will remain stable for the natives of Scorpio in the month of April. The presence of Pallas in the House VIII of the sign announces the celebration of strategic meetings with the couple or close relatives.
The reason for these meetings will be to define the future of joint assets, investment options, distribution of resources, liquidation of old debts, and study of individual projects that require general economic support.
One aspect that you should pay special attention to in April is the retrogradation of Saturn and Pluto, which will take place on the 17th and 22nd (respectively), on House III of Scorpio (communications, short trips, relationship with the environment).
The retrogradation of Saturn and Pluto marks two recognizable tendencies: to miss opportunities due to being overly shy, or to damage your public image by expressing derogatory and acerbic criticism towards third parties. Although the situation can generate tension with coworkers, neighbors and siblings, avoid thinking about it as if it will be about restricting your communication skills.
Both planets seek to draw your attention to how you manifest your personal power and the use you make of communication resources. Do you offer constructive contributions or do you prefer to undermine the contrary?
The retreat of Saturn and Pluto can also cause certain mishaps in short trips or daily transfers, so it is advisable that if you have your own vehicle you keep it 100% operational, as far as possible.
It is important to note that in April we will see an intense movement in House VI of Scorpio, where Uranus, retrograde Mercury and the Sun meet.
The planet of communication will begin its direct phase from April 15, the same day as the New Moon, which will also be in House VI of Scorpio, while the Sun will remain in this location until the 18th. With this cluster of energies, we can observe significant changes in the lifestyle of the sons and daughters of the scorpion, which will, of course, affect the work dynamics.
It is about the breaking of old beliefs and the beginning of new projects, that will be reinforced by the entrance of Chiron in the House VI of Scorpio (17/04).
But be careful, despite the urgency that will be imposed by Uranus and Mercury (direct), it is better to take things slowly and define your plans in detail before moving forward; remember that Pluto and Saturn will be retrograde, which translates into hard work.
Health
In April, Jupiter retrograde in Scorpio will take its toll on the natives of the sign, for the excesses committed with food or drink (intestinal disorders, high cholesterol, migraines, dehydration).
However, the presence of the Sun in House VI of the sign during the first half of the month points to successful recoveries even if it is a particularly hilly period, in terms of health.
Do not forget that Mercury will end its process of apparent regression on April 14, also in House VI of Scorpio, a sector of the natal map linked with life habits, work, daily routines and physical well-being.
Following this transit, we speak of sudden skin allergies, and minor respiratory conditions, which may include the throat area. Avoid thinking of these ailments as punishments or obstacles in your way.
Retrograde Jupiter in your sign gives you the opportunity to rethink the kind of attention you give yourself. One of the main qualities of Scorpio natives is their intensity. They can be loyal friends, unconditional partners, committed family members and dangerous enemies; the problem is that they usually use most of their energy in taking care of others, and not of themselves.
It's time for you to start thinking more about your needs, and it's not about forgetting the rest of the world, but about recognizing your own importance. In this sense, the entry of Chiron to House VI will bring good prospects.
The wounded healer, as he is known in the study of astrology, will enter the House VI of Scorpio on April 17, making evident the distracting elements that you use to not take care of you.
The designation of Chiron as wounded healer is not chance, and obeys its primary vibrations: to point out that which we serve in others, but we refuse to perceive in ourselves.
An example would be a person considered a great motivator, but who lacks momentum when it comes to supporting himself, because he doubts his ability to deserve and personal power (but not the power of others).
Returning to the case of Scorpio, Chiron in House VI can make you lose control to show you how you're leaving aside, while offering support to others or trying to organize their lives (in the case of the family).
You may experience the situation as a jolt and bring up fears, through bowel disorders and episodes of stress. The more you resist seeing reality, the harder it will be to cope with the rhythm.
It should be noted that before the reception of Chiron, the New Moon of the month will also take place in the House VI of Scorpion (15/04), an event that will serve as a window for the changes you want to introduce in your lifestyle.
Keep in mind that the transformations are simpler if you have help, so it is a good idea to consult with professionals (psychotherapists, nutritionists, trainers, among others).
Important: if you suffer from a chronic respiratory disease, comply with the necessary medical care, as Saturn and Pluto retrograde in your House III, during the second half of April, which can activate this type of ailments.
---
You may also like: 
---