Scorpio Horoscope for August 2019
---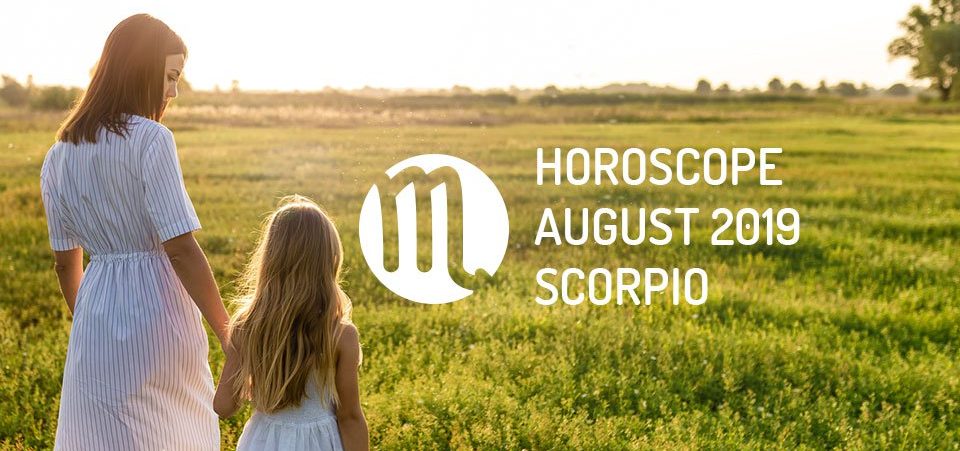 Here is your Scorpio Horoscope for August 2019. Every month, you will find at WeMystic the astrological forecasts for your zodiac sign.
Scorpio Horoscope for August: what to expect
---
Love and Relationships
August 2019 can be a tense month for Scorpio natives in sentimental matters. On 08/11 will begin the retrogradation of Uranus in House VII of the sign, which means that old unions will be shaken in their foundations, leading to transformations.
It is worth noting that this transit does not involve ruptures, separations or divorces themselves (although it may be the case), but a change in the traditional structures and roles that were handled within the relationship, as well as the concept of couple, duties and responsibilities of those involved.
Likewise, the Full Moon in Aquarius on August 15 will touch Scorpio House IV, signaling the conclusion of a conflict with the family group of origin or the reunion with distant relatives.
Last but not least, remember that Neptune continues to retrograde in your House V, so Scorpio singles should avoid rushing when interacting with the romantic interest, in turn, to avoid falling into the traps of idealization.
Money and Career
Scorpio's finances will experience a recovery during August 2019. The beginning of the direct phase of Jupiter in House II of the sign (11/08), aims at building the economic security of the native.
To achieve this goal, and other material goals you have set for yourself, it is essential to organize your resources, set priorities and cancel outstanding debts before making new commitments.
Let's remember that Jupiter direct in House II of Scorpio promotes the entry of resources and an accurate view on business opportunities, however, this transit can also exacerbate the subject's confidence in their finances, prompting them to spend more than they should.
The entry of asteroid Pallas into Scorpio on 26/06 will help you to rank your purchases, giving greater relevance to what constitutes a need for your personal or professional development, and family welfare.
In terms of work, Chiron continues to retrograde in House VI of Scorpio, so it is necessary to investigate whether you are using the obligations of work as a mechanism of evasion, to avoid emotions or situations of a personal nature.
In this sense, a significant astrological event could change Scorpio's perception of a future job. On August 14, the Venus Star Point (conjunction Sun – Venus) will take place in Leo, and on House X of the sting sign.
The Venus Star Point is characterized by bringing to light the desires of the soul. The fact that the phenomenon takes place in House X of Scorpio, and under the influence of Leo, alludes to discovering how to combine your profession and life purpose, projecting your talent to the next level.
The fact that Mercury is transiting the House X of Scorpion, from 11 to 28/08, means that the native will be analyzing different options, both inside and outside their usual area of work.
Don't forget that Mars, Venus and the Sun will also be visiting House X of Scorpio, during the first part of August, so the subject will feel impelled to make a final decision, which involves their professional future.
On the other hand, Mars will enter the House XI of Scorpio on 18/08, beginning the formation of a stellium (accumulation of planets), which will have the presence of Venus (21/08), the Sun (23/08), Juno (23/08), and Mercury (29/08).
Even the Moon will join this lineup, on August 30, when the New Moon occurs in Virgo, on the House XI of Scorpio.
This planetary configuration will remain active in the aforementioned location (House XI) until 13 September 2019 (except for the Moon, which will change position on 01/09).
A stellium in Scorpio's House XI refers to collective projects, mass impact initiatives, and integration into new groups (colleagues, friends, associations). With the stellium in House XI, it is important that you ask yourself about your position in the groups you are part of whether you actively participate by making your voice heard, or sacrifice your personal goals to further those of others.
Finally, don't forget that the North Node remains in House IX, which is an invitation to expand, at the level of consciousness and material. For the students of the sign, this astrological position may imply an incursion into other academic areas. Trips and contacts with professionals from other latitudes are not ruled out.
Health
On August 4, asteroid Eros will enter Scorpio, which in addition to being an invitation to rediscover one's sensuality, the expression of sexuality, facilitates the therapeutic approach to traumas and taboos.
Eros in Scorpio also encourages a predisposition to complacency, so it is prudent to be attentive to this type of behavior, to avoid falling into exaggeration.
Fortunately, the entry of Pallas in Scorpio (26/08) will give greater restraint to the natives of the sign. This transit is especially favorable to organize your routines and schedules, follow medical treatment or therapy.
Pallas in Scorpio will be a formidable ally when it comes to setting new personal goals, redefining old goals, developing creative project schemes, work teams, and strategic planning. It is important to keep in mind that Chiron continues to retrograde in House VI of Scorpio, so it is necessary to analyze whether you are using work or domestic commitments to avoid taking care of your inner world.
Overloading yourself with work will not make you more efficient, it will only lead you to exhaustion (physical and mental), nor will it make emotional situations disappear until you face them.
Another astrological aspect to consider, during August 2019, is the retrogradation of Pluto in House III of Scorpio, under the influence of Capricorn. As one of the regents of Scorpio (the other is Mars), the transits of Pluto deeply affect the natives of the sign.
With the apparent retreat of the planet from the transformation, special attention must be paid to the reappearance of ancient ailments of the skin, throat, and bones. Likewise, it is fundamental to study the internal dialogue (how you speak to yourself), and whether you are acting freely when expressing feelings and ideas or, on the contrary, repress them by attempting against your power.
Discover more about Scorpio's character and personality traits >>
---
You may also like:
---