Scorpio Horoscope for January 2019
---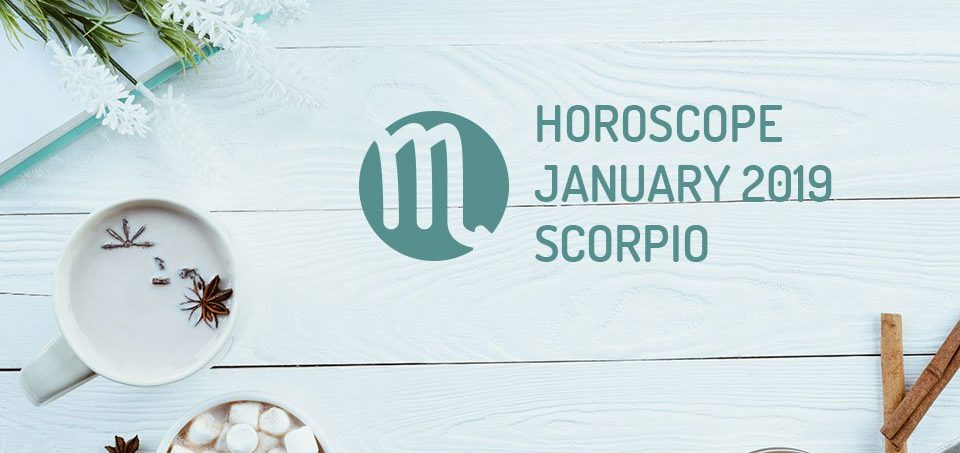 Here is your Scorpio Horoscope for January 2019. Every month, you will find at WeMystic the astrological forecasts for your zodiac sign.
Scorpio Horoscope for January: what to expect
---
Love and Relationships
The presence of Ceres in Scorpio until 24 January will give the natives a sign of great self-control in the face of adverse circumstances. It will also increase inspiration and the intention to undertake actions that will enable them to achieve their independence.
In this sense, the entry of Venus into House II of Scorpio (07/01) is particularly favorable, since the planet of love and desire is a formidable ally when it comes to working on self-esteem, as a basis for creating positive relationships (especially the one you have with yourself).
In sentimental terms, January will be a propitious time for romance. Neptune in House V of Scorpio speaks of creative inspiration and romantic idealization, while Juno in House VII aims to establish commitments based on real relationships.
Similarly, Eros remains in House VIII of Scorpio during January 2019, a planetary position that encourages exploration of sexual enjoyment in couples, at all levels.
Finally, the entry of the Sun and Mercury into the Fourth House of Scorpion (on 20 and 24 January, respectively), highlights the possibility of a move, which is well looked after, although it is a considerable distance from the current residence.
This transit also refers to meetings, in which the members of the family group can present their ideas and plans for the future, hoping for the receptivity and support of others.
Money and Career
With Jupiter, in House II of Scorpio, until December 2019, there is a year of great economic growth for the natives of the sign, especially in relation to the purchase or rental of real estate; creation of savings funds and new sources of income; and the acquisition of movable property, securities, and antiques.
As this transit (Jupiter in House II of Scorpio) will occur under the influence of Sagittarius, the sons and daughters of Scorpio will feel compelled to invest in their personal growth, which includes travel, university studies or professionalization, and contact with their own spirituality or philosophical doctrine.
The fact that Venus enters House II of Scorpio on January 6 also speaks of expenses associated with image changes (wardrobe, aesthetic treatments or surgical interventions), but you must keep in mind the importance of internal change over external change.
In this sense, the Sun Eclipse in Capricorn of 05/01, which will touch House III of Scorpio, points to the glimpse of a thought scheme, in which the influence of Saturn, Pluto and the South Node is being worked on in this stellar location (House III).
It is worth noting that the solar event, coupled with Mercury's passage through House III of Scorpio (04 to 23/01), suggests the possibility of short business trips (or participation in courses, workshops, congresses), which will bring important contacts for your professional future.
In the same way, the beginning of the direct phase of Uranus in House VI of Scorpio (06/01), where Mars is also located, marks the increase in productivity in the work environment, but you must be careful not to fall into dangerous obsessions, or engage in (unhealthy) competition with your colleagues and collaborators, for ego reasons.
Another aspect to consider is the Full Moon Eclipse in Leo on 21/01, which will affect the Scorpion's House X, which means that if you have worked in the shadow of others until now, gain greater impetus to make your talent known, and make the value of your experience be recognized.
On the other hand, Scorpio students will have an important year, since the presence of the North Node in House IX of the sign, aims to consider whether the academic path chosen is that which is aligned with the purpose of life, or corresponds to third party interests or fear of the future.
It is important to note that this astrological position (North Node in House IX) will also place on the scales of many Scorpios, the decision to abandon studies, or even migrate to other latitudes.
Health
The beginning of the direct phase of Uranus in House VI of Scorpio, on January 6, will promote changes in the routines of the natives of the sign, especially in the areas of work and self-care.
There will be greater assertiveness in undertaking the most viable alternatives, leading to changes in lifestyle, capable of staying in time; however, impatience for immediate results can unbalance the process.
It is worth noting that Mars, one of the natural regents of Scorpio, is also in House VI of the sting sign, so they can assume the transformation as a competition, with themselves or with others (if it was decided to start a training plan or food in the company of friends).
It is important to bear in mind that not all organisms respond equally to the same treatment or program, therefore, if an acquaintance is doing better (or worse), there is no reason to feel bad (or rejoice in their failure).
Similarly, the desire for immediate results can lead to dangerous extremes of food, exercise or work, threatening the integrity of your physical condition and general well-being.
Luckily, you have the presence of Saturn, Pluto and the South Node in House III who are working on the exile of the old (mental) harmful patterns and the creation of a new structure of thought.
As this is a time-consuming process (as imposed by the presence of Saturn and Pluto), you will have a quick perception of what it will mean for you to transform your mental scheme, thanks to the Sun Eclipse on Capricorn of 05/01, which will precisely touch House III of Scorpio.
Discover more about Scorpio' character and personality traits >>
---
You may also like:
---