Scorpio Horoscope for July 2019
---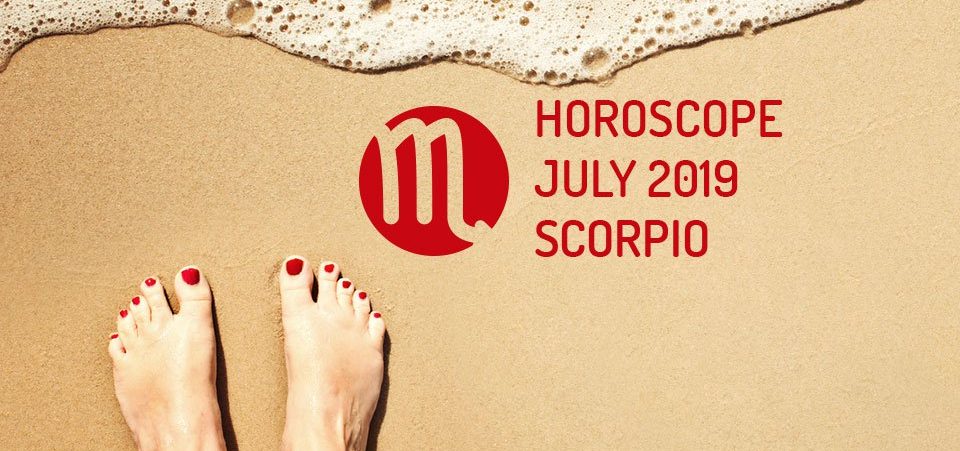 Here is your Scorpio Horoscope for July 2019. Every month, you will find at WeMystic the astrological forecasts for your zodiac sign.
Scorpio Horoscope for July: what to expect
---
Love and Relationships
The transit of Venus over House IX of Scorpio from July 3 to 26 opens the possibility (for singles) of establishing a romantic relationship with someone belonging to another culture, during a trip abroad, or as part of online contacts.
On the other hand, the partial Eclipse of Full Moon in Capricorn on 16/07, will touch House III of Scorpio, which translates into conflict resolution with siblings or neighbors, and conclusion of a course or workshop.
It is important to take advantage of the lunar event to observe the negative beliefs that are repeated (or perpetuated) by your inner voice. Understand that you are capable of modifying that dialogue, and building a new one that can work in your favor.
Money and Career
Jupiter will continue to retrograde in Scorpio House II until August 10 (2019), indicating that the wasteful trend should be avoided, and importance should be given to studying savings and investment plans.
This is not to say that income is currently restricted, but resources can come out of your pockets as quickly as they enter if you are not aware of expenses and purchases you make.
It is advisable that you pay off the oldest or most essential debts (housing, services, insurance, food, transport), and reserve money for unforeseen events that may arise.
Although the beginning of the direct phase of the dwarf planet Ceres in House II of Scorpio (17/07) favors an efficient administration of goods, the influence of retrograde Jupiter in the same location can feed a tendency to accumulation (especially of unnecessary objects).
On the other hand, the Total Eclipse of Sun in Cancer of July 2 will touch House IX of Scorpio, which suggests the possibility of venturing into ventures or businesses that will allow you to receive profits in foreign currency.
In addition, the solar event will speed up procedures related to international moves, publications, university studies, travel, learning other languages, and incursion into pedagogy.
Let us remember that the Sun will remain until 07/21 in House IX of Scorpio, where the North Node is also located, and Venus will transit from July 3 to 26.
These alignments will reinforce the available energy, thanks to the eclipse; however, it is fundamental not to take things lightly, nor to assume that success is guaranteed without effort in your part, since the final stage of Mercury's retrogradation will take place precisely on House IX of Scorpio, from July 19 to 30.
Retrograde Mercury in House IX of Scorpio, although it is a short-term transit, will bring about a change of perspective, the questioning of old beliefs, the exhaustive analysis of the proposals on the table, and the decision to work towards your goals, at different levels.
You may be wary of the idea of abandoning old habits, but the planetary movements of your House IX speak of leaving the comfort zone and exploring new spaces (literally and figuratively).
In terms of work, the start of Chiron's retrogradation in House VI of Scorpio on 08/07 is an opportunity to identify the patterns of control and perfectionism that, more than favoring your professional growth, hinder it.
In this sense, the entry of Mars in the House X of Scorpio (01/07) points to the re-impulse in the search for new job opportunities, in the usual work environment, other companies, or the path of entrepreneurship.
The fact that the Sun and Venus enter the House X of Scorpio during July 2019 (the 22nd and 27th of July, respectively), indicates that the subject will take into account their natural inclinations and talents when looking for a promotion, beyond status.
Keep in mind that Mercury will be retrograding in this location (House X), from 07 to 18 July, which will slow the momentum of Martian energy, but will give you time to weigh your career options.
Once your objectives have been clarified, the Purple Moon in Leo on July 3rd will open a window in which you will be able to take advantage of the power of two new moons to project your future work.
For Scorpio students, the solar eclipse on Cancer on July 2nd will promote interest in learning, approaching religious or spiritual groups, and contact with other realities.
Health
On July 8 begins the retrogradation that Chiron in House VI of Scorpio, a transit that can cause stress and accumulation of tensions, due to the desire to maintain the illusion of control, at all costs.
Retrograde Chiron in House VI of Scorpio offers you the opportunity to observe how the need for perfection in work and daily life negatively affects your health.
It is possible that you will be affected by a sudden ailment that, although not of great importance, will impel you to manage better on an emotional and physical level (enough of tyrannizing yourself).
On the other hand, let's remember that Pluto, main regent of Scorpio, is retrograding under the influence of Capricorn, which suggests paying attention to old injuries, and diseases associated with skin and bones.
As regent of the sign of the scorpio, Pluto retrograde in Capricorn is a planetary movement, which, like Chiron retrograde in House VI, alludes to the (constant) impulse of self-control.
This type of behavior can cause a certain level of resentment or frustration in the subject, which can be channeled with assertiveness, through individual therapeutic sessions, with specialists in psychology.
The practice of meditation and self-observation are also favorable exercises during this time of year. However, interaction with a therapist can provide you with new tools to work the hidden patterns, or more entrenched.
Discover more about Scorpio's character and personality traits >>
---
You may also like:
---